A Sunday afternoon in Stockholm in August. 25 degrees and risk of thunderstorms. Not a day for the beach, but rather perfect for a culture day with mixed indoor and outdoor activities. It was 10 years since we were last in Uppsala, which is not a record to brag about for a city that is only 8 miles from Stockholm. The daughter can't even remember that she's ever been here, but I remember very well how, as a two-year-old, she was tumbling around Linné's Hammarby in a bright yellow hat with circus animals.
The plan for the day was the sights Linnaeus Hammarby, Old Uppsala and then squeeze in a coffee at the White Guide-recommended Güntherska Hovkonditori & Schweizeri. Possible bonuses were Wolf leftn, the cathedral and Uppsala Castle - but we didn't have time for them at all.
---
Stop 1: Linnés Hammarby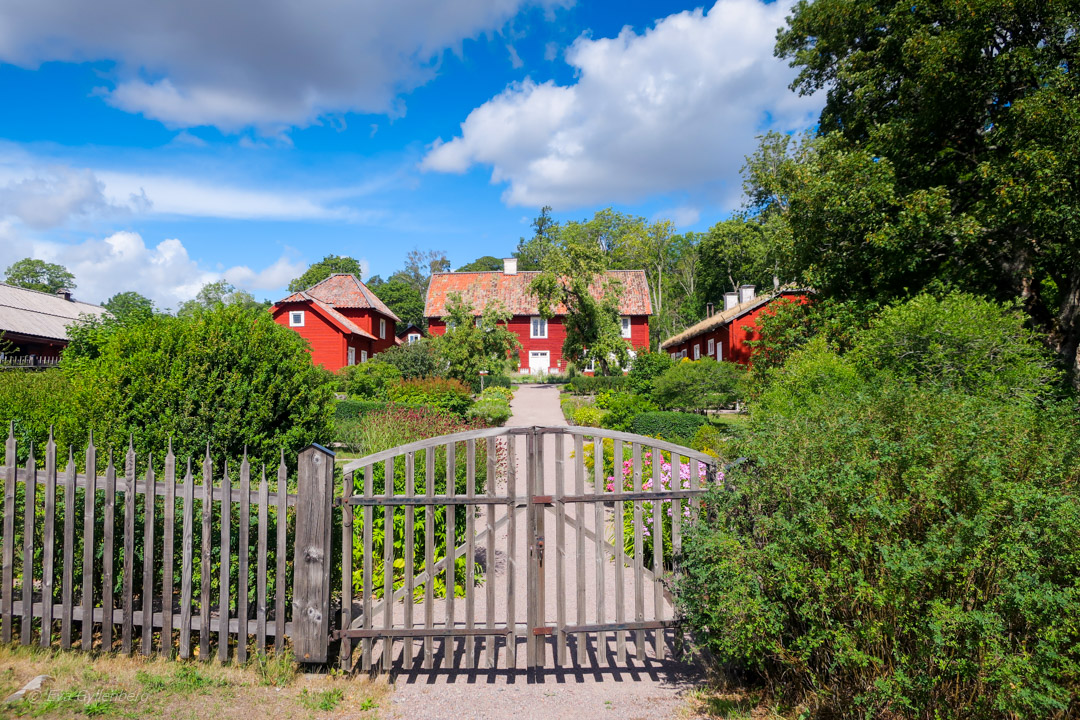 What do you do in the 18th century, when malaria is ravaging a flooded Uppsala and it's smelly and dirty everywhere? Yes, you buy a property in the country. When Carl von Linné turned 50, he had stopped traveling in Europe and worked solely on teaching at the university, taking care of his botanical garden in central Uppsala and helping his students travel around the world. A perfect opportunity to settle in the country with the family and grow some flowers in the forest and land.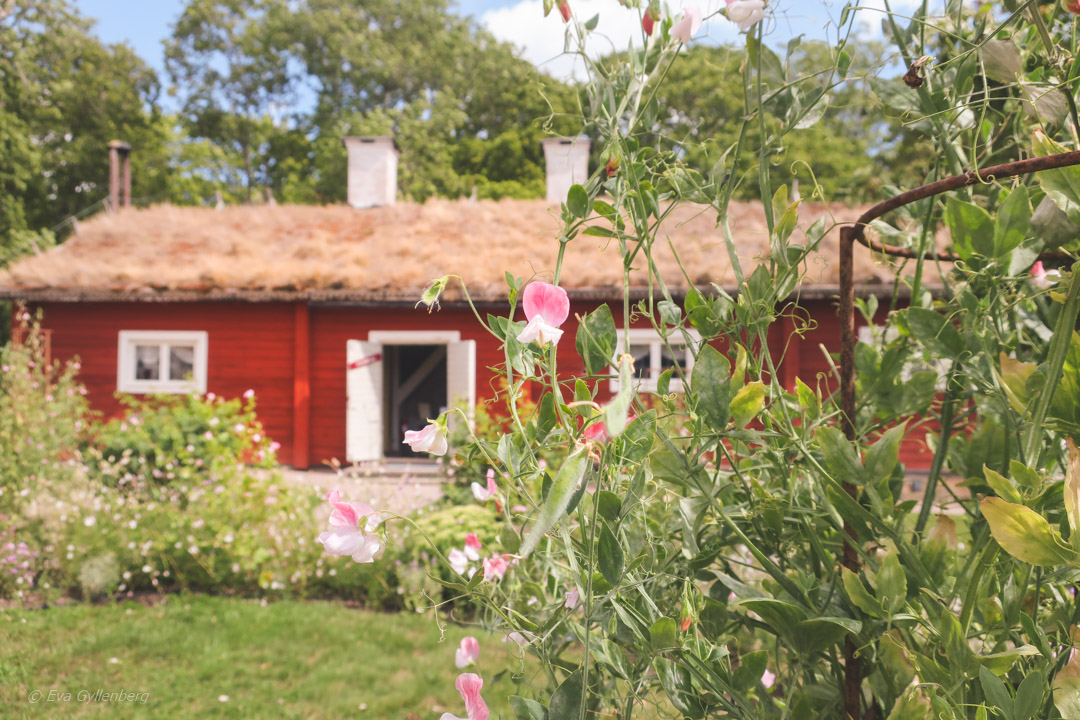 Today, the farm consists of a main building that can only be visited with a guided tour and two side buildings with exhibitions about Linné's life. As we were a little late in the start this Sunday, we arrived in Hammarby just in time for lunch.
We began our visit to Linnaeus at café Sara Lisa which is located right at the entrance to the museum. I quickly decided on a shrimp salad, the husband took a cheese pie with salmon and the daughter took a fras waffle. Unfortunately, I managed to pull the nit lottery and got a minimal salad with two measly slices of bread for SEK 125. In my eyes, it is not particularly expensive to put some extra pasta or green salad in a salad box, so for 125 kronor I would have expected to be able to feel full afterwards. Now it was more like an appetizer. However, the husband's cheese pie was all the more proportionate and the daughter's frass waffle was as crispy and buttery as it should be. So 2/3 were satisfied with the lunch, but it was definitely cozy to sit in the shade under the heavy branches of the apple trees.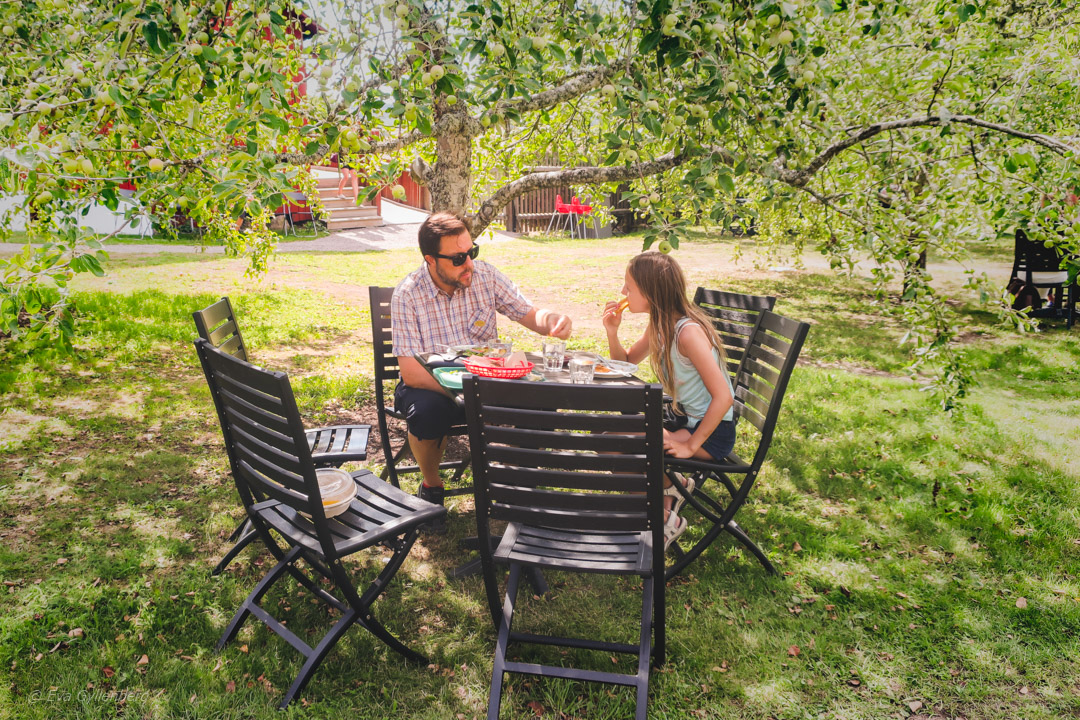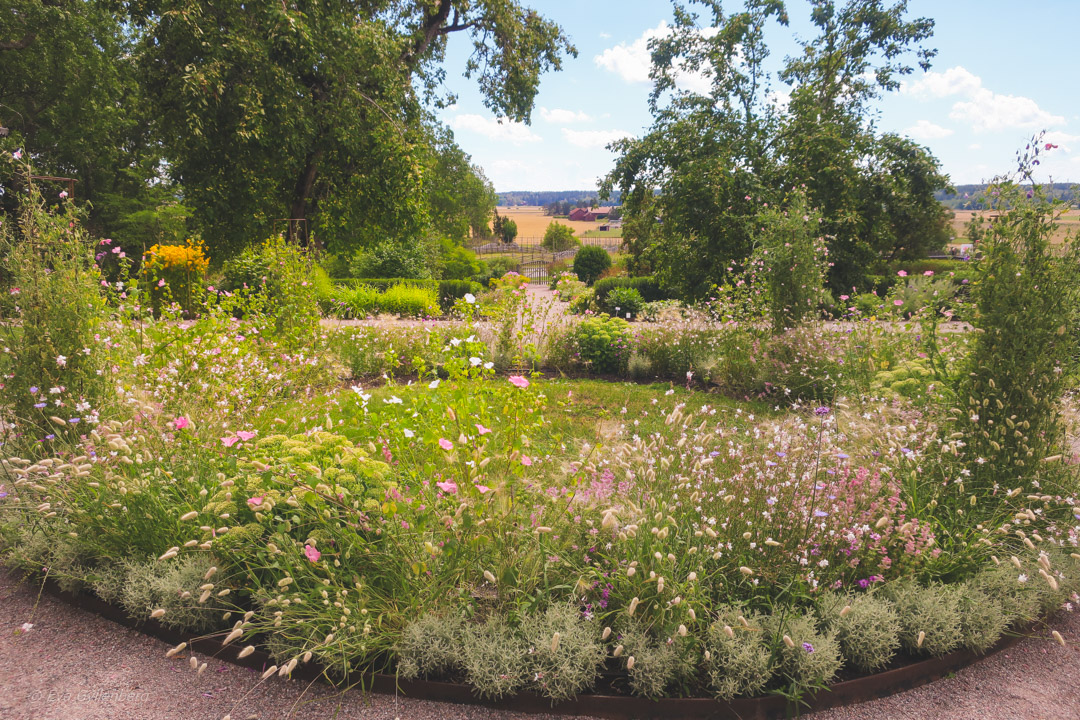 The garden is full of everything from fragile little flowers to poisonous plants that give a rash if you touch them, so a tip is to keep a close eye on smaller children in the garden. In the forest around the house, some of Linnaeus' imported plants still grow, and the apple tree on the left in the picture above has been there since Linnaeus's days.
Admission for Linné's Hammarby is 80 kronor for everyone over 18, but then includes entry to Linné's garden in central Uppsala and also the guided tour into the main house. We booked ourselves on an extra tour at 13:30 p.m., which was in English due to the large number of tourists.
A committed guide took us into the house and told us about everything from Linné's courtship in Sami costume to how his room was wallpapered with hand-painted drawings of flowers from the Caribbean. Most of the furniture has been removed, but a number of portraits hang on the walls. Among other things, a copy of Roslin's famous picture of Carl von Linné, which we slightly older people recognize from the old centurykronorthe bank note. Unfortunately, you were not allowed to take photos in the house, so you simply have to go here and see the house for yourself 🙂
A severe storm is headed our way and just as we end the screening in the main building, we are greeted by thunder. It was simply not the time to take a long walk right now, so we got in the car to go instead to a hot cup of coffee and a pastry in central Uppsala.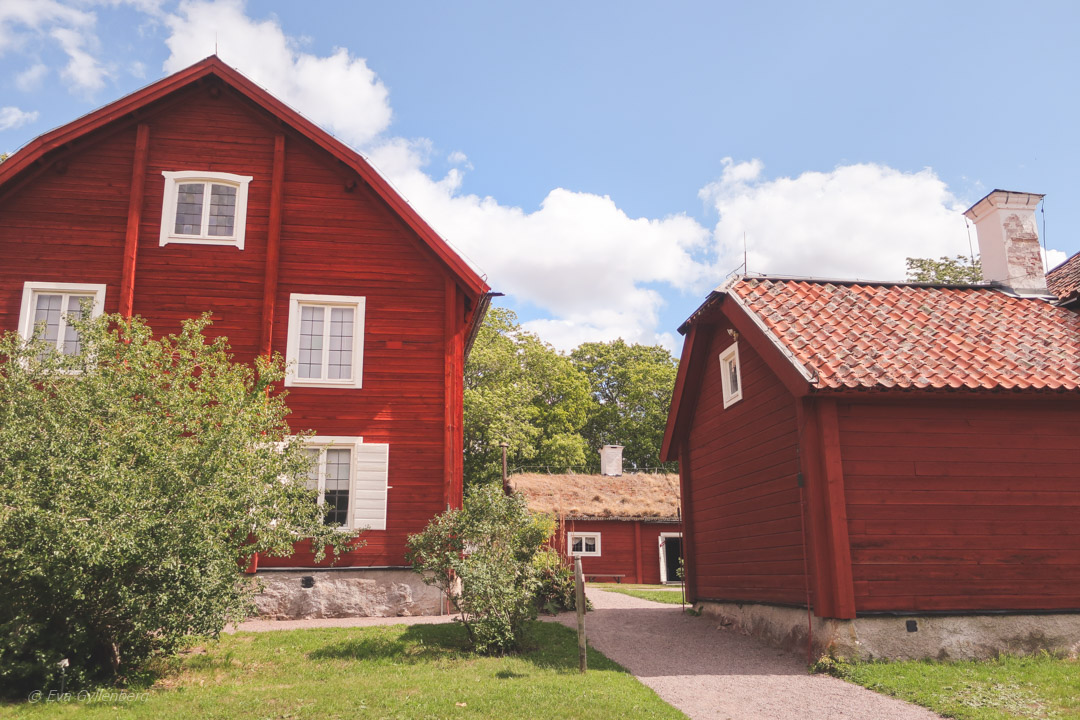 We managed to go 500 meters before the windshield of our car was met by the first drops. However, we drove through the rain quite quickly, so we didn't see the smoke of the downpour that hit Stockholm a while later.
---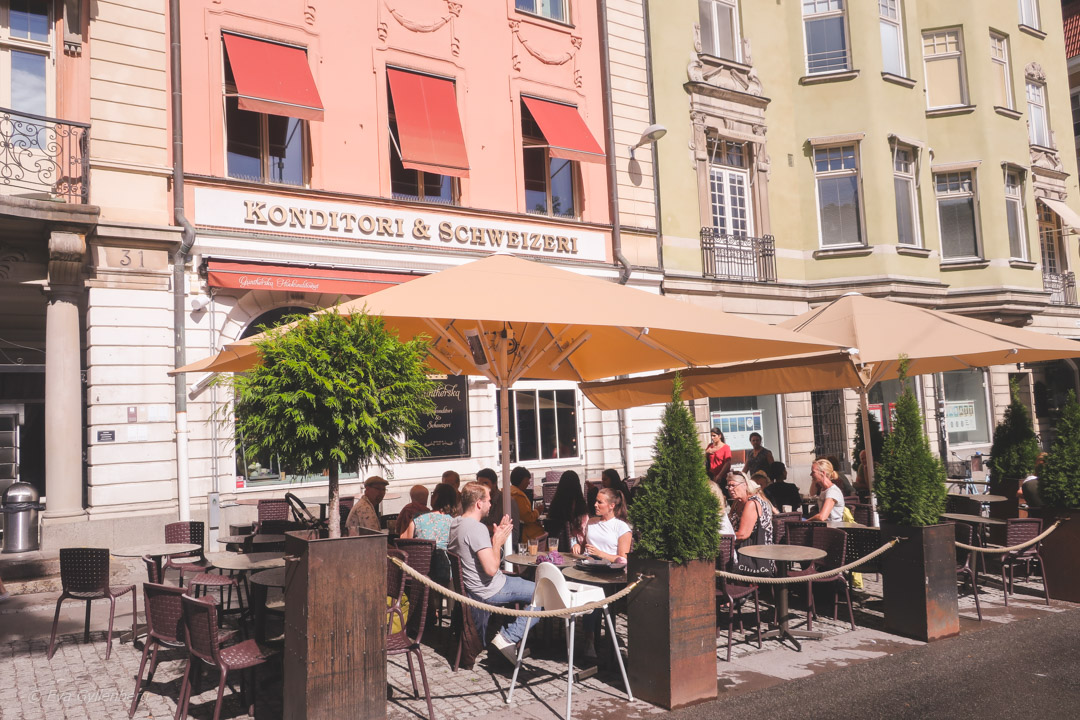 Stop 2: Güntherska Hovkonditori & Schweizeri
Time for a visit to a court pastry shop! Finding parking in central Uppsala turned out to be a bit of a challenge, but we finally managed to find a crowded spot right below the cathedral, within walking distance of the patisserie.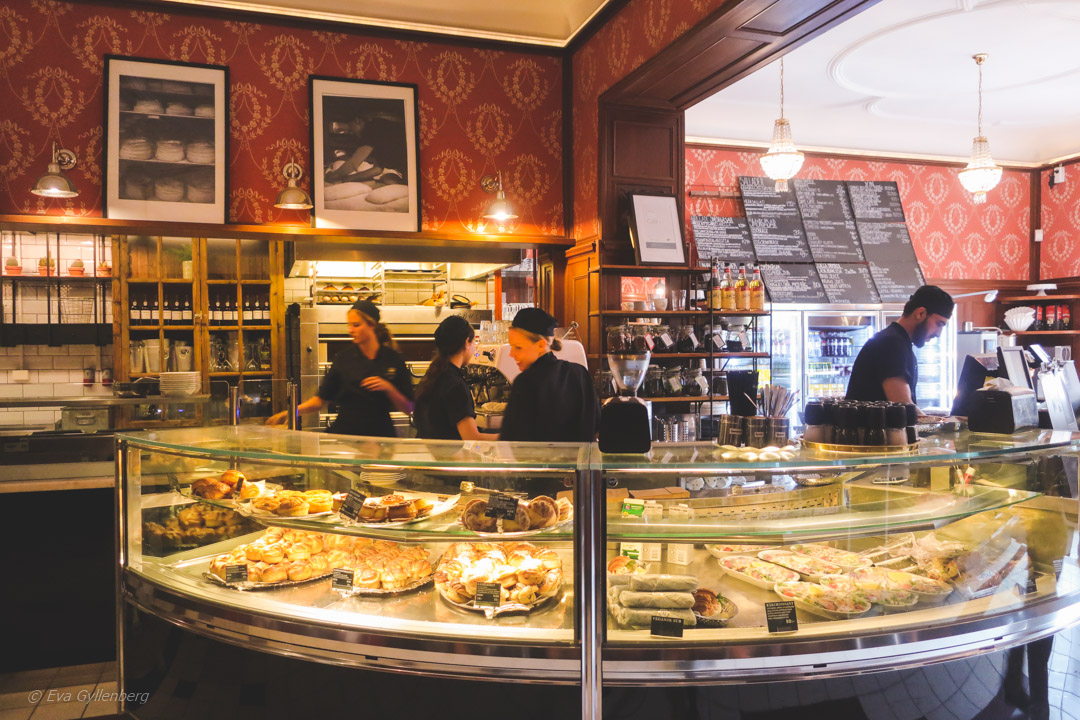 We had set our sights on Güntherska Hovkonditori & Schweizeri which received nice mentions in, among other things, the White Guide. Of course we were not alone in this cozy cafe on this rainy Sunday, but it was possible to squeeze in at a small marble table by the cash desk together with two nice ladies.
I chowed down on a raspberry/chocolate mousse made with coconut cream with truffle on top (pictured above), the husband squeezed in a vanilla and strawberry panna cotta with fresh strawberries and the daughter took a pink sphere of raspberry jelly with marzipan cream(?). Mine was definitely the tastiest - my daughter's was the prettiest, but way too cute. But the whole place is highly recommended, a real classic Swedish patisserie! We will be happy to come back here again and again and bake beautiful pastries!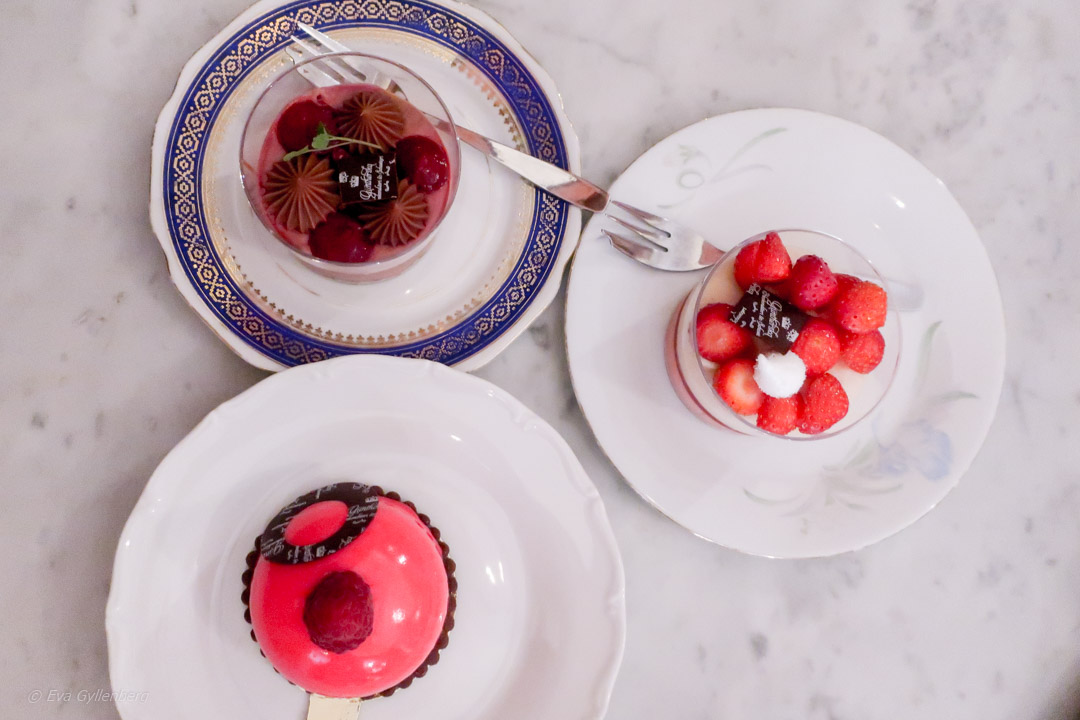 By the way, there were not only pastries at the patisserie, but also hearty sandwiches and salads. I would have liked to know that before I squeezed my mini salad at Linnés Hammarby...
We enjoyed our coffee in peace until the rain clouds passed and we could move on to the last stop of the day on our Uppsala tour.
There is really something special about Uppsala, because the whole atmosphere feels very southern. The colors of the houses, the roads that go through the houses in arched small tunnels and the Fyrisån that flows past the plastered houses. This might as well have been Germany.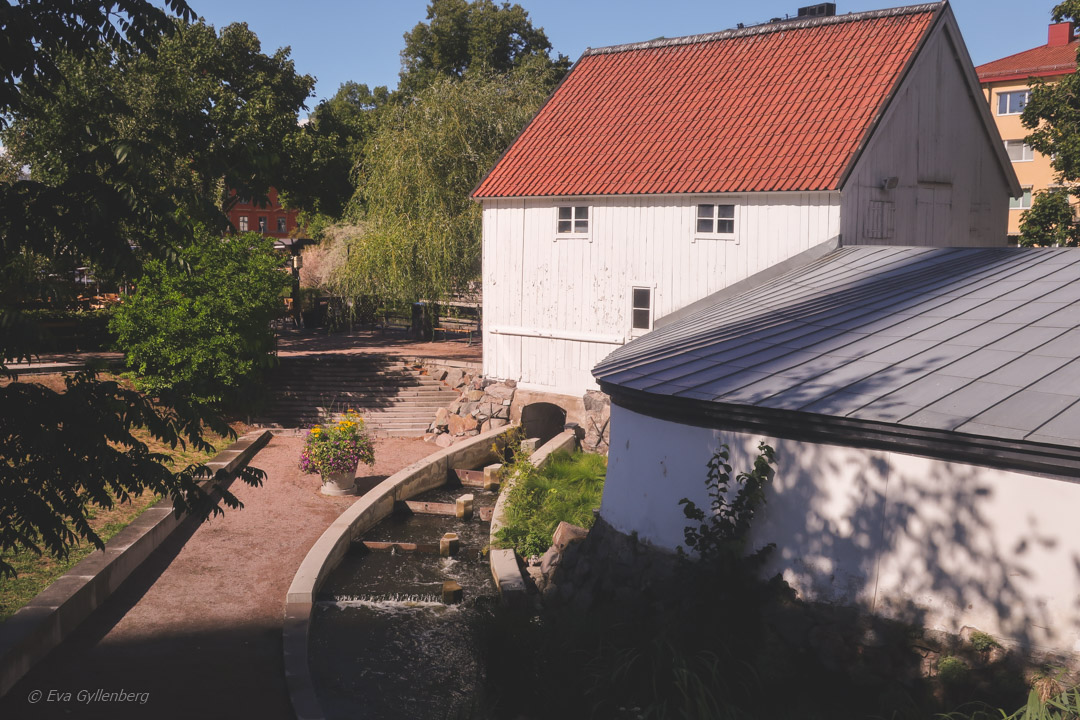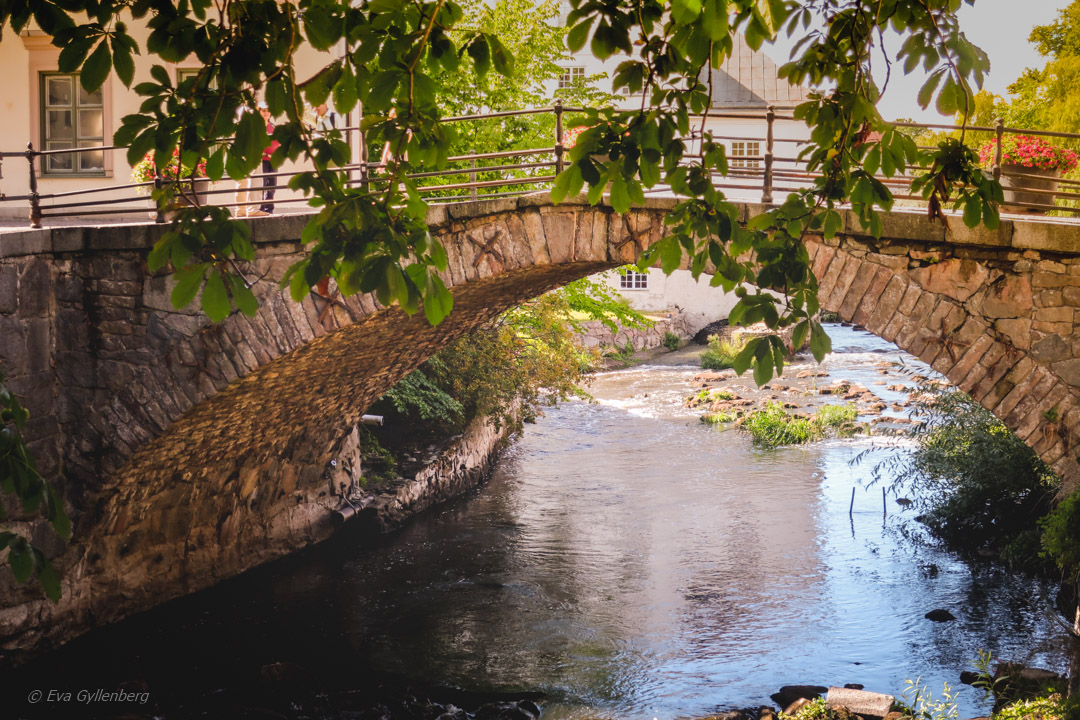 ---
Stop 3: Old Uppsala
The last stop on our history journey (and food journey) through Uppsala will be at Gamla Uppsala's mounds. Old Uppsala is one of the Nordic region's most important and exciting antiquities areas, right on par with Birka in my eyes. Most famous are the three royal mounds from around the 500th century, which are so large that you can see them from a great distance.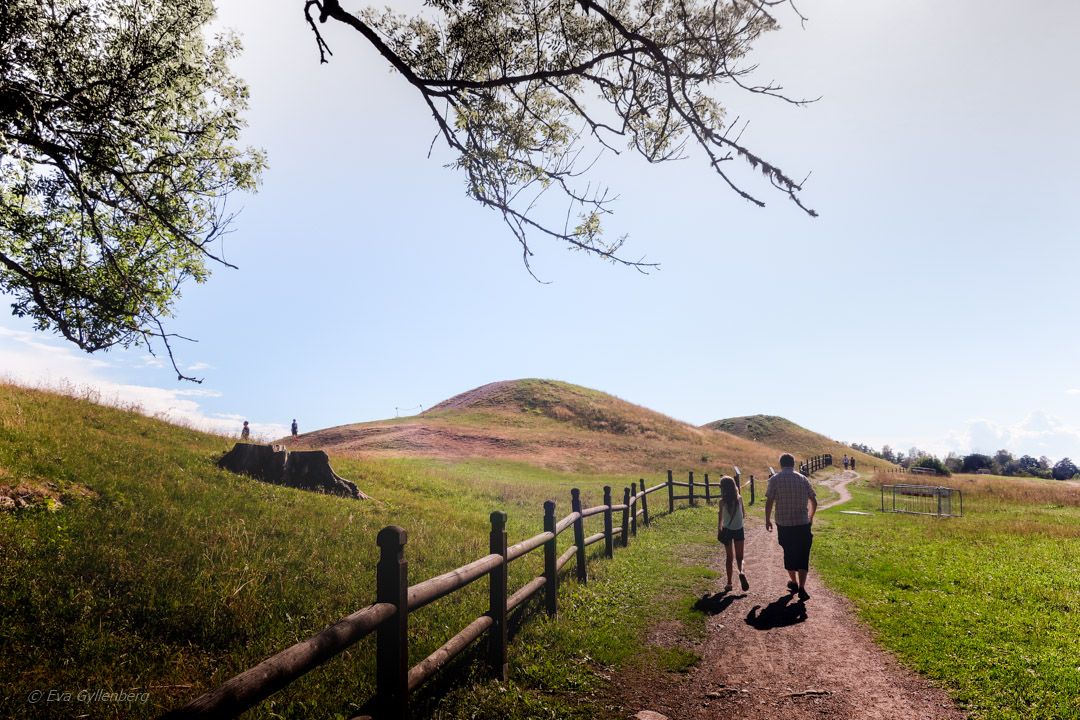 We walked around the hills and tried to find somewhere to read about the various piles, but most of the signs were picked down and lay half invisible on the ground. Too bad, it would have been a great opportunity to learn more about Sweden's history while walking around these hills. (It is at times like these that you thank the gods for wikipedia and free surfing on your mobile phone and suddenly sound like a history teacher wandering between the stacks and reading aloud from inside)
In the 19th century, the first one was excavated kullen - East mound - and found a grave with burnt bones and burnt belongings. Through the remains of, among other things, helmets and gold found in the excavated graves, it has been established that there were rich and powerful people buried in the mounds. Hence the name - the royal mounds.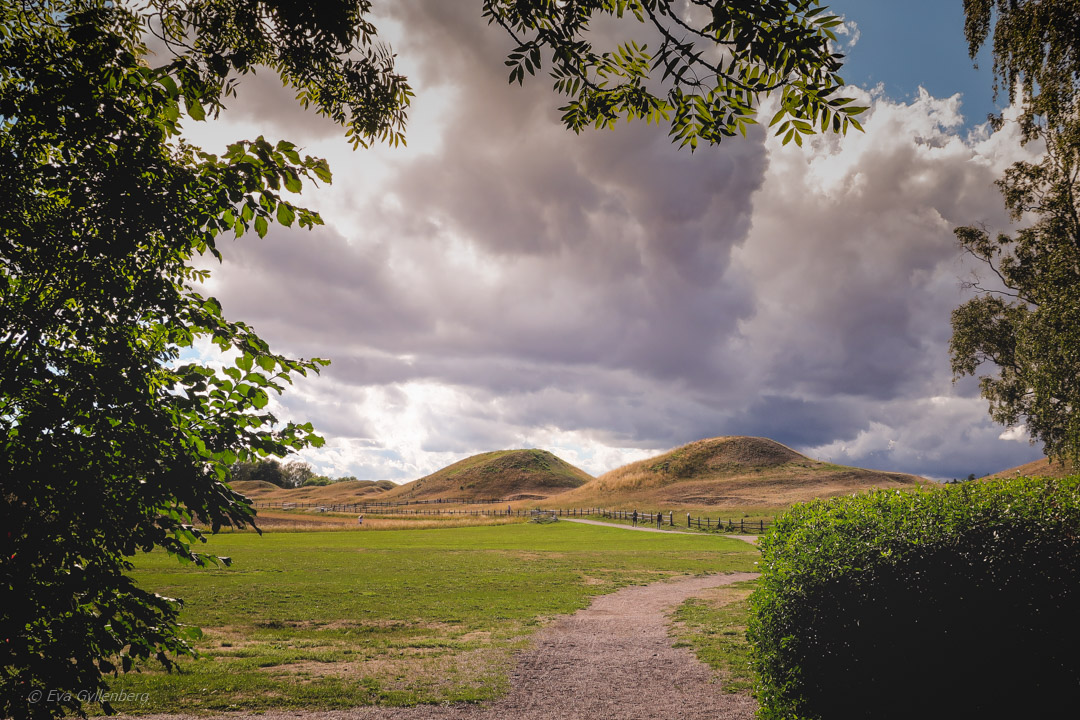 The majority of signs are up informing that it is not allowed to enter the hills, but despite this, there is still a whole family walking up the hills when we get here. I don't know if it's today's selfie age that makes more and more tourists today ignore warnings and prohibitions, just to get the perfect picture?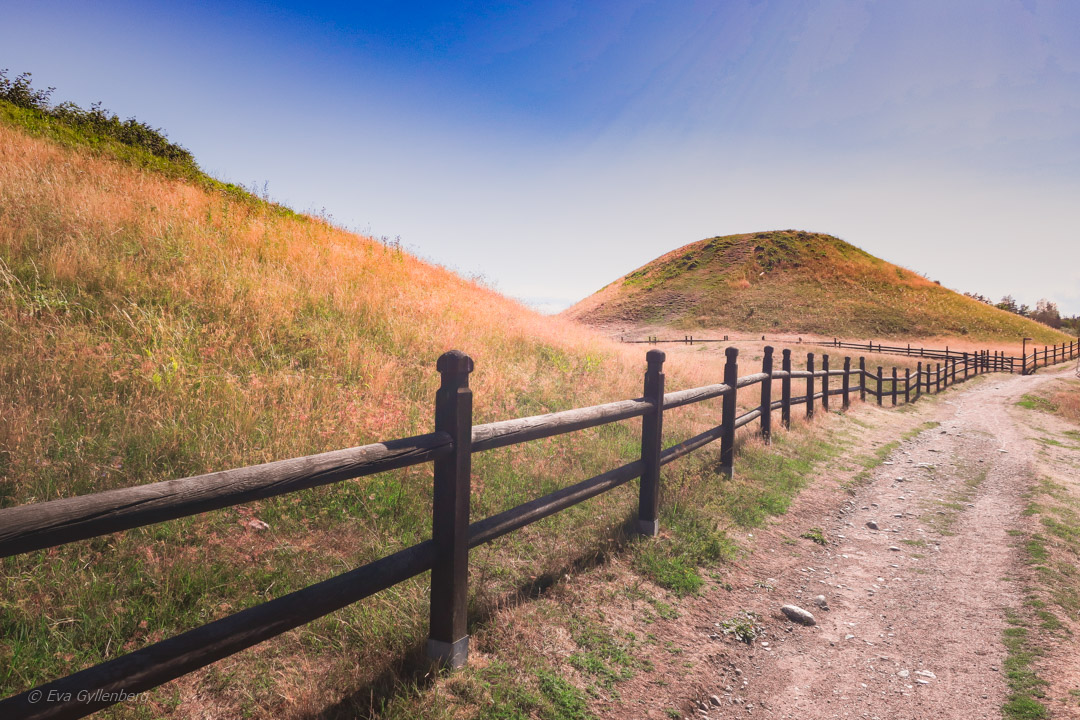 In Old Uppsala there is also a relatively new museum - Old Uppsala Museum – which displays parts of the finds from the tombs and tells the story of the area's rich past. The museum takes 80 kronor in admission for adults and it takes no more than 30-45 minutes to go through the exhibition. Although the museum is small, it is very new, well maintained and nice, so it is worth a stop.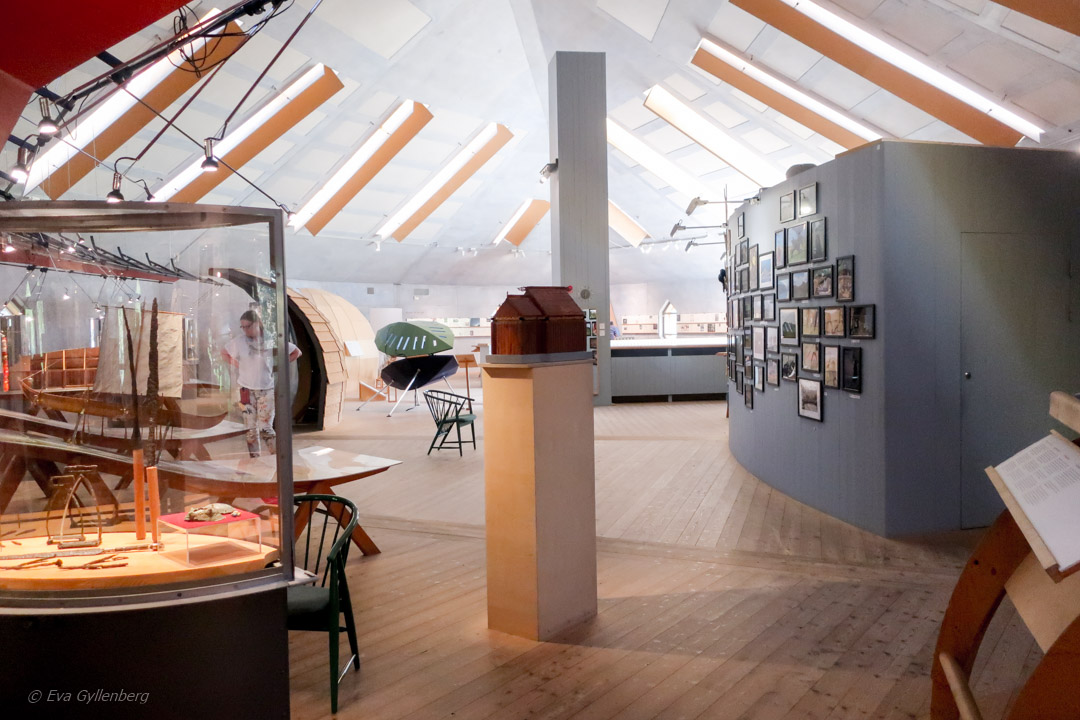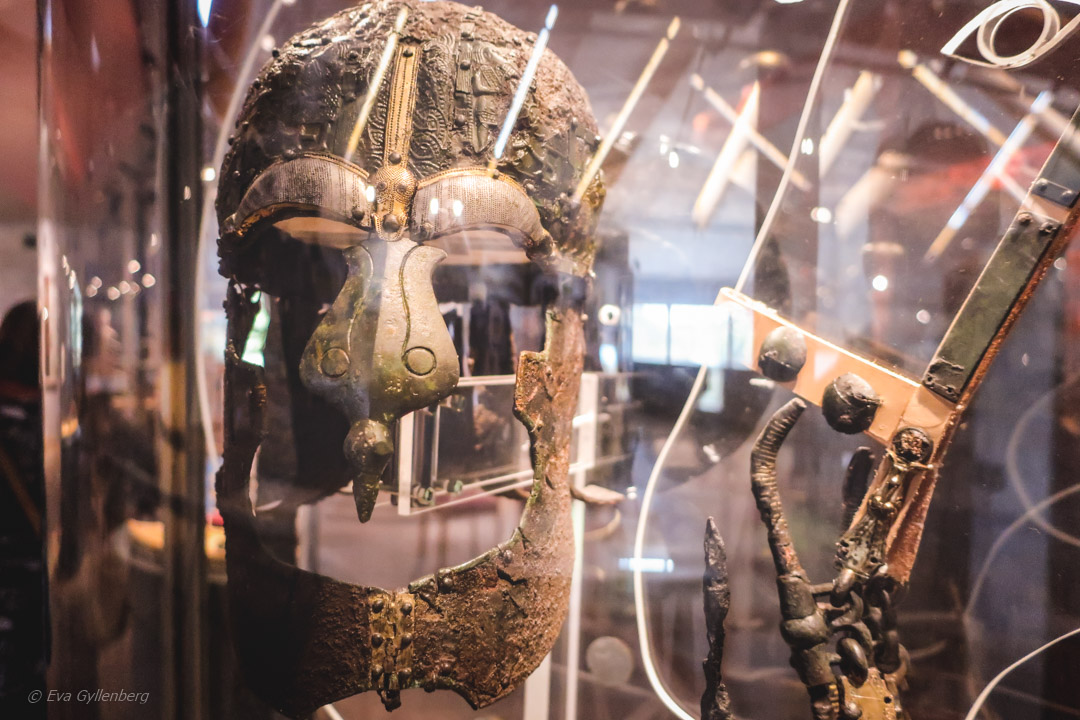 In the vicinity of the royal mounds are also Disagården's open-air museum (a farm from the 19th century) and Old Uppsala church from the 12th century, but time was running out for us. It was getting close to 17pm and the museum was closing. We just have time to buy a small amber bracelet for the daughter in the museum shop before it closes again for the day. The sun is shining again, we have learned a lot about both the Vendel era (the time before the Viking era) and about one of our greatest Swedish scientists - Carl von Linné. Time to head home for Sunday dinner and digest today's impressions!
Do you want to read more about the places we visited?
PS: I can't resist throwing in a picture from the last time we visited Linné's Hammarby. 10 years goes by way too fast ♥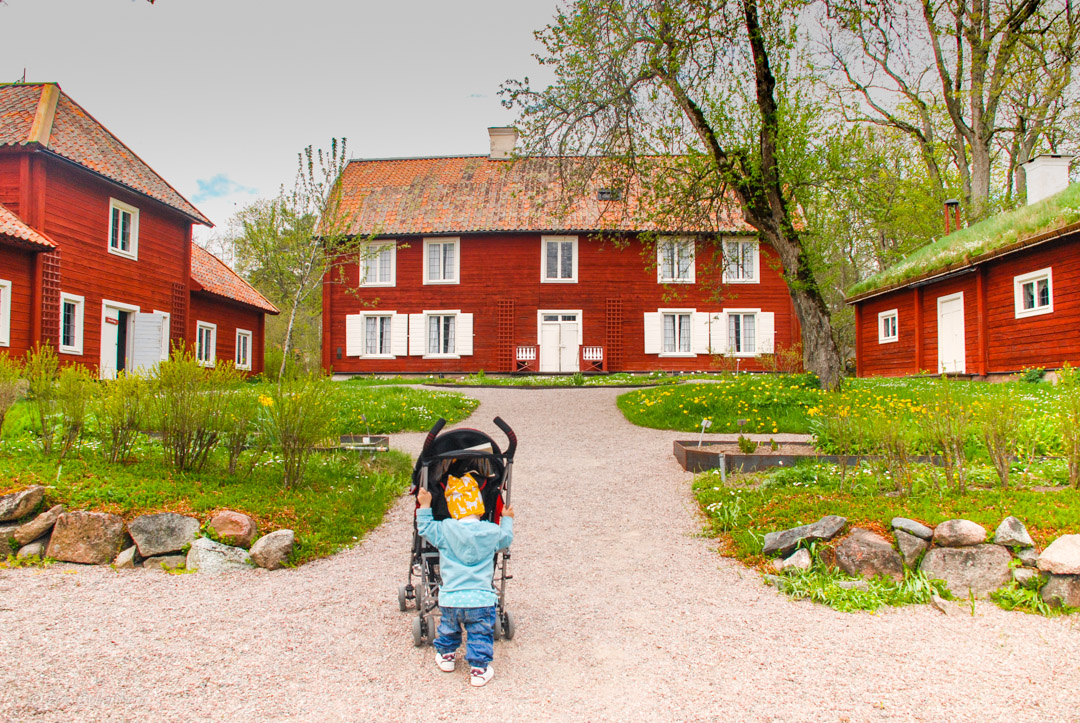 Do you want to see more of Sweden?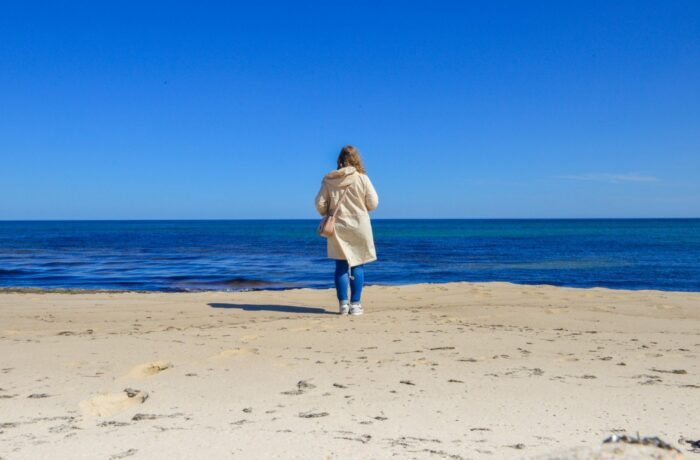 This weekend I went on a press trip with Kristianstad municipality and got to discover several…
12th of May 2019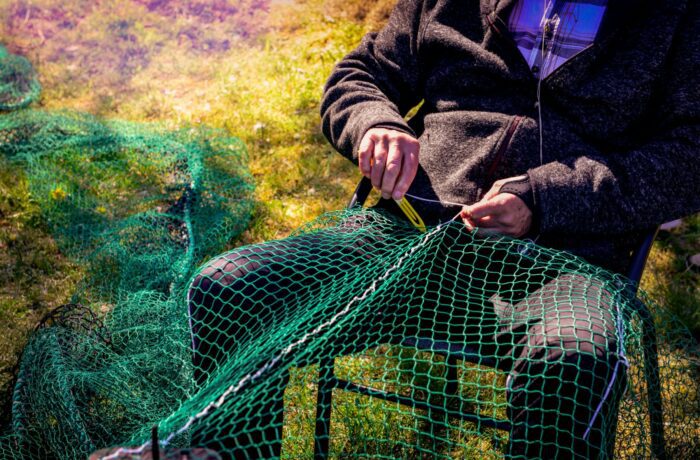 My visit to Tvillingaboden south of Åhus not only offered a perfect beach,…
16th of May 2019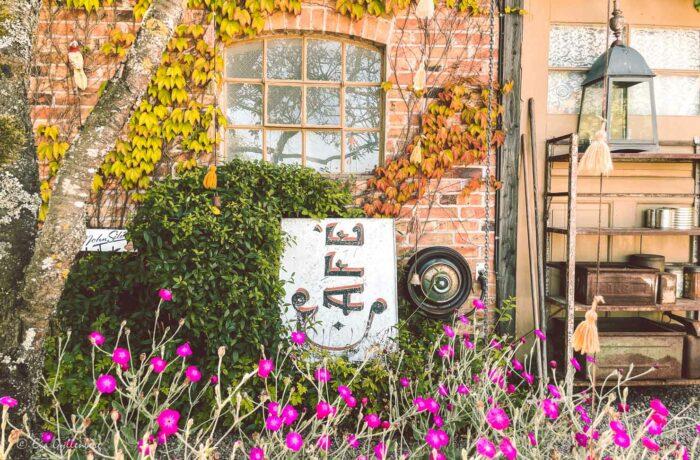 The Bjäre peninsula is so much more than Båstad, tennis and fine golf courses. Here I suggest…
February 8