We zigzag down, heading straight down into the underworld. Above our heads, bats perch on the walls and vultures circle high in the sky. Caving is generally not a family sport, but in Carlsbad Caverns there is an opportunity for the whole family to explore one of the world's largest cave systems.
Carlsbad Caverns National Park located outside of Carlsbad, New Mexico. Although the park has a large area above ground, the magic lies underground. Gigantic limestone caves stretch for miles beneath the dry surface. In fact, as many as 120 caves are found here in the area. It is believed that the caves are between 4-6 million years old and even though the caves have been explored for over a hundred years, new caves are still being found.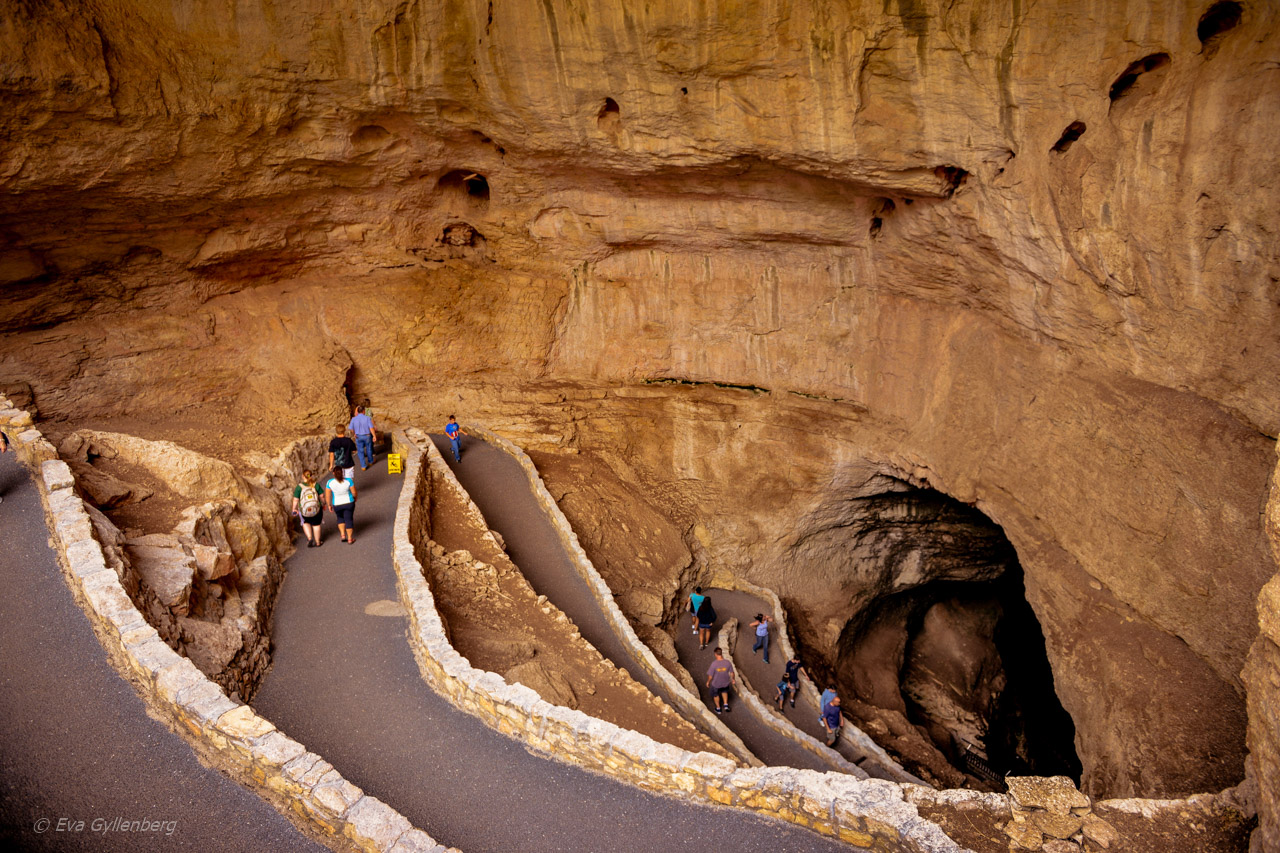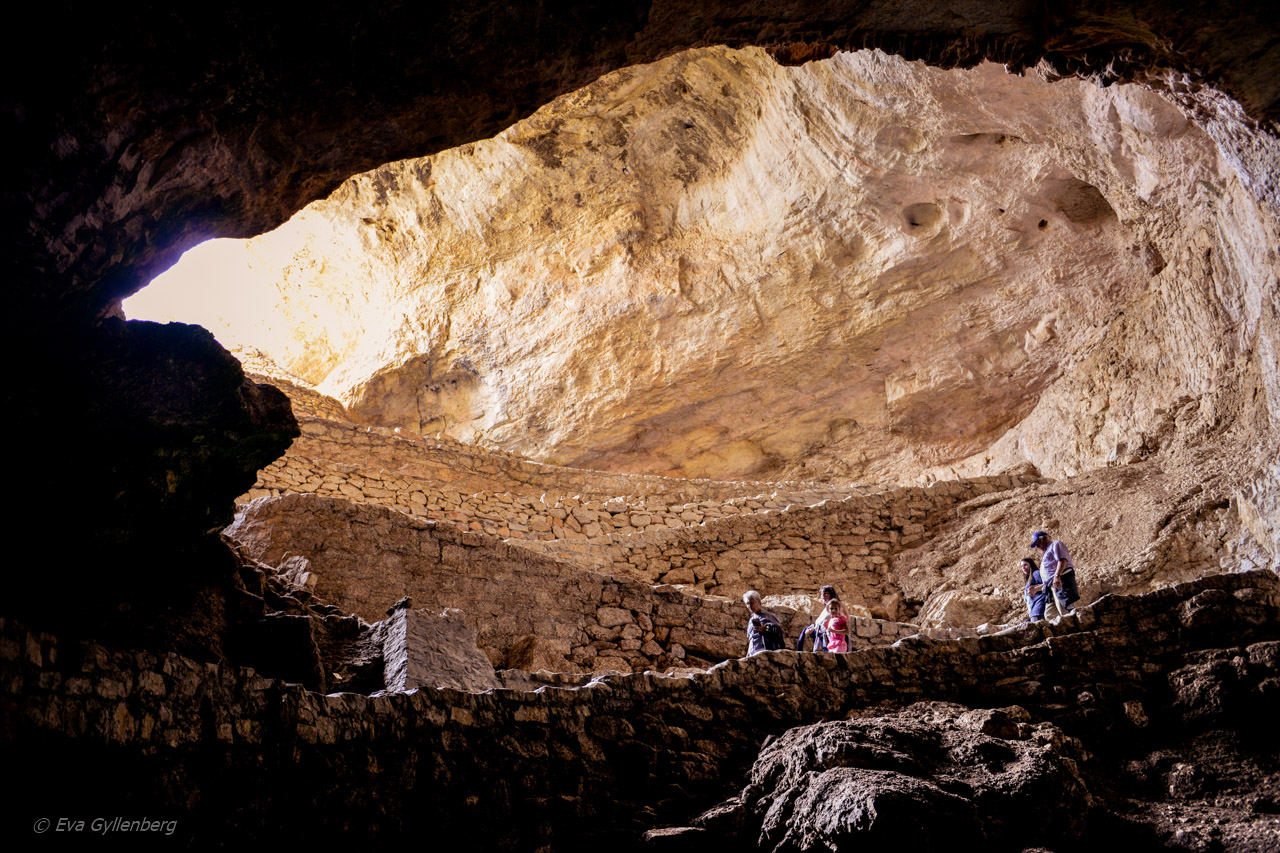 The way down into the cave is steep, but through the winding trail, no stairs are needed. We will pass 250 meters in height on our way down into the cave. There will be many curves to take on the way down.
Quite quickly you enter the cave and the daylight that reaches us becomes less and less. Finally, the natural light ends, the eyes begin to get used to the light and the colors of an illuminated cave appear before us.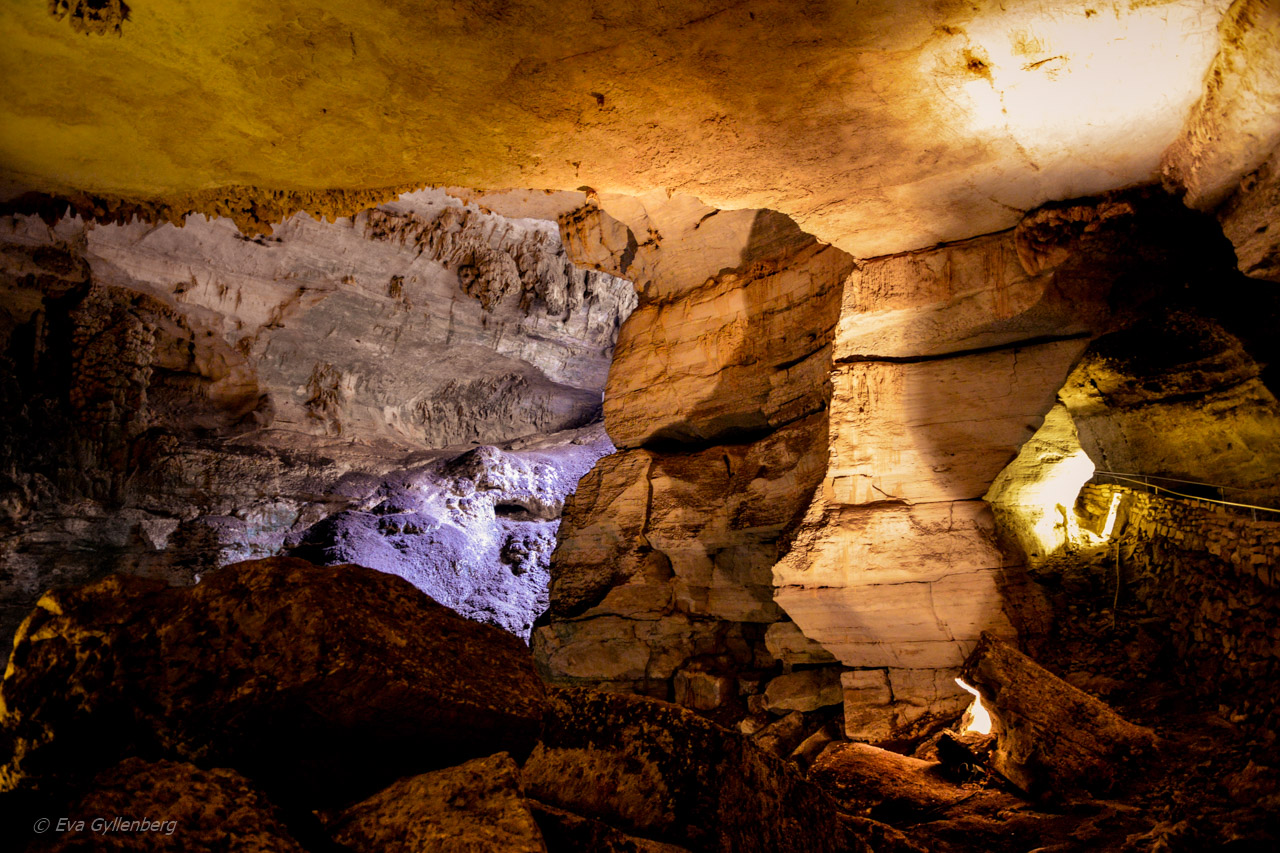 The hiking trail passes several fabulous rock formations with the most intriguing names. Bat Cave, American Eagle, Devil's Spring and Baby Hippo. You have to have your imagination with you to understand the names, but regardless of whether I see where the name comes from, each rock tells a story. A story millions of years old.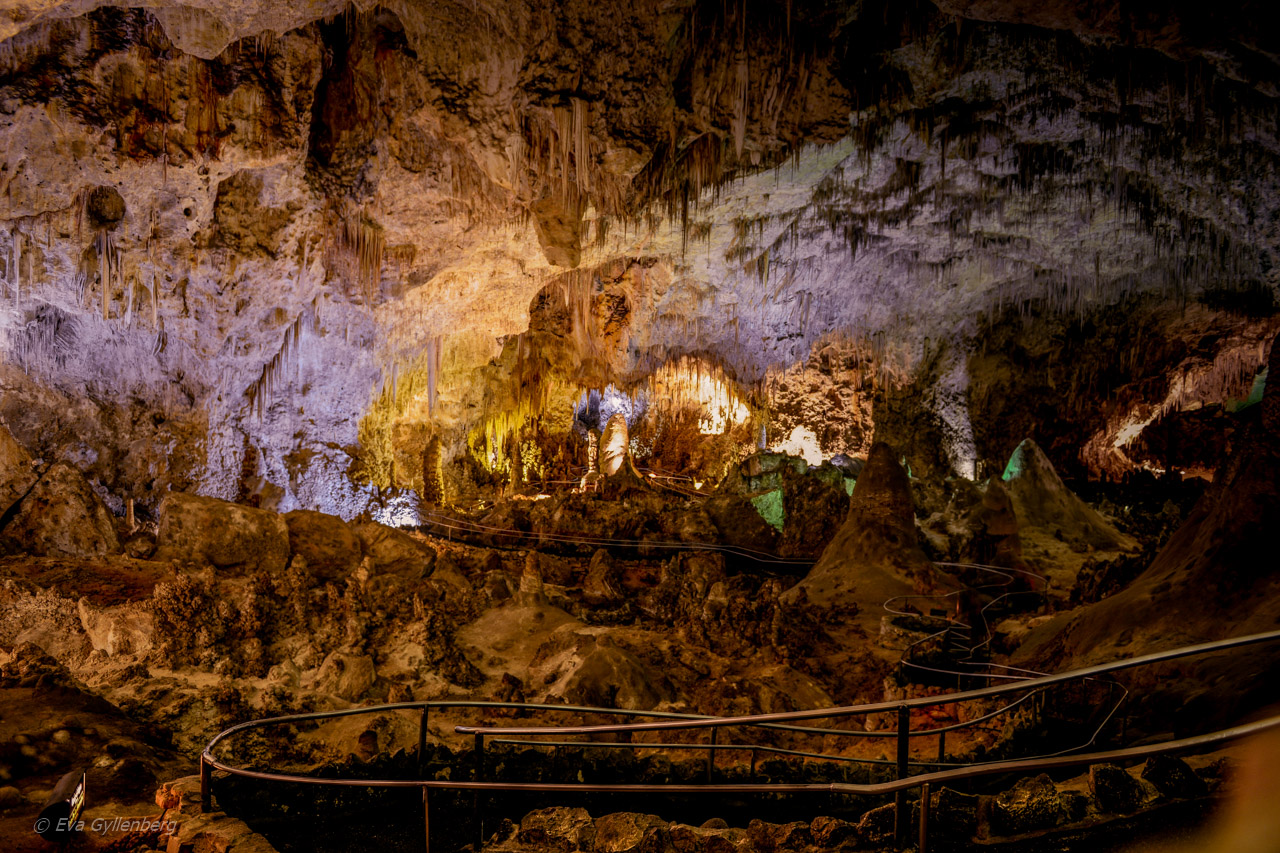 The 0,5 million people who visit each year bring skin flakes, fabric warts, fingerprints and hair with them. Kilos every year. To protect the unique and fragile environment of the caves, the area you are allowed to walk on is limited and clearly marked and secluded. What took millions of years to build up can easily be destroyed in a few hundred years if you don't protect the cave from us tourists.
It is about 2 kilometers to hike down to the bottom of the cave and the great hall. But going downhill the same height difference as a high rise building of almost 100 floors takes some time. For us it took almost an hour down to the bottom. But then we stopped quite often and took photographs.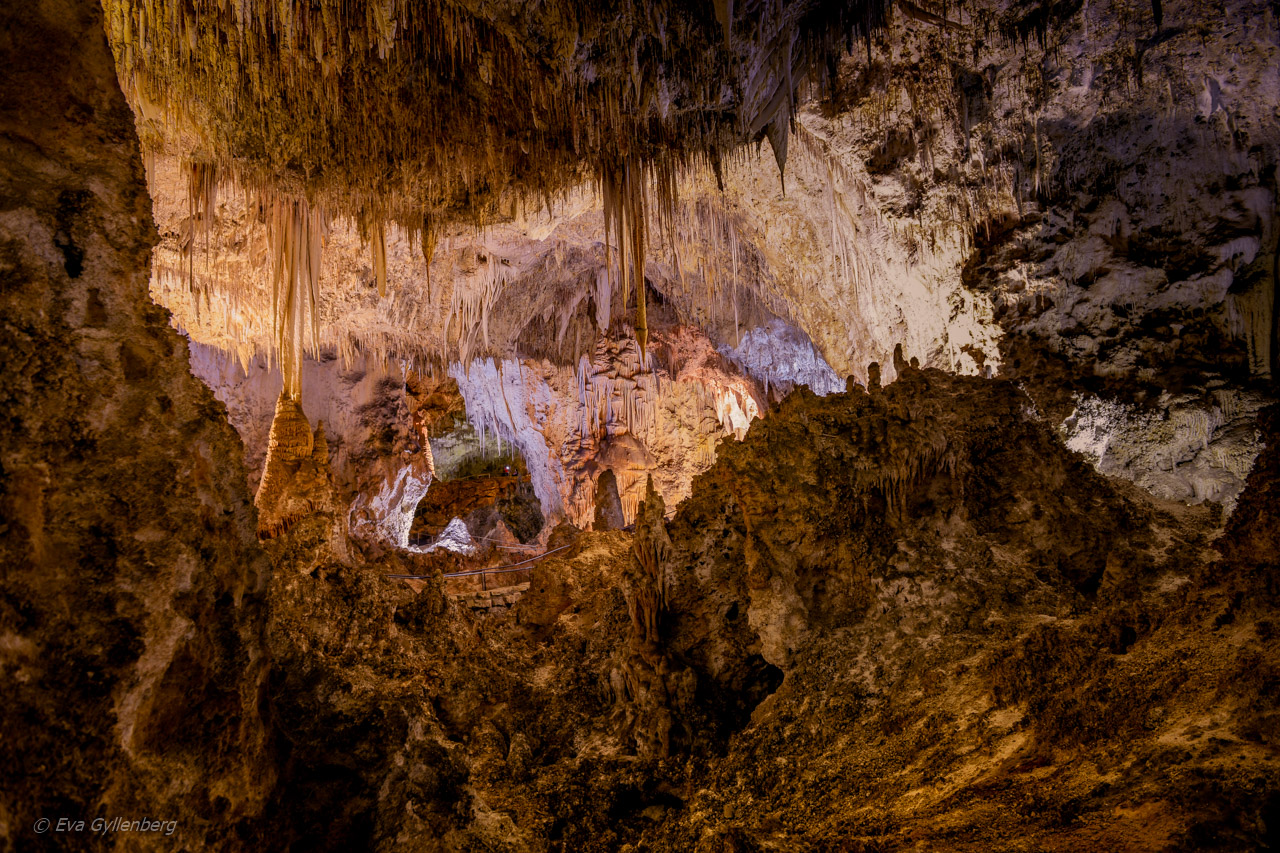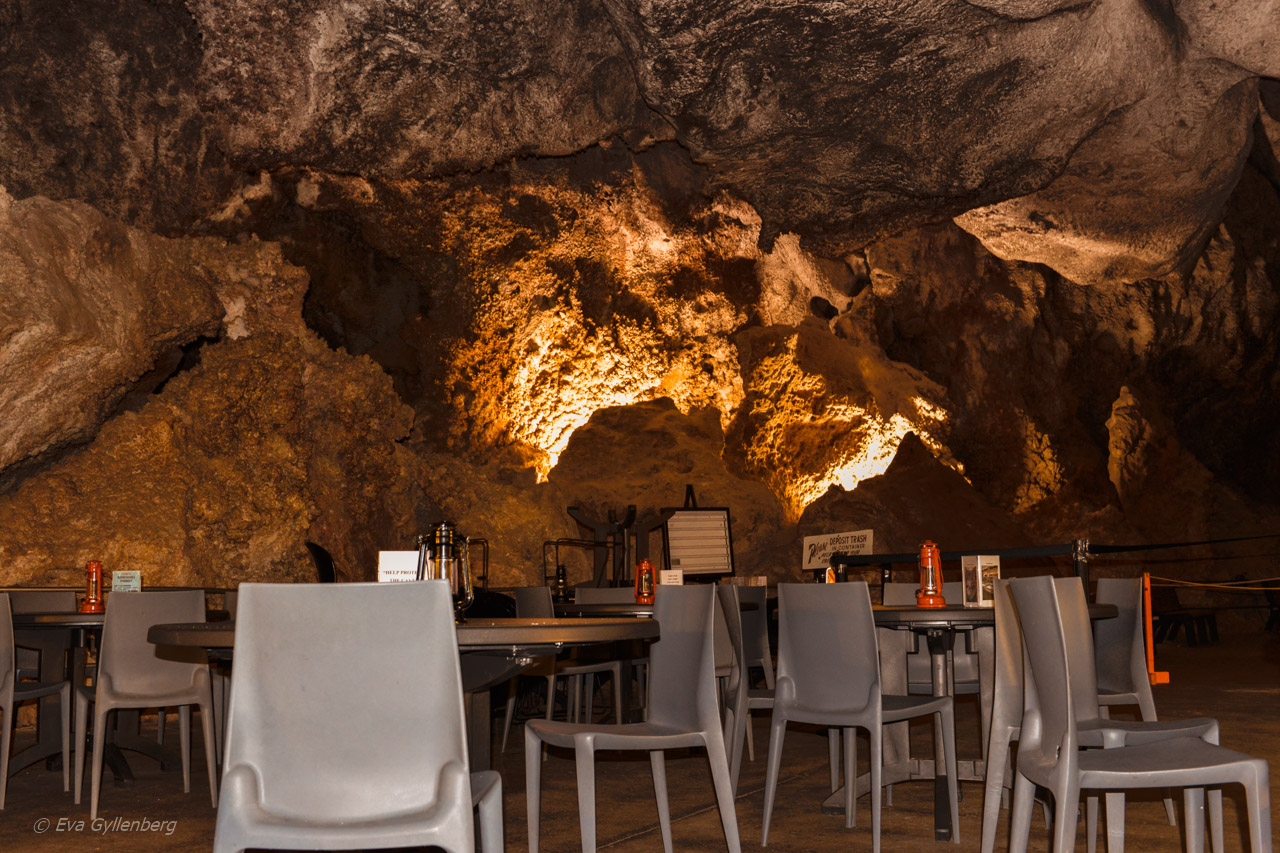 Since the 1950s, there has been an elevator down to the cave's Big Hall and there is also a café here. Down here you don't feel the 40-degree heat outside at all, here it's 13 degrees all year round. We stop and have a coffee. It feels pretty absurd. We have wandered down into a fairy tale world and arrive at a cafe? Lucky we have one of the best hikes left. The Big Room Trail.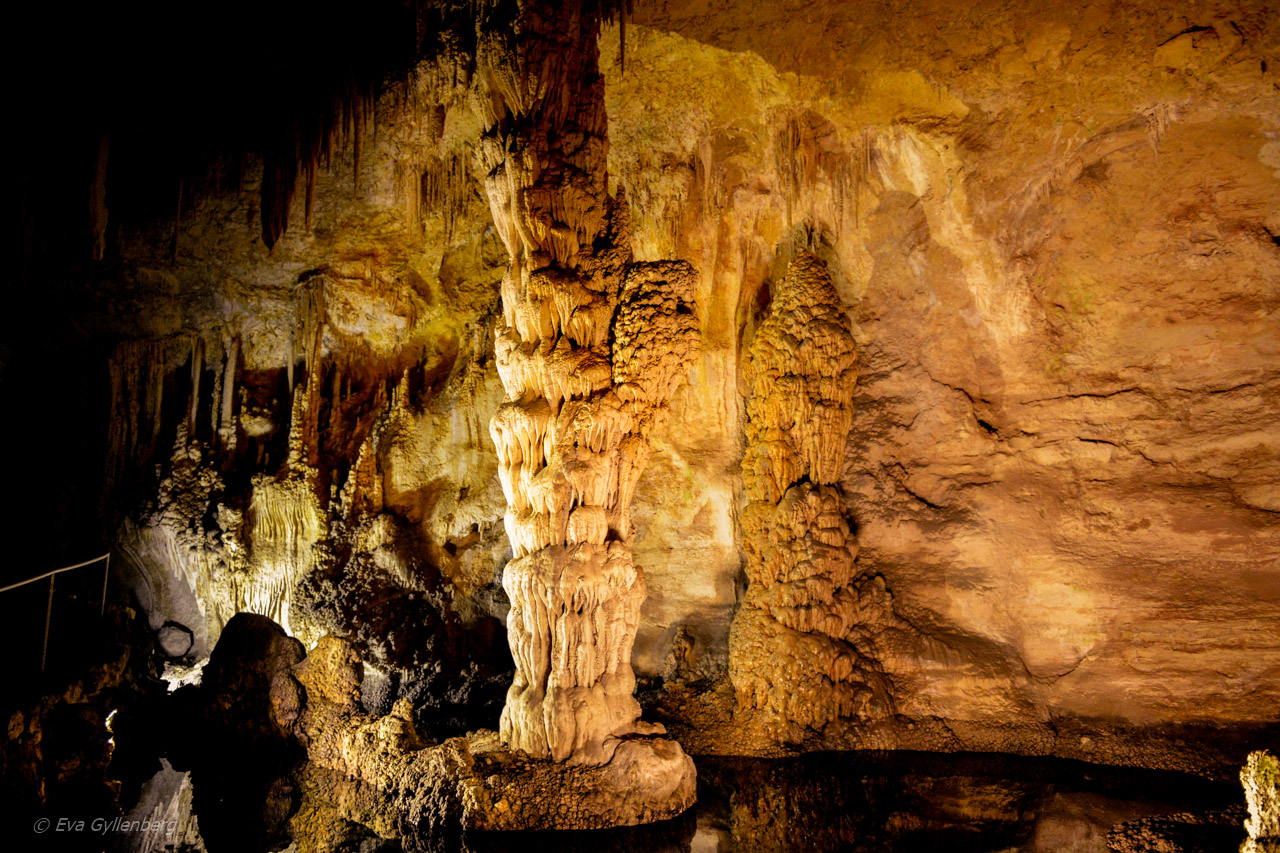 The Big Room Trail is an easy 2 kilometer long trail into some of the cave's most beautiful chambers. "Grand Canyon with a roof" this part of Carlsbad Caverns is said to have been called more than once. I understand why. A cave hall the size of fourteen football fields. This is superlative upon superlative of unnaturally beautiful nature. Illuminated in the most tasteful way. I could go on here for hours. Which we also do.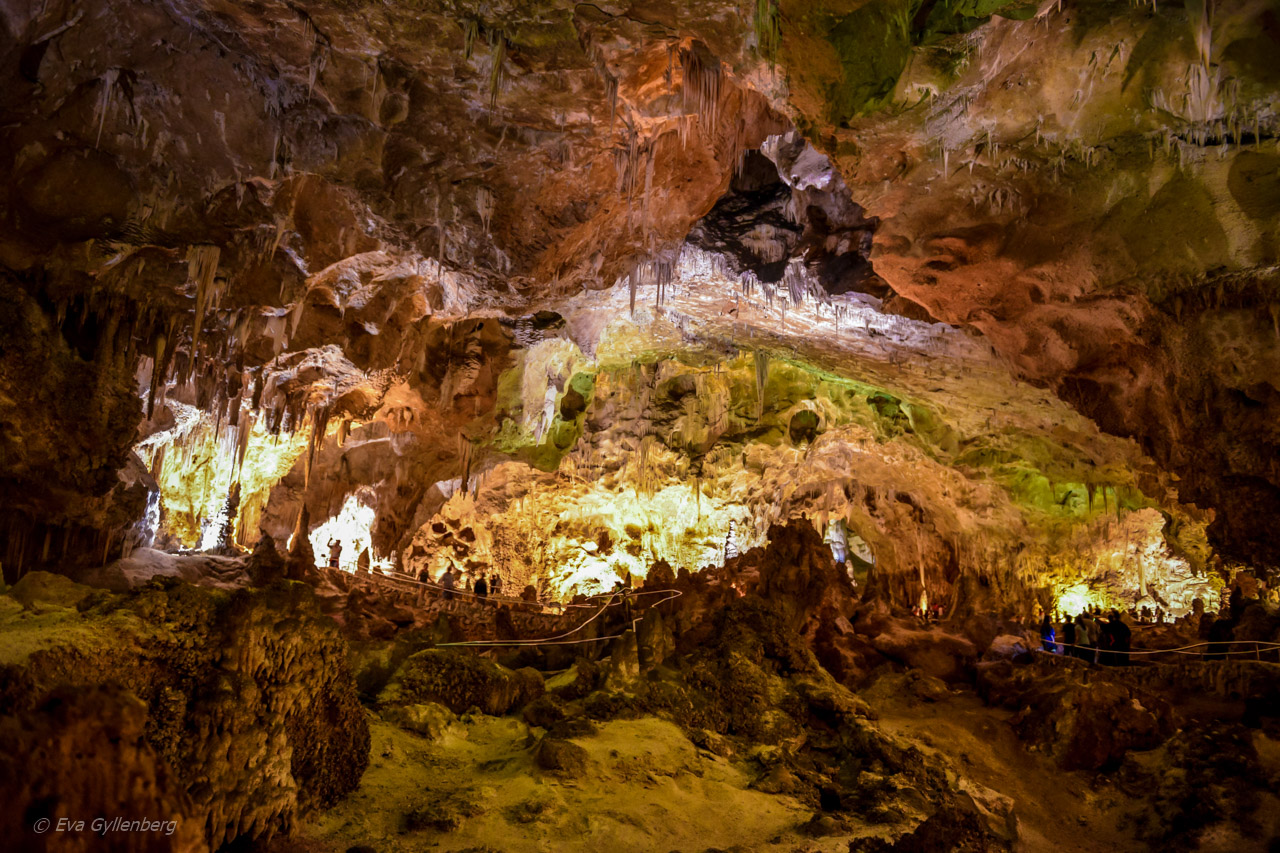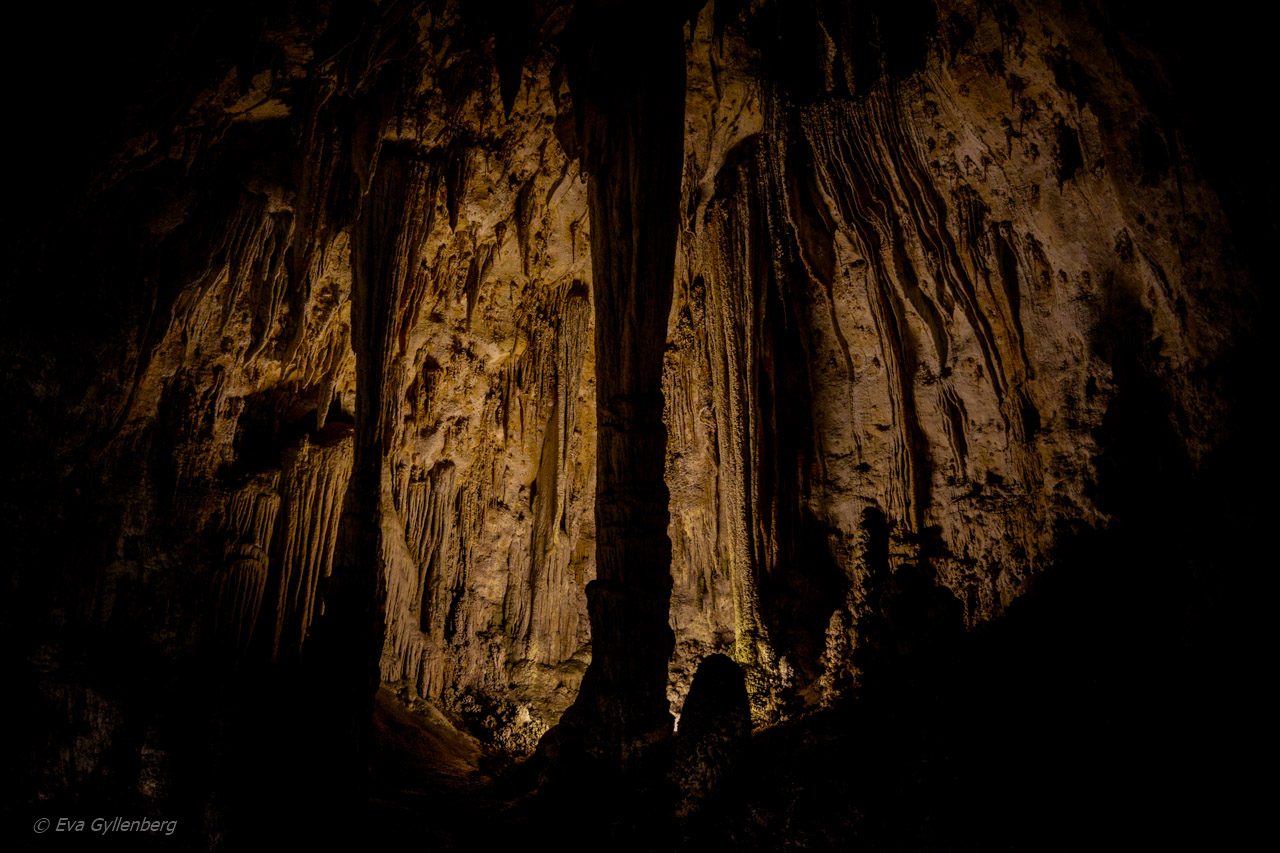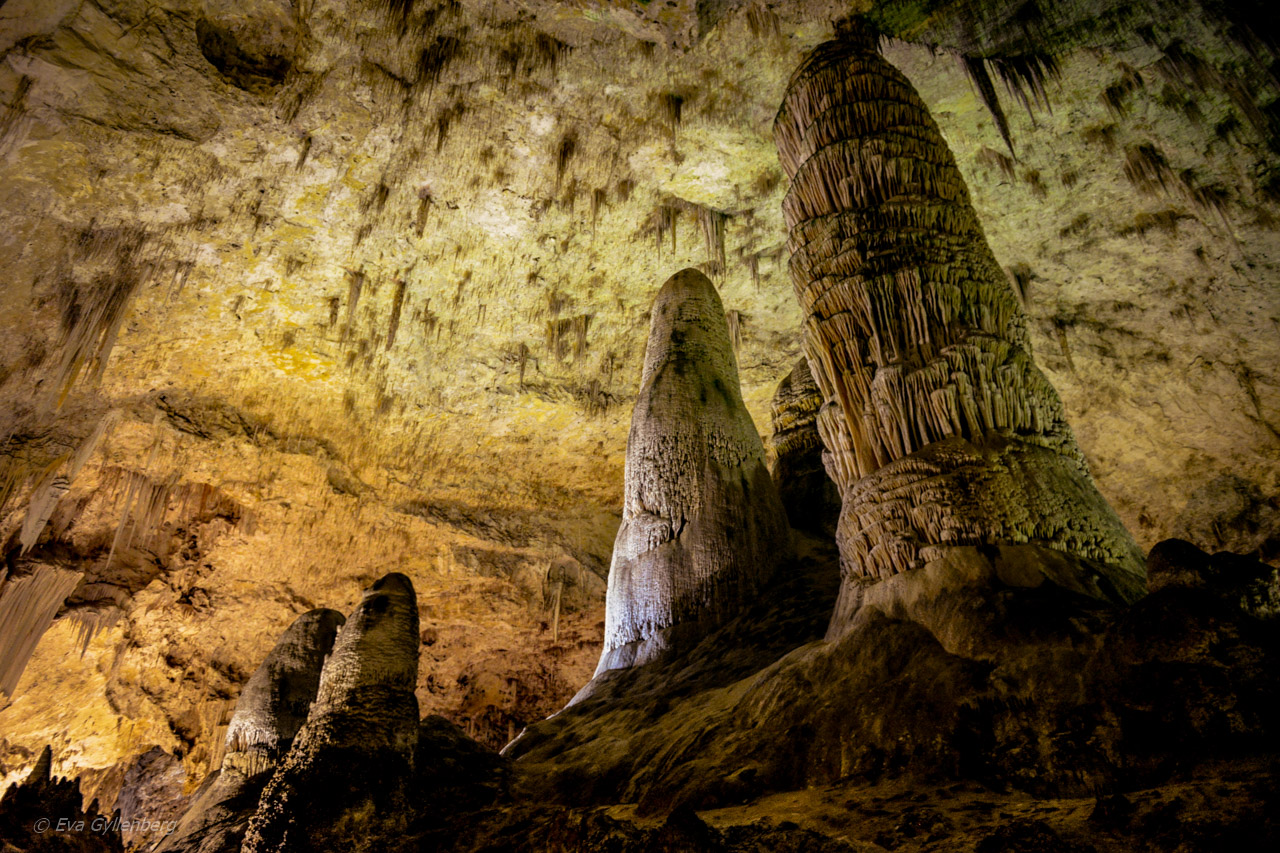 Make sure to go to the bathroom before we head up to the warmth and light again. Not every day I go to the toilet in the underground. Probably never actually happened. A visit to the toilet to remember simply.
There is room in the elevator on the way back up without too long a queue. It is clear that you can hike back up, but then you hike against the current. It's not enough to walk uphill, you almost have to elbow your way forward. So we take the elevator up after 5 hours in the underground. It was so nice to see the sun again. I admire all the real cave explorers who are down here for weeks, exploring new and inaccessible caves. It must be so damp, cold and dark.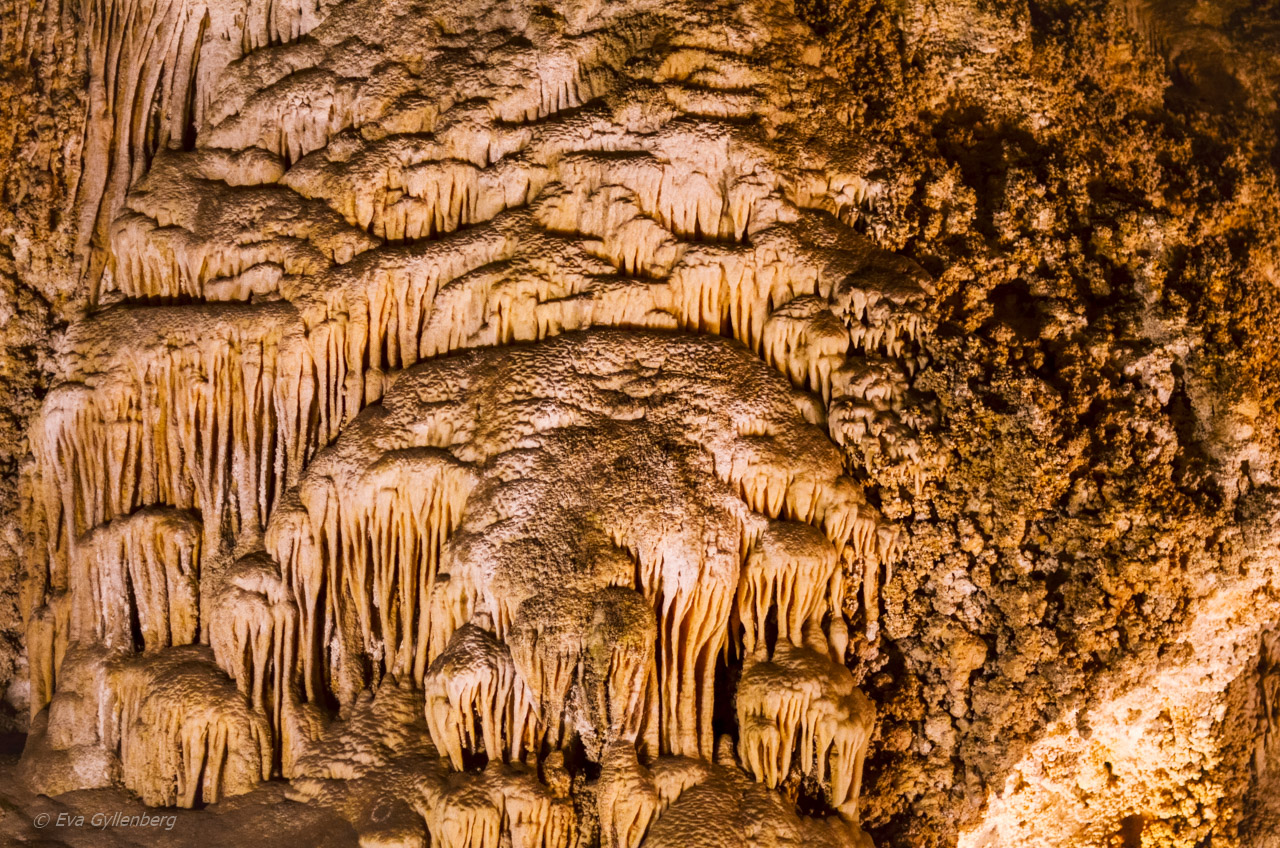 It's almost time for the last part of our visit to Carlsbad Caverns. The twilight show at the amphitheater at the mouth of the cave. Between May and October, between 200 and 000 bats live here in the cave and every night they go out in search of food. Watching these multitudes of bats swirl out of the cave at sunset is like watching a tornado build up in front of you in a pink sky. There are so many bats that it is impossible to keep up with the gaze. I can't help but wonder if there can be even a single mosquito or fly left around Carlsbad Caverns.
When the last stragglers have left the cave, the amphitheater is almost empty of people. We carefully walk back to the car in the dark, shining our cellphones to see where we put our feet. But luckily, no rattlesnakes today.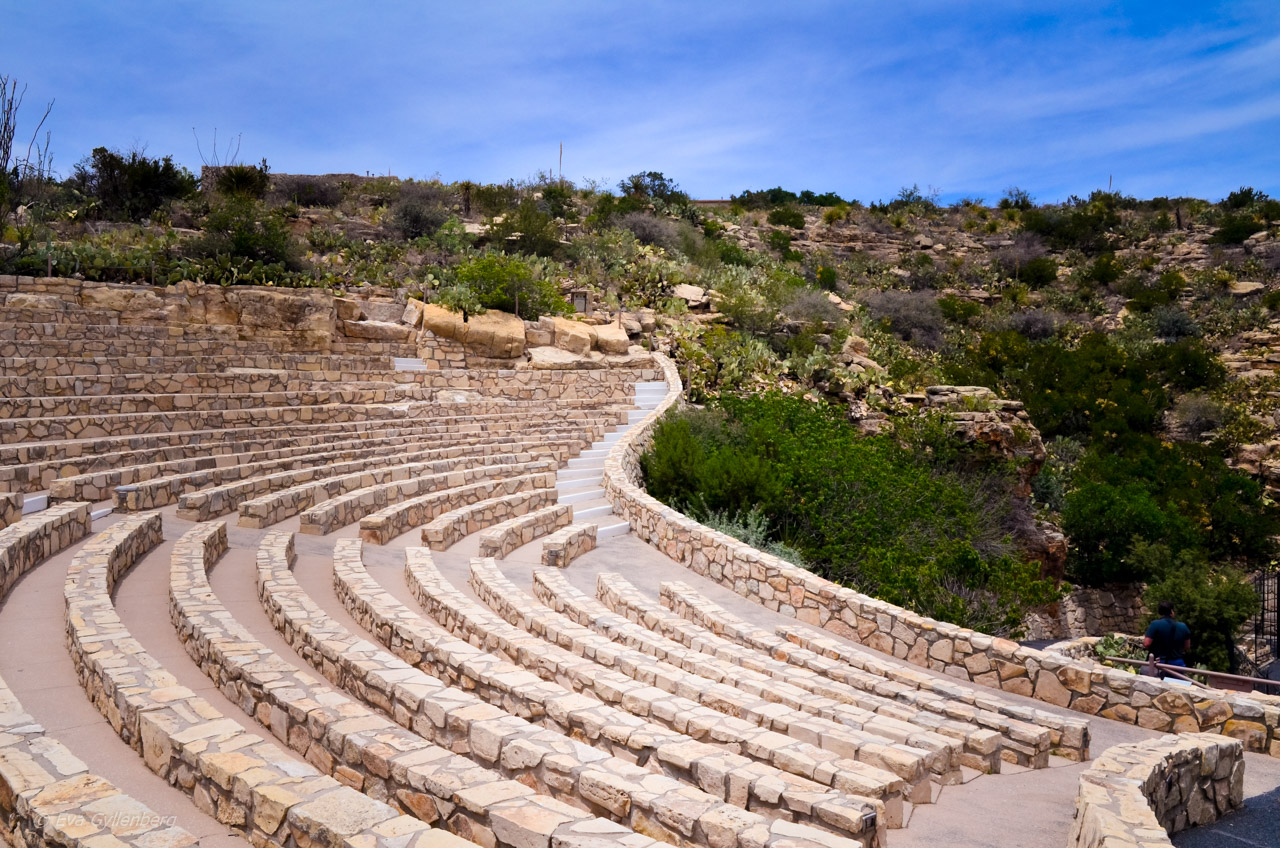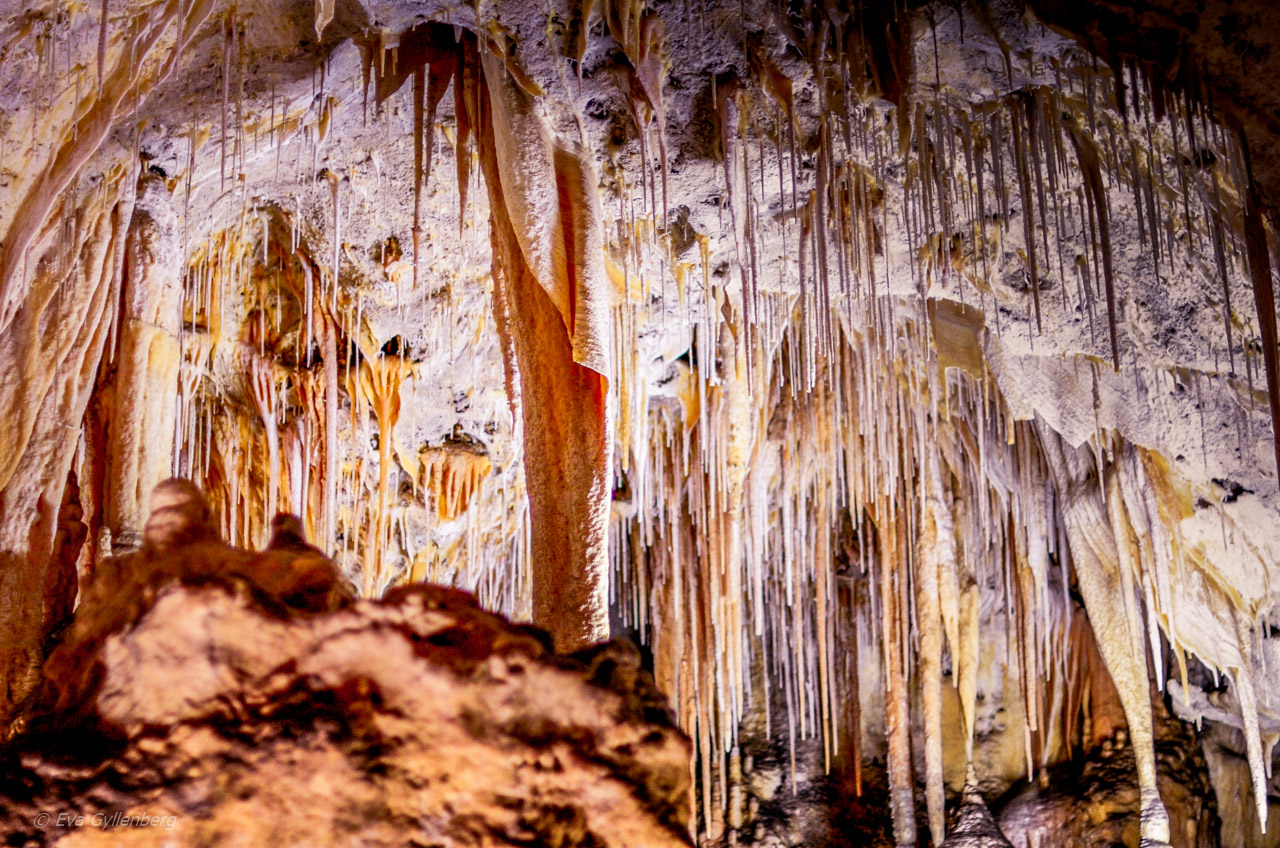 How do I get to Carlsbad Caverns National Park?
Carlsbad Caverns National Park is located in southern New Mexico, on the border with Texas. Admission is $12 for adults over 16, unless you have one America the Beautiful-Pass.
What do I need to think about before going here?
Leave the heels and flip-flops at home! You need sturdy hiking boots to hike down into the cave.
You must not wear clothes, shoes or anything else that you used in another cave! There is a disease called "white-nose syndrome" that is killing large numbers of bats throughout the United States. Don't be the one to accidentally spread it to Carlsbad Caverns!
It's hopeless to photograph in the cave without some kind of tripod, so it's worth bringing along!
Get dressed! 13 degrees is not particularly comfortable in a t-shirt and shorts. Bring a fleece!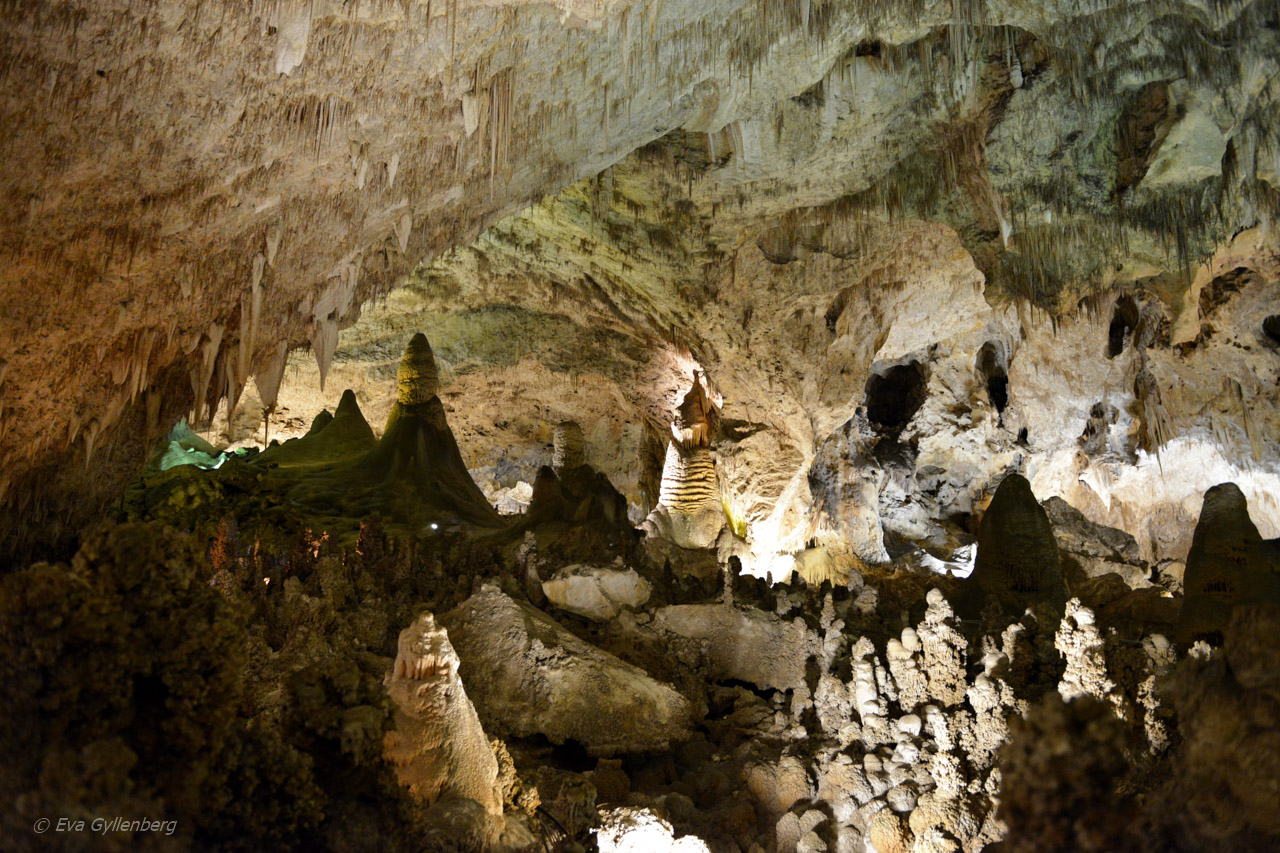 Exciting facts about Carlsbad Caverns
In one of the newly discovered caves in the area – Lechuguilla Cave – rock-eating bacteria have been found which appear to have unusual bactericidal properties. What if the solution to some of our modern world's medical problems could be found here?
Before stairs were created and the elevator was installed, tourists were welcomed down into large guano buckets (buckets used to scoop up bat droppings for fertilizer). A little less safe than today and probably didn't smell like roses.
In the old days, you could buy cigars downstairs in the lunchroom. Seems like a good decision that you are no longer allowed to smoke down here...
Want to read more of my travel tips? do not forget to like Rucksack on Facebook!
Want to see more from New Mexico?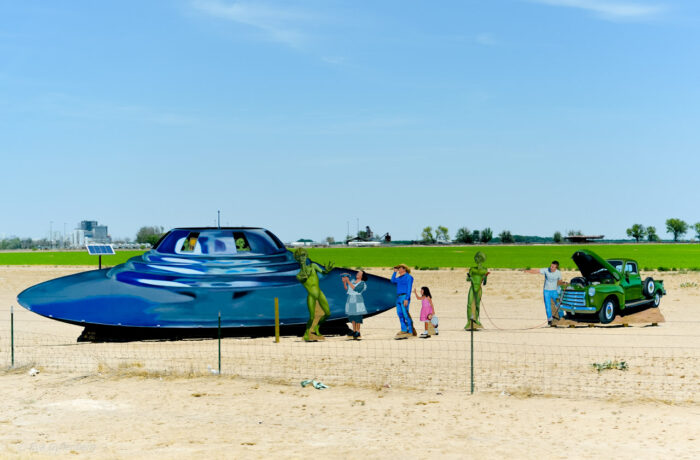 Heading north in New Mexico, we visited the legendary UFO town of Roswell, in search of…
February 5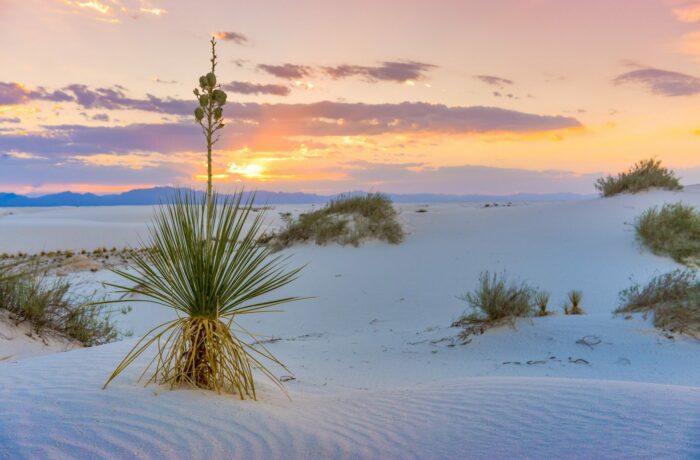 A chalky white natural plaster desert. If I had to choose, White Sands would…
January 16