There are plenty of hotels in the area around Hoi An in Vietnam, but the number of hotels with a good standard and beach access is not too many. We stayed the first part of our stay in Hoi An at the four star hotel Boutique Hoi An Resort, a colonial-style hotel on the beach at Cua Dai, 6 km from Hoi An center.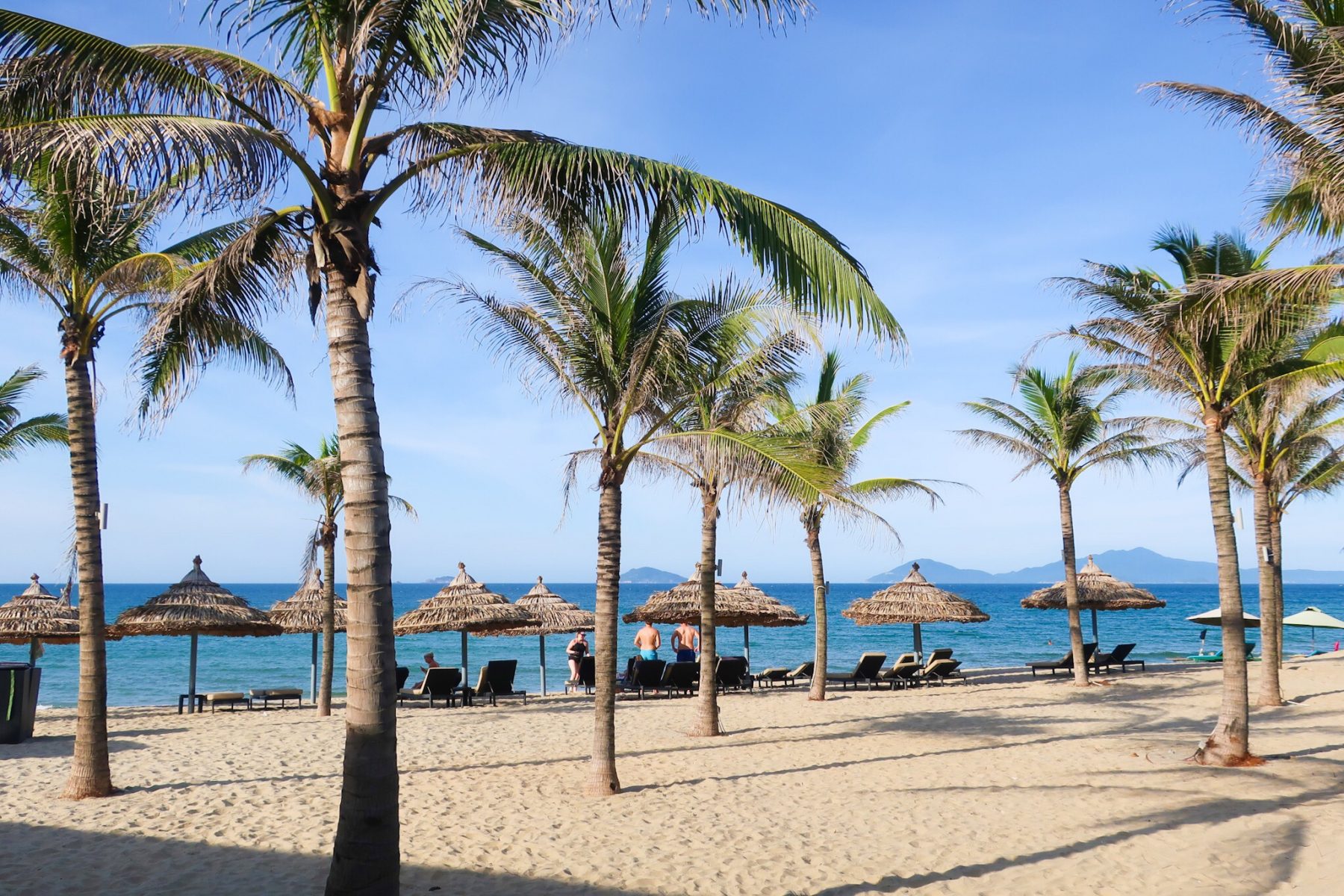 Location and surroundings
With a perfect location directly on a wide, clean and beautiful beach, the white 3-storey houses are like little decorated sugar cubes. It is close to central Hoi An (6 km) and the hotel has a free shuttle bus that goes back and forth to the hotel basically once an hour during the afternoon/evening. If you want to take a taxi instead, it costs between 70-000 dong (approximately 100-000 kronor) one way.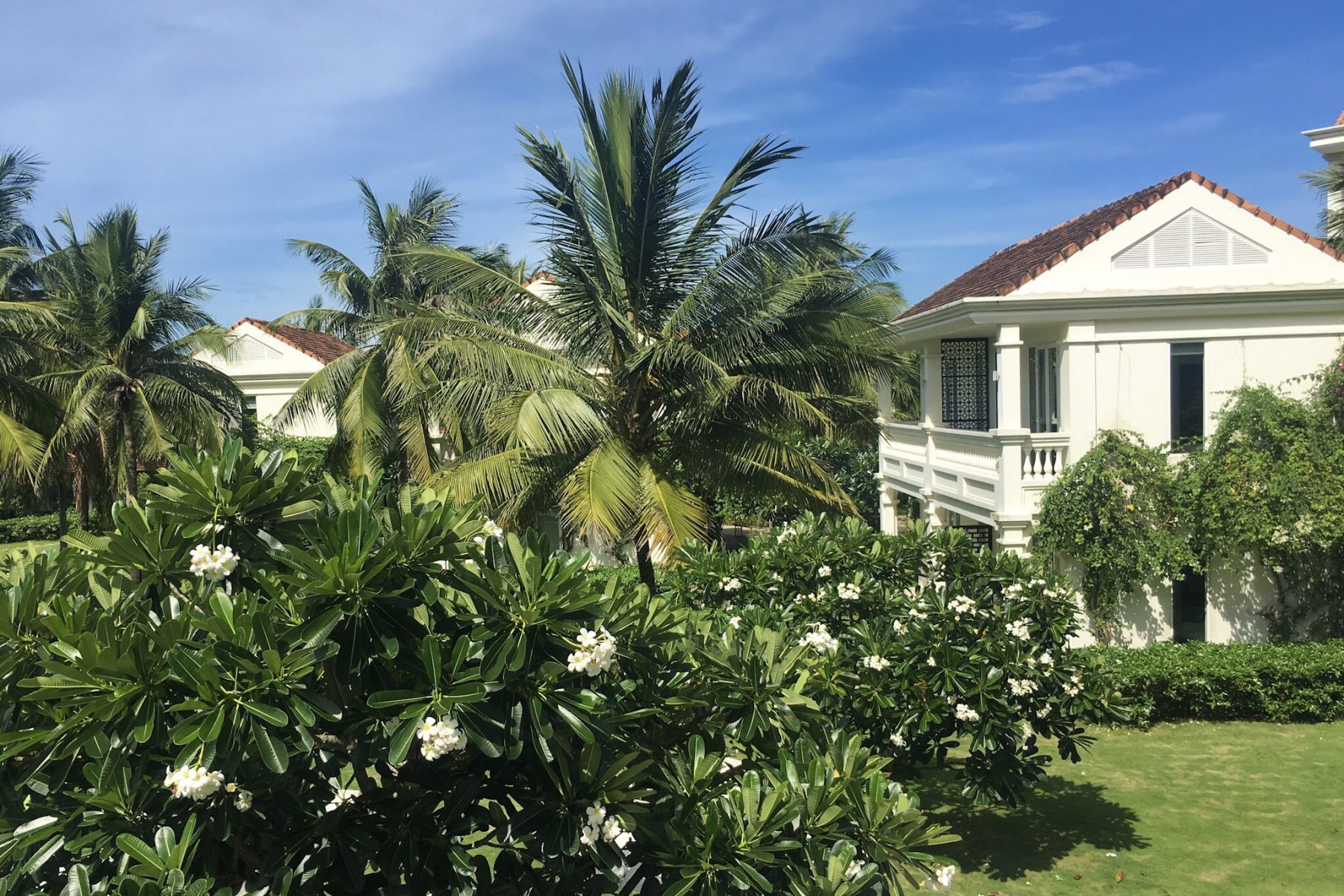 Boutique Hoi An Resort has a very well-kept and nice garden with lots of lovely frangipani in different colors and coconut palms that protect from the sun.
A big plus is that we hardly saw any mosquitoes or flies in the area, very nice!
The rooms
Bright, well-kept rooms with a balcony and a toilet with both a shower and a bathtub. We had booked a Deluxe room with a garden view and got a room in one of the houses next to the main building. The room was on the 1st floor, but the "garden" turned out to be towards the back of the hotel and towards a busy football field. Not quite what we had hoped for.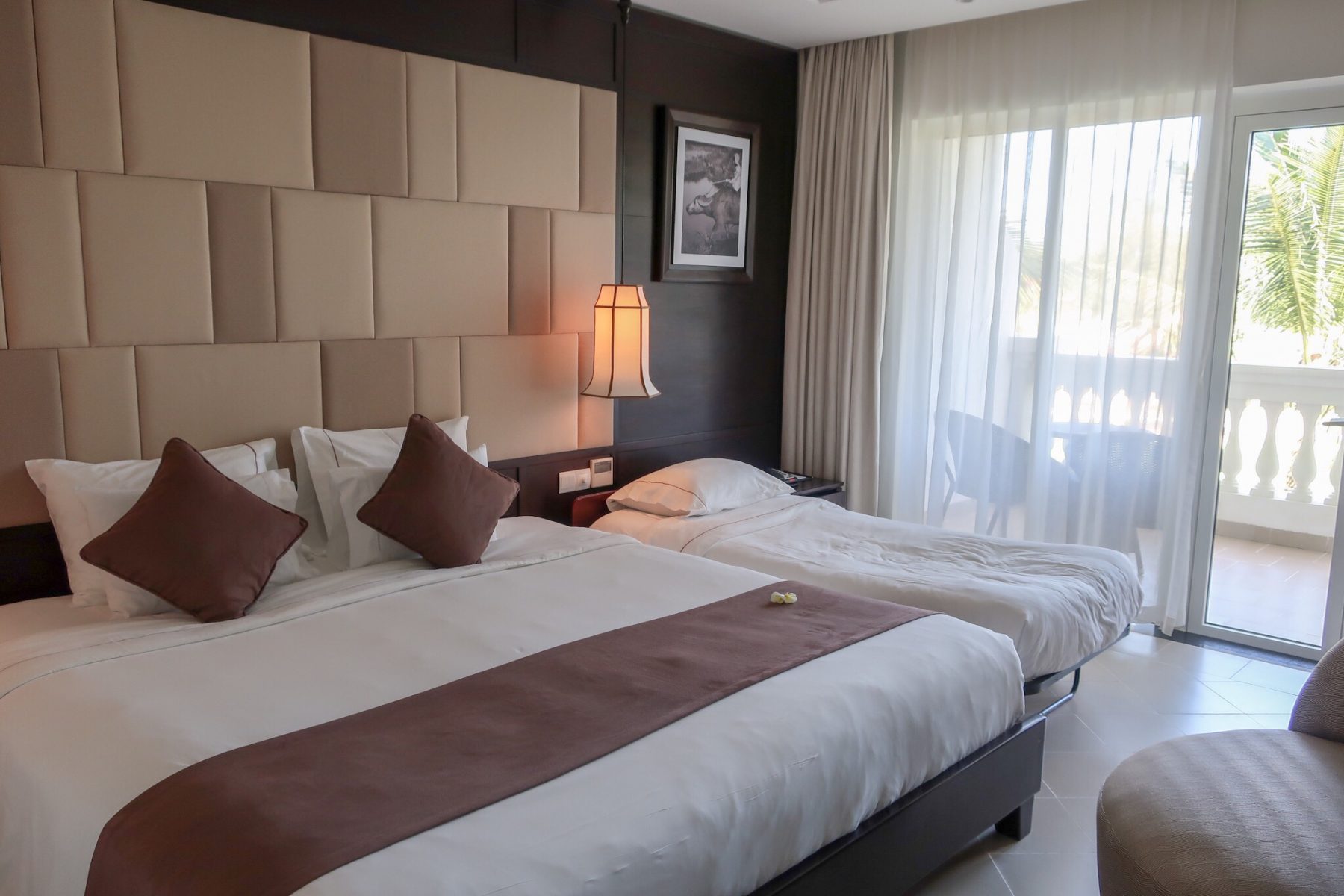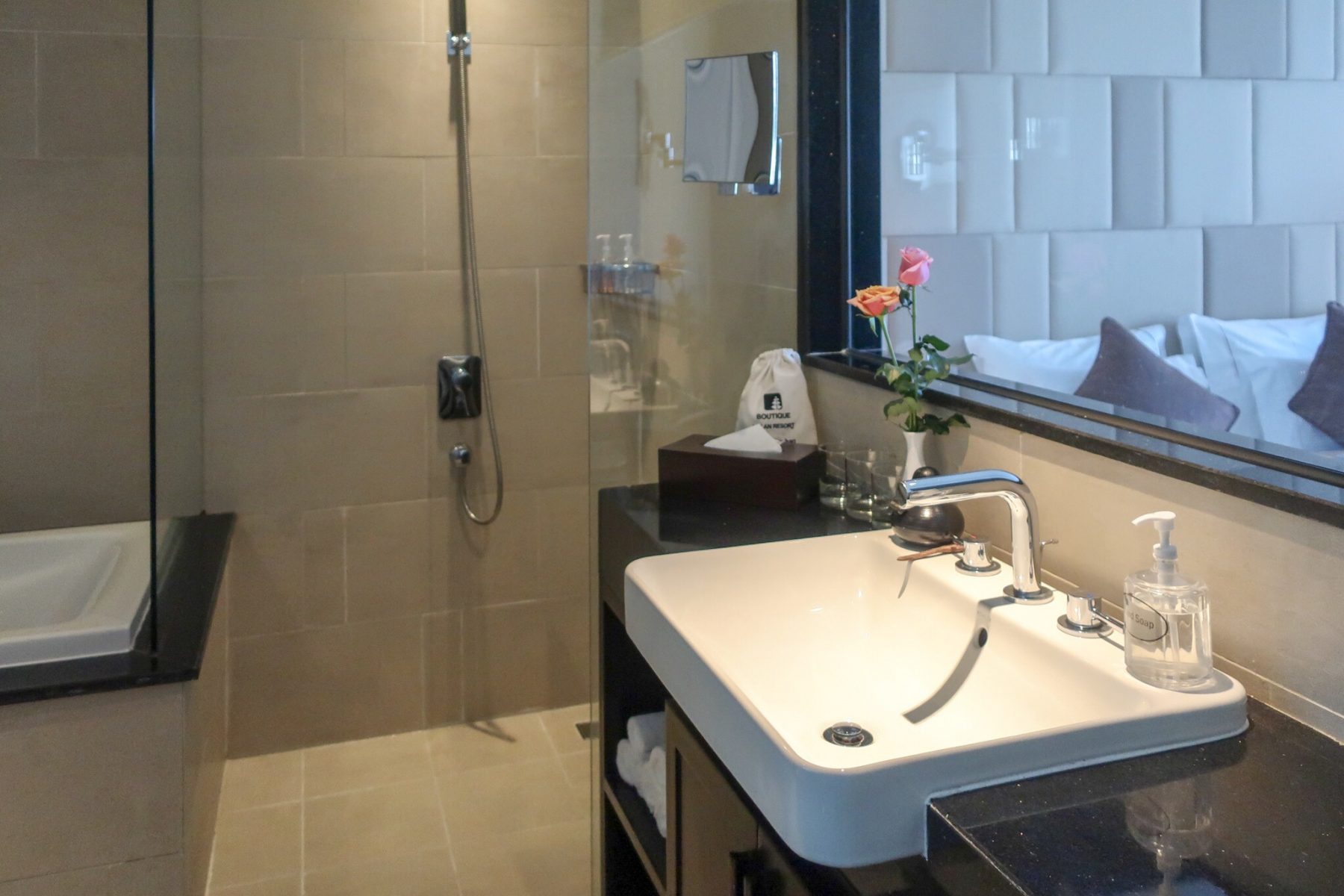 The daughter's extra bed they charged quite handsomely for (400 kronor per night), but the option of one more room would of course have become even more expensive. The room cannot accommodate more than one extra bed.
In the room there was the possibility to make coffee/tea, a safe, bathrobe and slippers and a hairdryer. The bath products were filled in glass bottles (which is good for the environment), but there was no conditioner. Luckily I had brought my own shampoo/conditioner, otherwise my hair would have been like Swinto! Free water bottles were refilled every day.
Boutique Hoi An Resort also has some villas with their own pool for larger families, they are very nicely located right on the beach.
Restaurants
The hotel has four places where you can order food, a main restaurant, a beach bar, a pool bar and a lobby bar. The main restaurant serves some sort of French inspired menu, which wasn't really what we were looking for when in Vietnam, so we didn't eat there either evening. However, we ate lunch more often at the pool bar and at the beach bar.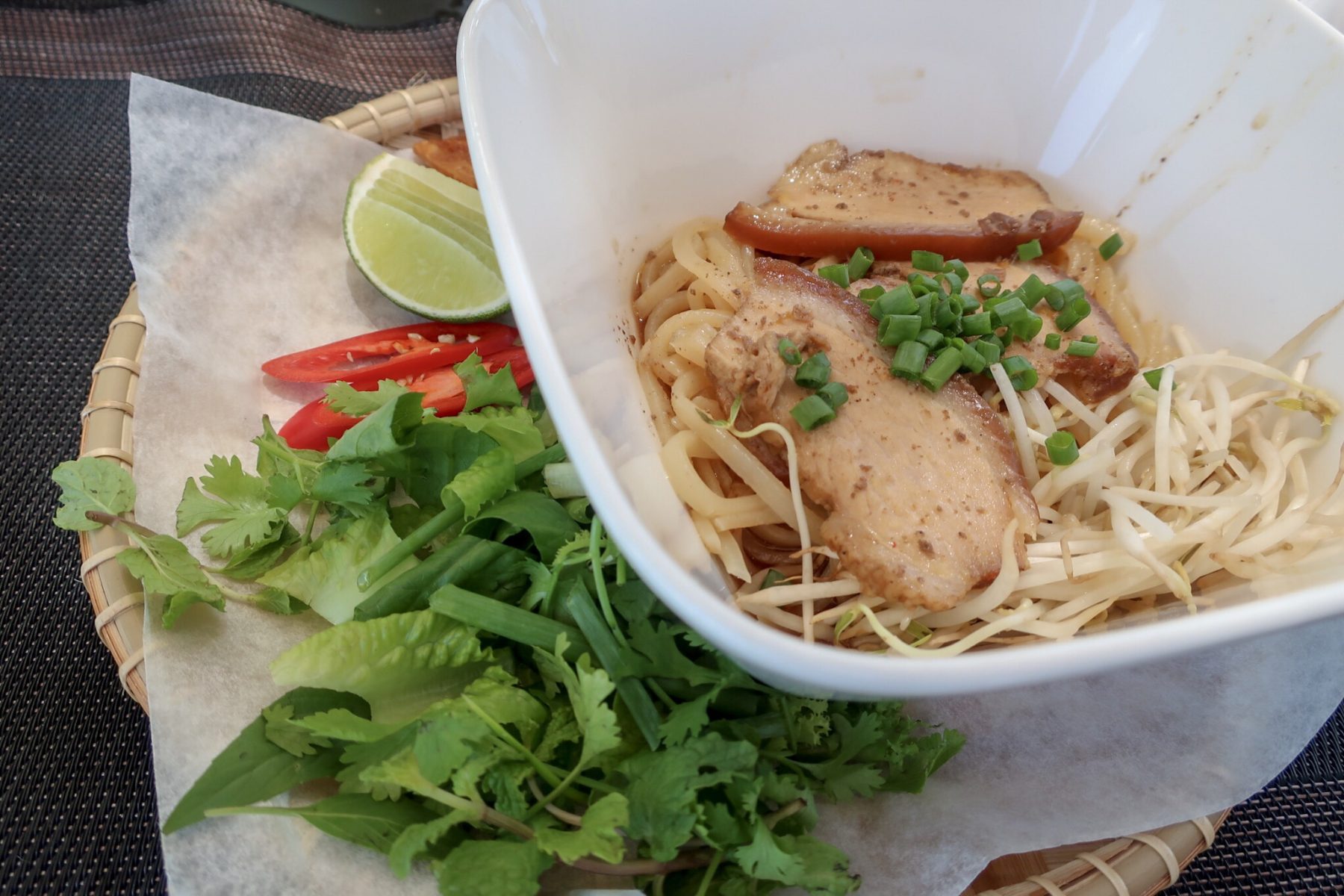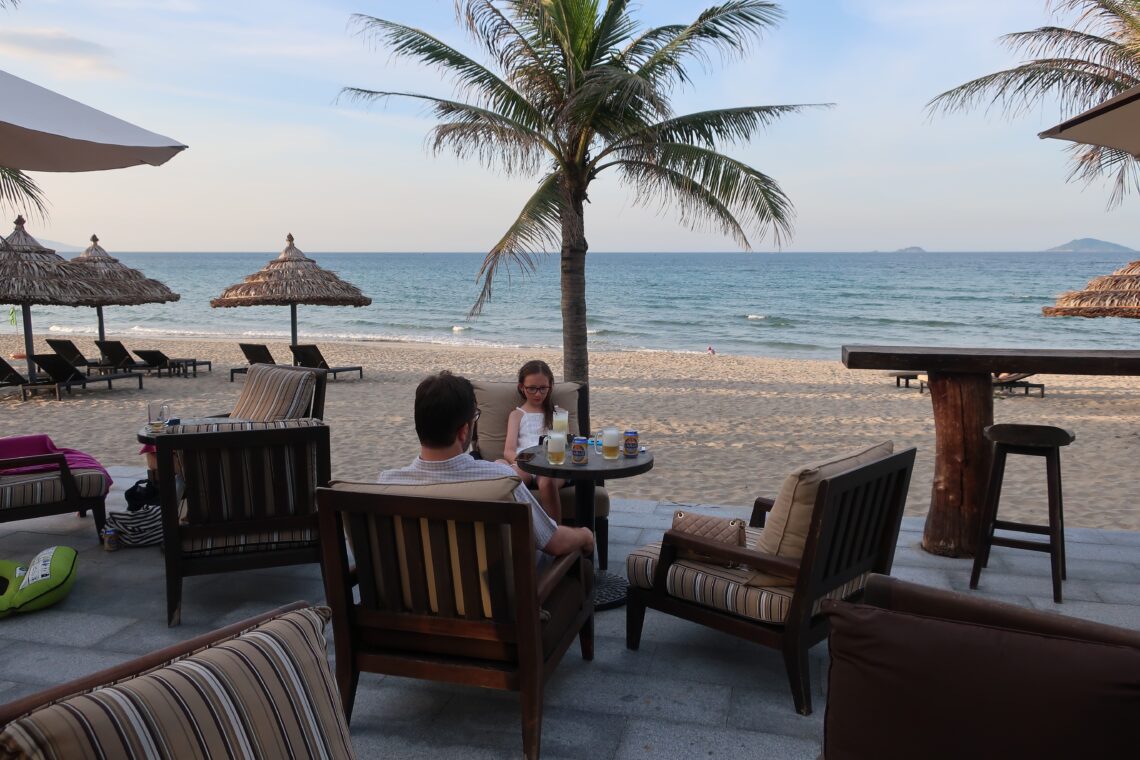 Breakfast is served in the main restaurant and has the basics – bread, yogurt, fruit, hot dishes and an egg station that also serves pho and other noodle soups. Coffee is served the way you want it – laffe, cappuccino or cold Vietnamese coffee – you name it. The only thing I have to comment on this breakfast is that it was very hot in the breakfast buffet and the cooling was insufficient. Sweaty cheese, hot seafood salads and runny butter don't feel so good in the heat, so we ate breakfast a little earlier than usual to reduce the risk of possible stomach problems. (Now we didn't feel bad, so it must have been calm!)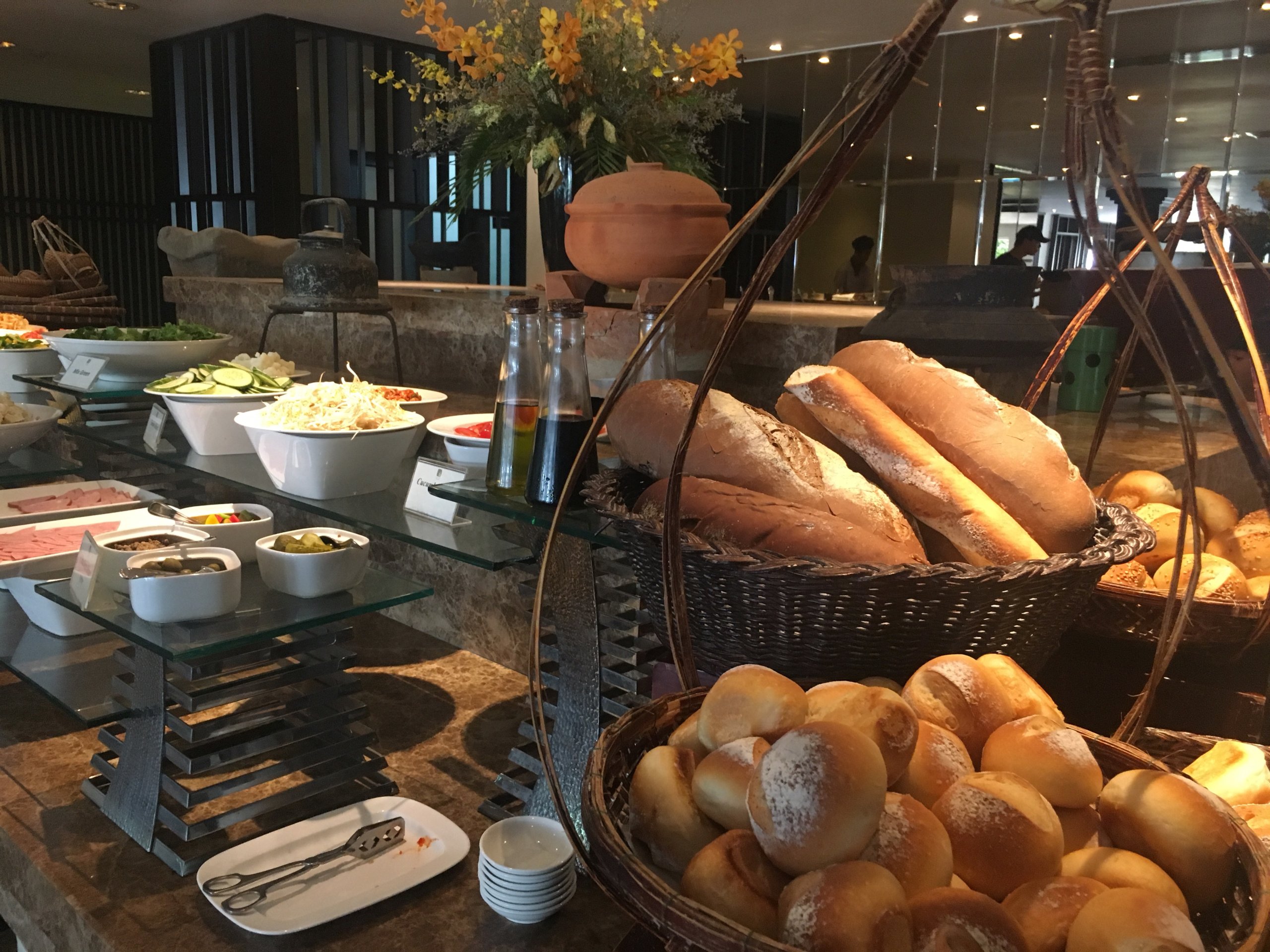 Pool and beach
The pool is like a turquoise dream in the middle of the palm trees. There are plenty of chairs and we were usually the first at the pool when we sat down at the 10 o'clock mark. There are stacks of towels, so just pick as many as you need. As this is a more adult oriented hotel, balls are not allowed in the pool, so if we wanted to throw a ball we went down to the beach.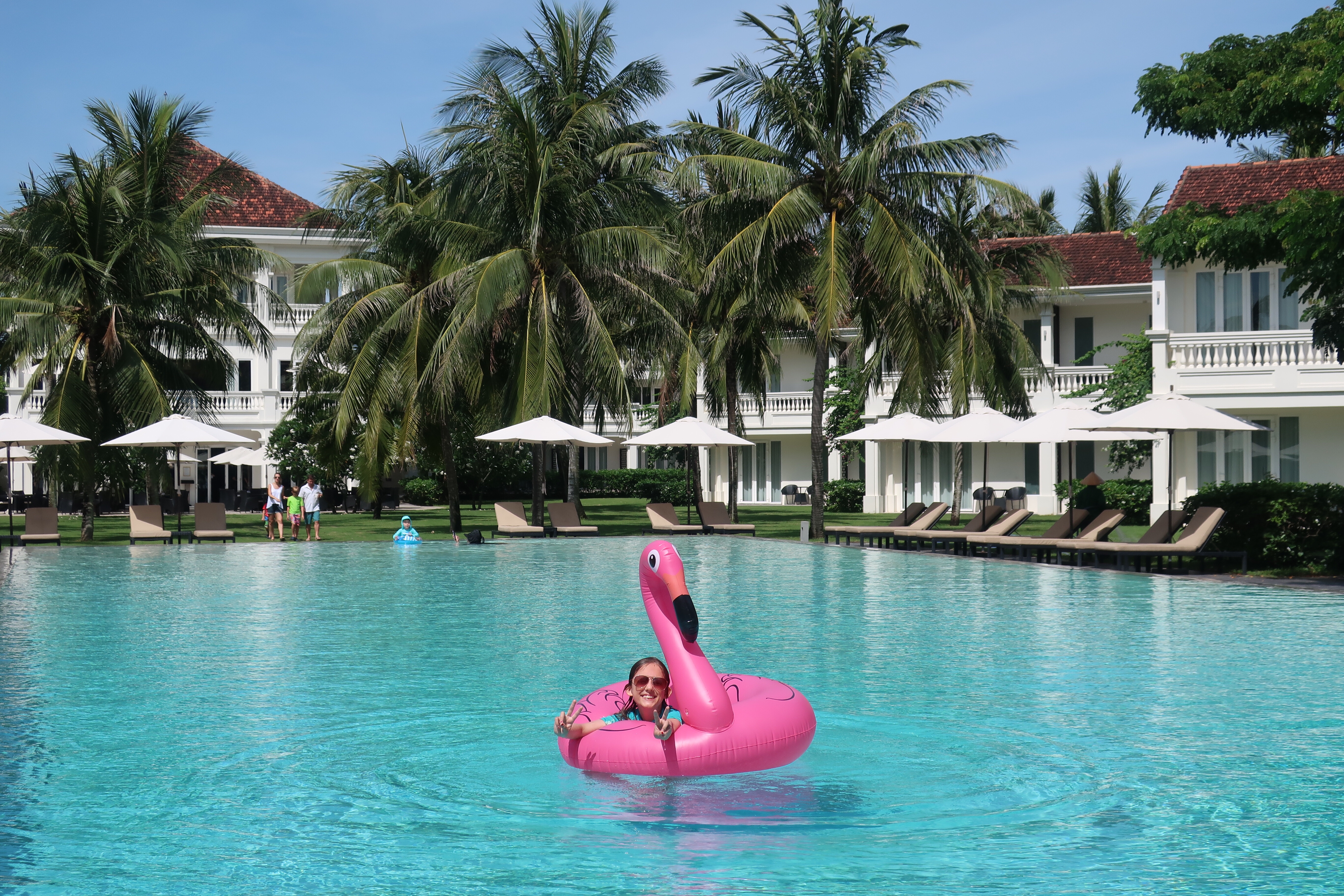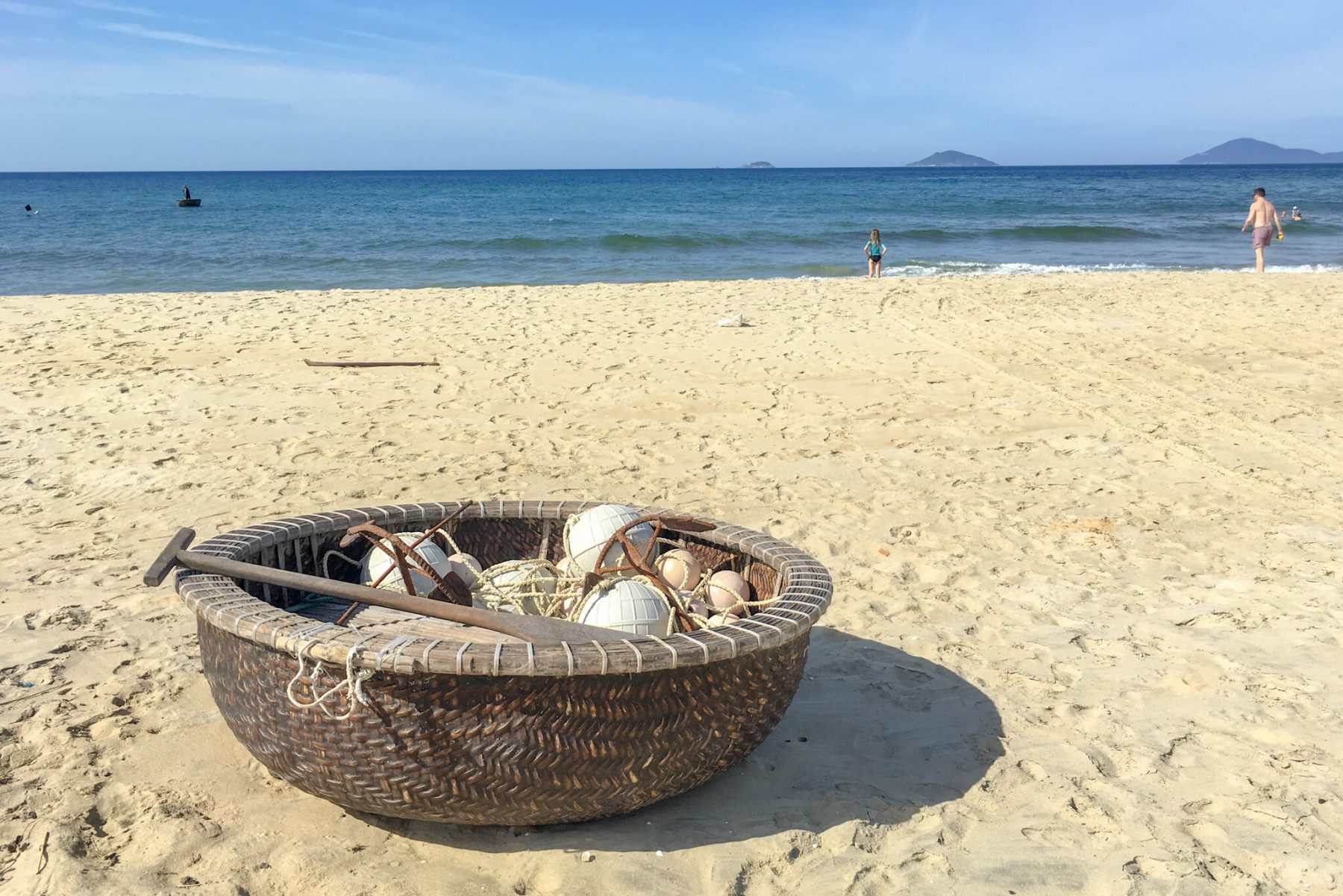 The pool has a shallower part for the little ones, but half the pool is 1,60 deep, so I had to stand on my toes. There is a small paddling pool for the really little ones, but it doesn't have a sun roof.
The beach is very nice, clean and white and there are plenty of sunbeds here too. Note that stretches of the beach further east are affected by erosion, but here at the hotel the beach was relatively unaffected.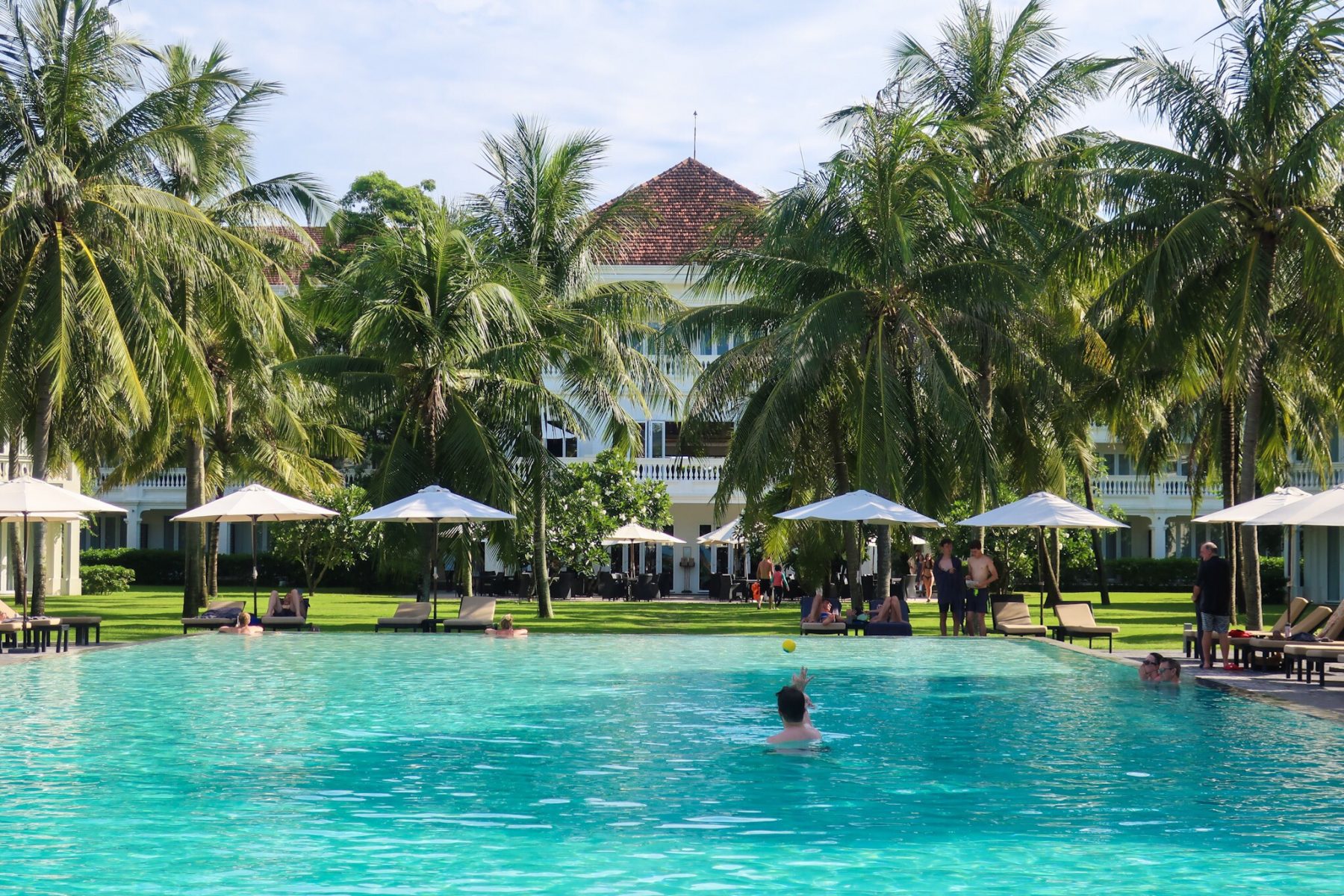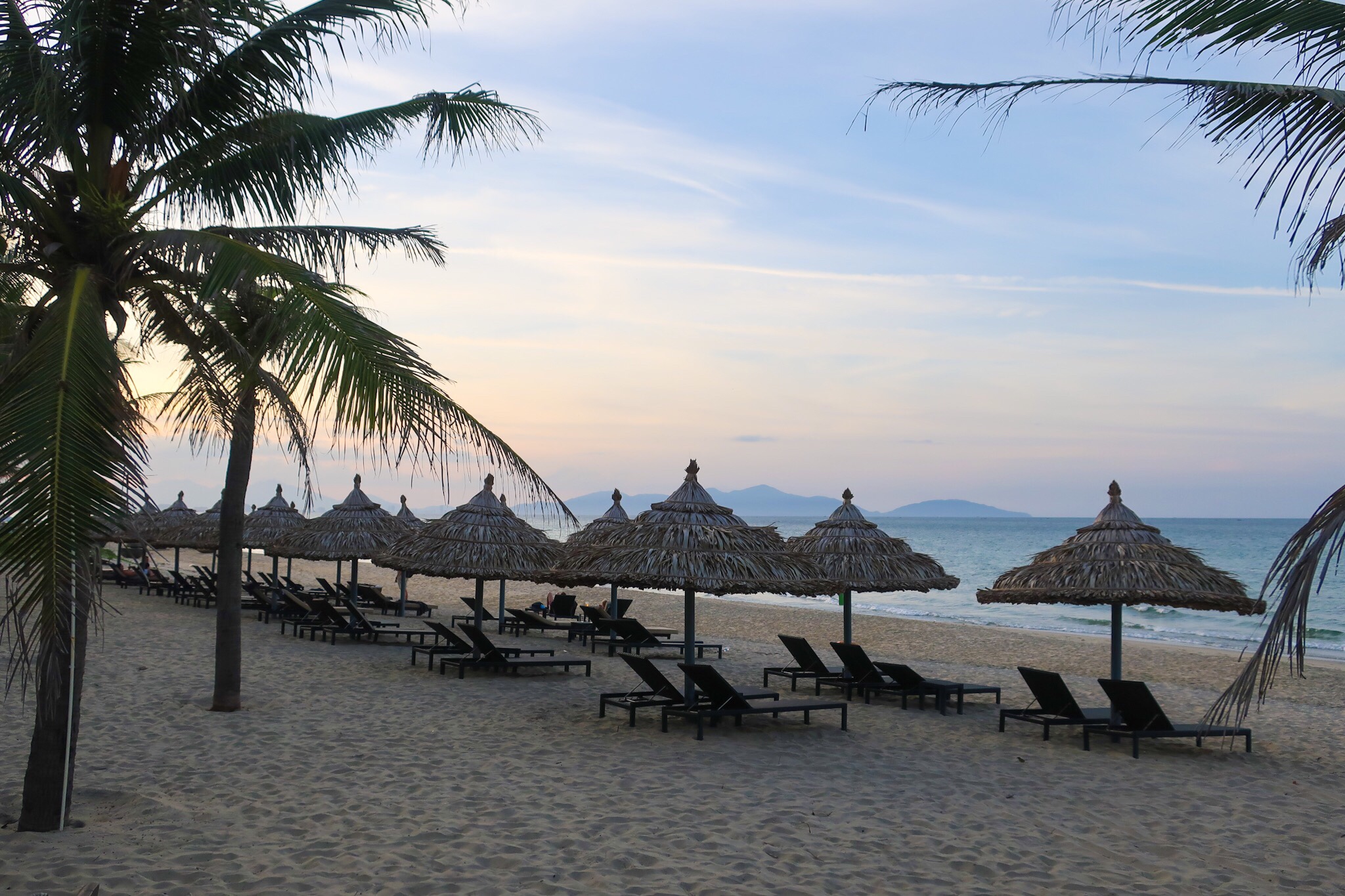 We didn't meet a single seller on the beach, which was very peaceful and nice. There was also a towel service on the beach.
service
The hotel has very friendly and helpful staff and the hotel was clean and tidy every day. However, the wifi was a bit shaky and not particularly fast, but it was enough for my daughter's netflixing.
We booked transport from the airport to the hotel, and were picked up by a black modern and luxurious Mercedes by a driver in a white shirt. Perfect relaxation after a red eye flight.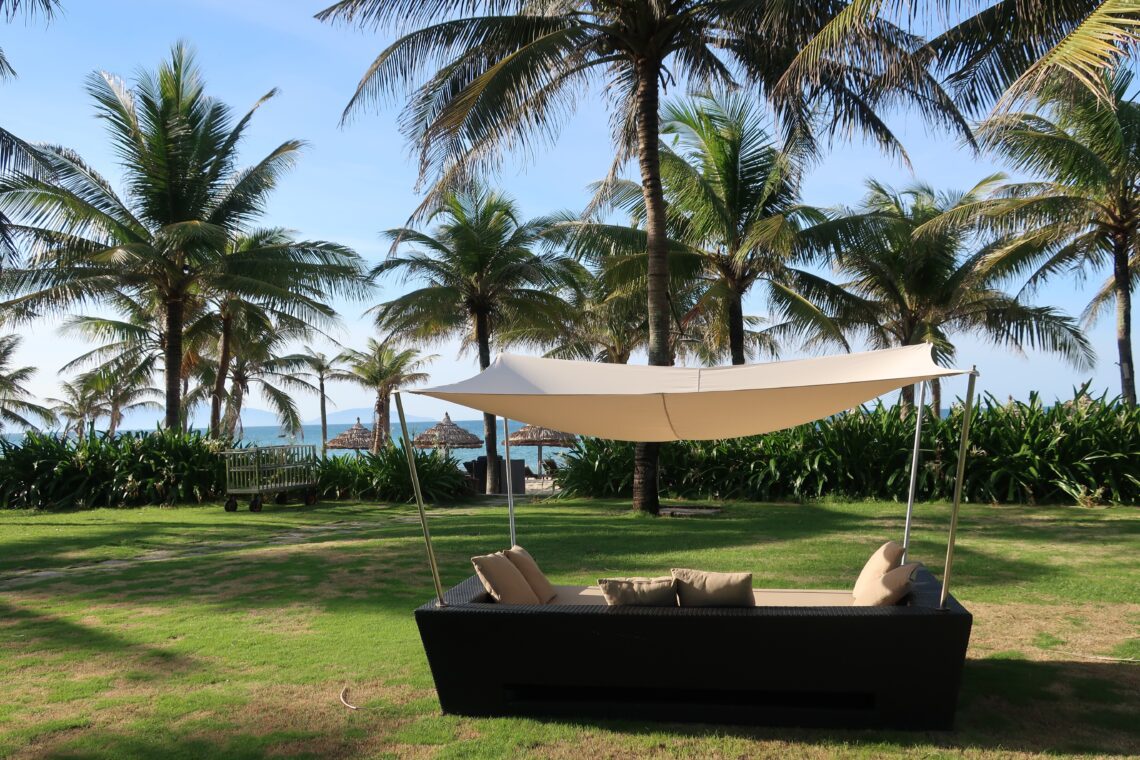 It turned out that we could also rent one of the hotel cars with a driver to go on excursions, so we booked 12 hours with the same Mercedes and driver to go to Hue (3-4 hours one way). This cost us 3 million Dong, which is roughly SEK 1300 for transport and entrance fees where the whole day was tailored to us. Incredibly affordable and nice to have a safe car in this traffic chaos! Loved it!
The hotel also has a spa and a gym, but we did not try these.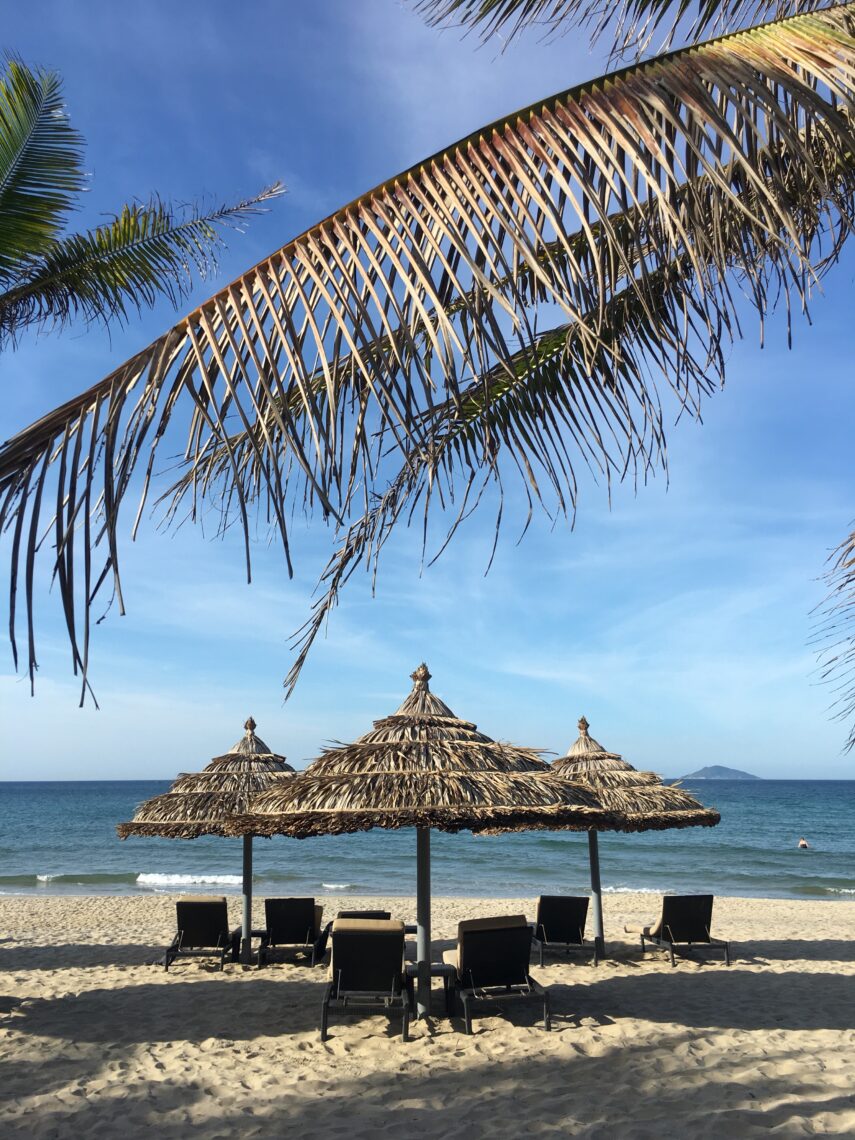 So what happened to the family rating?
Boutique Hoi An Resort is a hotel that deserves its four stars. Fresh room and great pool and beach. The only thing that didn't feel completely 100% were the restaurants, but the breakfast was ok and the evenings are still spent inside Hoi An, so it wasn't a particularly big problem. For the price (1000 SEK/night) we got a lot of hotel for the money. A place to look forward to if you are going to Vietnam!
Have you been here? What did you think of the destination?
Been there - didn't like it!
0
Not keen at all to go here!
0
Eva Gyllenberg
Travel blogger, gastronaut, photographer and family adventurer with over 55 countries in his luggage. Eva loves trips that include beautiful nature, hiking boots and well-cooked food. On the travel blog Rucksack she takes you to all corners of the world with the help of her inspiring pictures and texts.