One thing this spring has given me is the insight into all the beautiful places around Stockholm. Most of the time, I don't have to go further than 30-45 minutes to get straight out into postcard-beautiful nature and dramatic wilderness. One of our favorite places for a sea bath is the beaches at Lilla Sand & Stora Sand, but right next to it is the nature reserve Björnö. A place we have never visited before. So it was just a matter of packing the cooler bag with each a poke bowl and homemade raspberry caves and heading out on a little hike.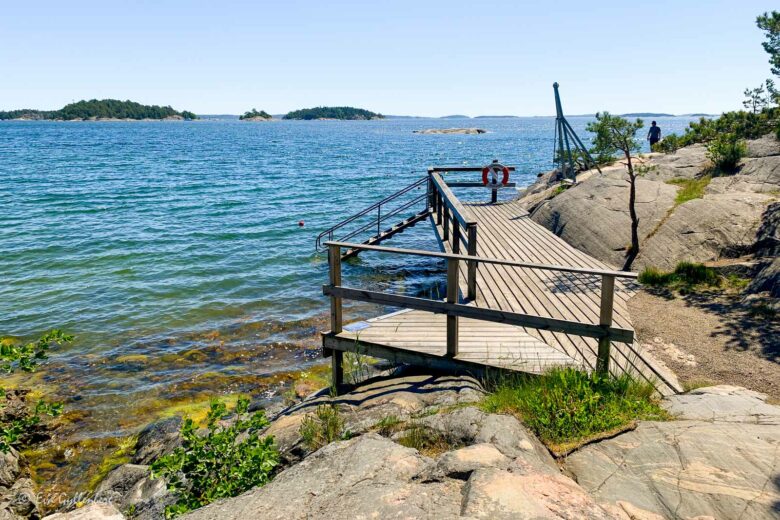 Björnö nature reserve is located on Ingarö, east of Stockholm. The area is surrounded by the sea and has both nice beaches and sheltered bays. Although most people who come here are looking to press their sun-thirsty bodies into a wind-sheltered rock crevasse, there are also several popular camping spots and well-maintained hiking trails around the nature reserve. Our goal for the day was to walk around the nature reserve, starting and stopping at the reserve's entrance parking lot.
I'd be lying if I said it was easy to find parking here during high season. Despite being a paid car park, it was packed when we turned up at lunchtime on a sunny weekend in June. If you're wondering where all Stockholmers hang out during home holidays, I can tell you! But shame on the one who surrenders. Just when we had crawled around every bend in the parking lot and almost given up, a car backed out. Sometimes you have to be a little lucky too.
For me, this is actually going to be an unusually ordinary hike. I actually leave the system camera at home. It doesn't feel completely safe, but today the mobile phone gets trial employment. I'm not completely satisfied with the pictures, but the daypack was 2 kilos lighter.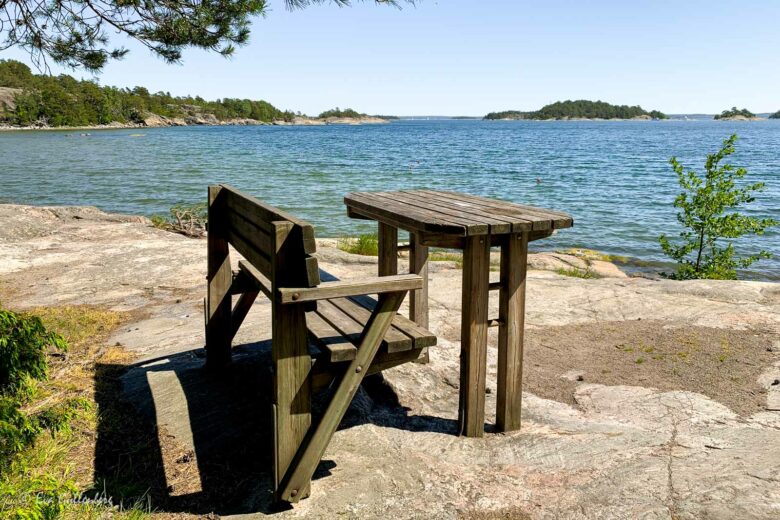 We take the small forest trail down to a rest area by the snorkel trail for an early lunch. Below the surface of the water, there is a 200-metre-long underwater trail with signs telling you about everything you see in the sea around you. The water is unexpectedly clear and definitely snorkelable, although today there is no queue of expectant cyclops to wander underwater.
As usual, I have forgotten that the sea air in the outer archipelago is always a little cooler than in the city, but with this view of clear sea, coniferous forest-covered coves and blue sky, I quickly forget that I am cold.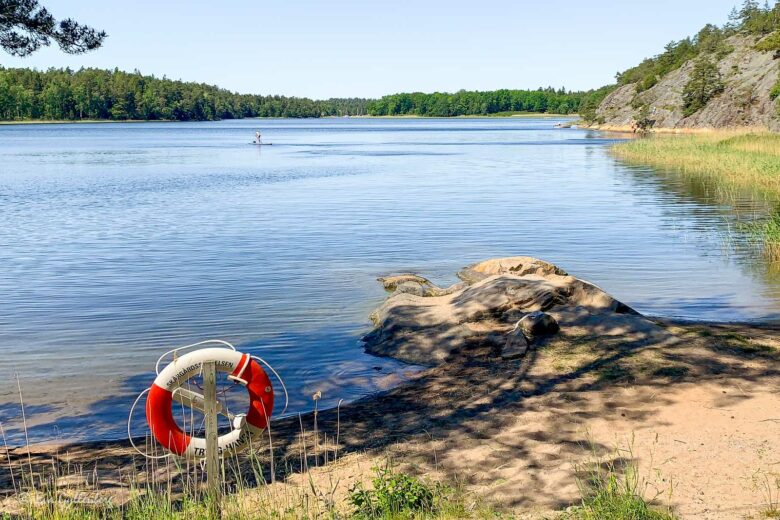 We choose to walk around Björnö clockwise, past Norrviken, Ramsviken and Småängen's sheepfolds.
The first stretch towards Småängsvikens boat harbor, we walk next to it and on a car road. However, the motorway is not open to everyone, a barrier stops anyone who does not have a key.
On the north side of the road is Torpeinfjärden. A very calm bay surrounded by rocks and a small beach. The bay looks almost like a lake and I need to get the map out to understand that it really is a bay. Here it is flat water, almost no wind and full of stand-up paddlers. I barely have time to think a rosy thought that maybe I should get a SUP, before one of the paddles inexplicably tumbles into the sea. Aren't the boards more stable than that? If there is a risk of getting involuntarily bathed, then it's definitely not for me.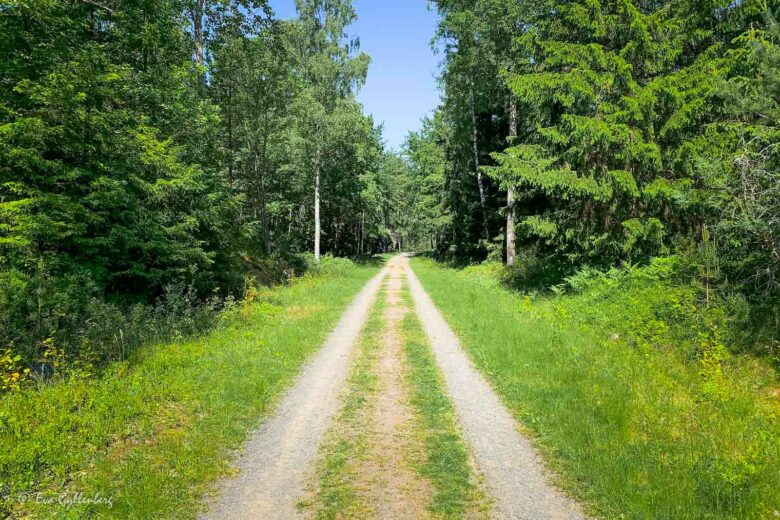 After the boat harbor the road narrows. The ditches are lined with lupines and buttercups and red little crofts peek out between the trees. It is easy to walk, well signposted and very well organized. Björnö Nature Reserve is run by The Archipelago Foundation and is one of the 40 nature reserves that they look after in the Stockholm area. At one of the information boards is a free brochure with a bit of information about each of the reserves - a brochure I will definitely be reading cover to cover.
We pass by Northviken and all the tents pitched here in the meadow. Half of all tents look brand new. 2020 is really the year when we Swedes discover camping life. In the northviken there are toilets and water for those who camp, but we hike on.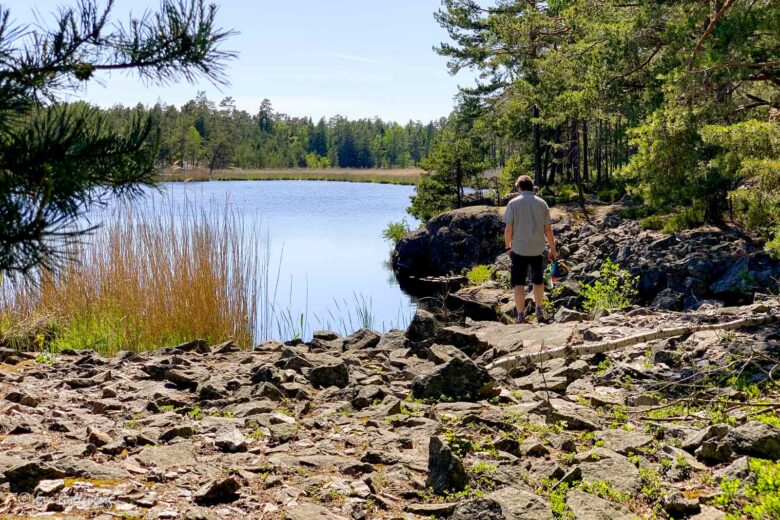 We make a short stop at the black water at Ramsvik Swamp. During the latter half of the 20th century, they tried to drain the swamp of water in order to be able to build homes here. Fortunately, they came up with other ideas and instead of housing, they created the nature reserve here in 1983. After many years of recovery, the swamp is today back to its original glory. The dragonflies dance in the reeds and the tailors run across the dark lake. There are some sunbathers on a rock, but I have a hard time seeing that they intended to bathe in the swamp.
We hike by ourselves most of the time. Easy walk in the sunshine, a real Sunday walk. A red house at the end of a large camping meadow reveals that we have arrived Ramsviken. One of the most popular places for camping, swimming and picnicking, with both drinking water and toilets.
A small rocky peninsula in viken below the little red house is popular with boaters and on the rocks boat owners enjoy vikens hot water and the service with a toilet nearby. This is how I remember my childhood. Puttling around in a boat to distant beaches and bays.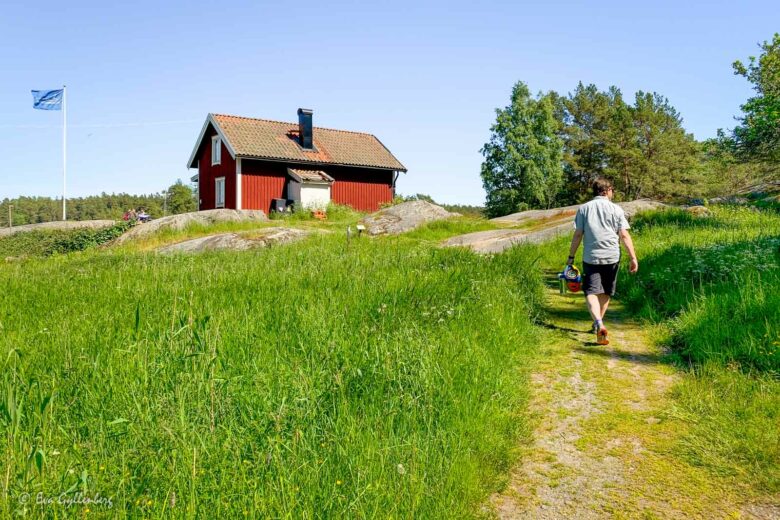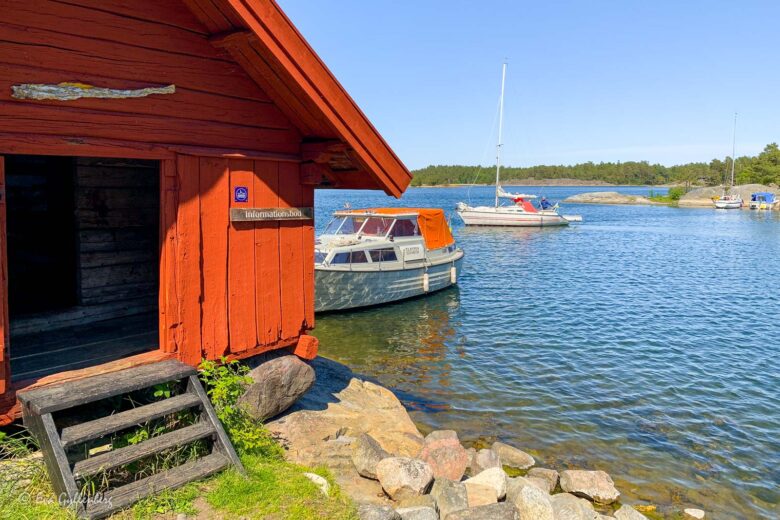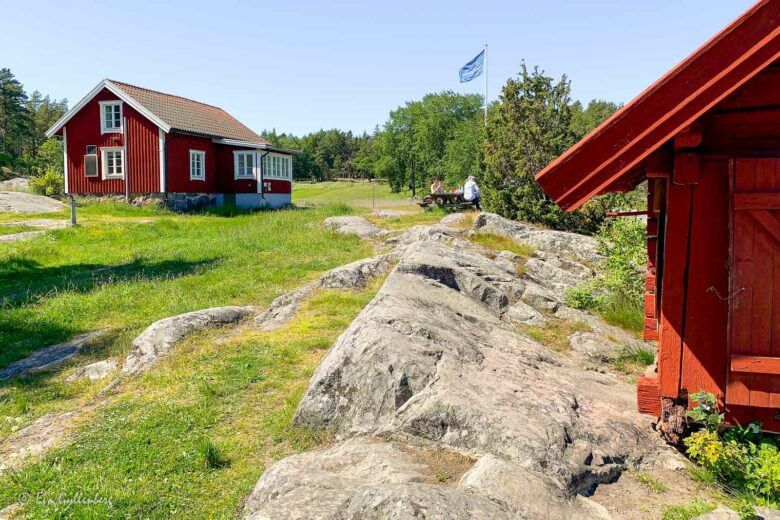 After the Ramsviken there will be more hiking, in the kind of terrain that you just love. The path narrows and the road is covered by roots. We go from bay to bay, up towards the top of the cliff. There are sun worshipers on almost every rock, on every beach stump. But the distances are really corona-proof.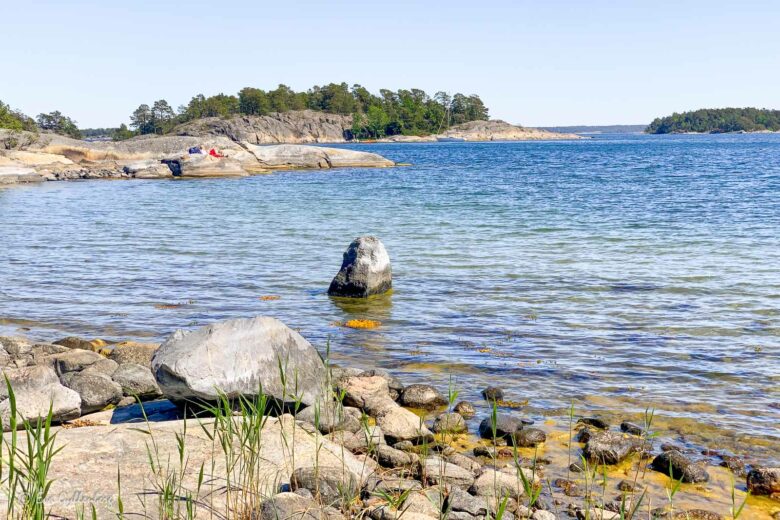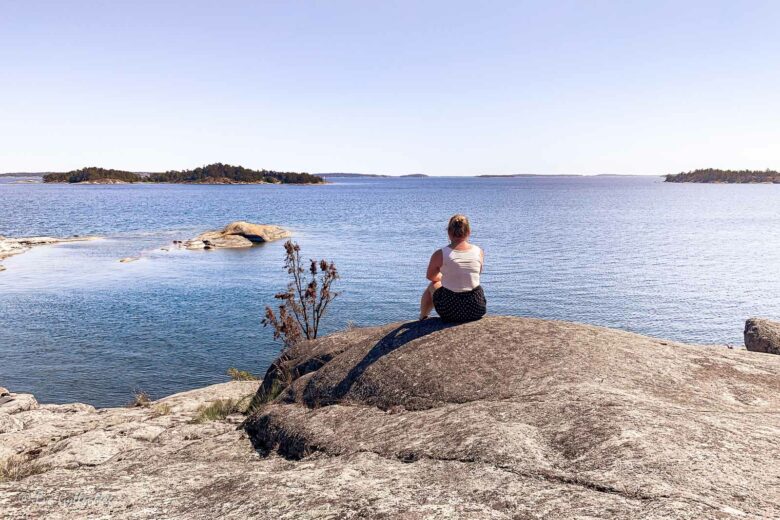 At the top of the highest cliff, we settle down on the lichen-covered rocks and pick out our raspberry caves. They have become warm in the sun-soaked backpack. So warm that they almost feel freshly baked. Without a doubt my favorite cookies in the whole world along with arrack balls. With a view towards Nämndö, Kymmendö and Mörtö, we sit here a bit quietly and just enjoy. Of the summer. Of the company. Of the views. And of the raspberry caves.
We stay for a while and look for sea eagles before we head back to the car. The last bit back to the port goes down cliffs and through sheep paddocks and blooming meadows. So much varying Swedish agricultural landscape in one and the same small nature reserve. Björnö nature reserve is a new acquaintance that I already feel will become a dear old friend.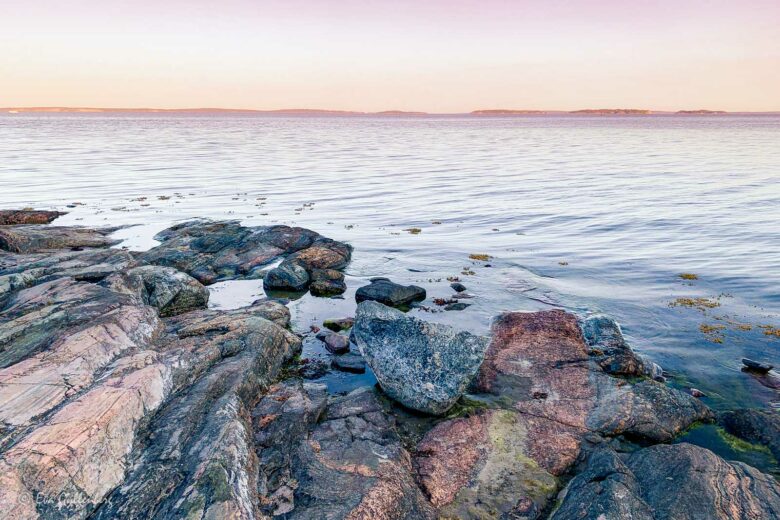 How do I get to Björnö nature reserve?
Björnö Nature Reserve is located on Ingarö, approximately 3,5 miles east of central Stockholm. The easiest way to get here is by car and park in the 250-car parking lot at the entrance, alternatively SL bus 428 and 429 from Slussen towards Björkvik. Get off at the Björnö nature reserve stop and walk a kilometer.
Map (opens in Google Maps)
How long is the hiking trail around the nature reserve?
We couldn't find a map showing the distance, but from the parking lot it is 3,2 km to Ramsviken which is about half way. However, there are lots of both larger and smaller paths on Björnö and it is basically impossible to get lost - wherever you go, you will always come to the sea.
Where can I find more information about Björnö nature reserve?
En really good map of the nature reserve you come up with The Archipelago Foundation's page. Here you will also find lots of practical information about service and overnight stays.
Want to read more of my travel tips? do not forget to like Rucksack on Facebook!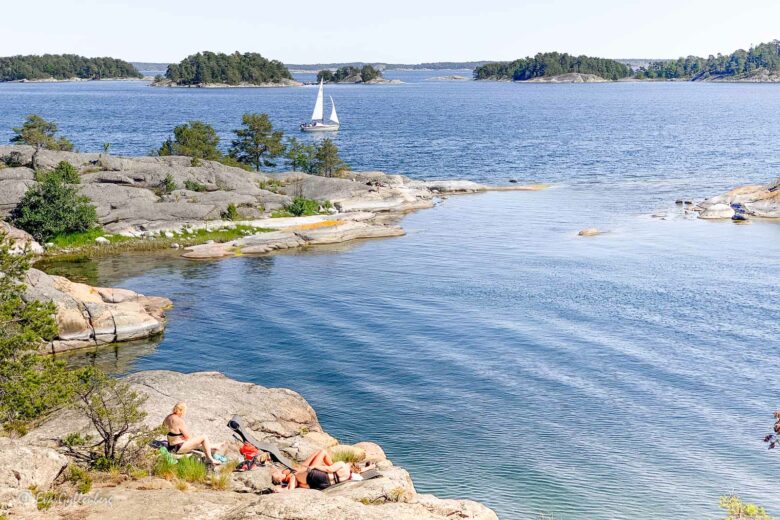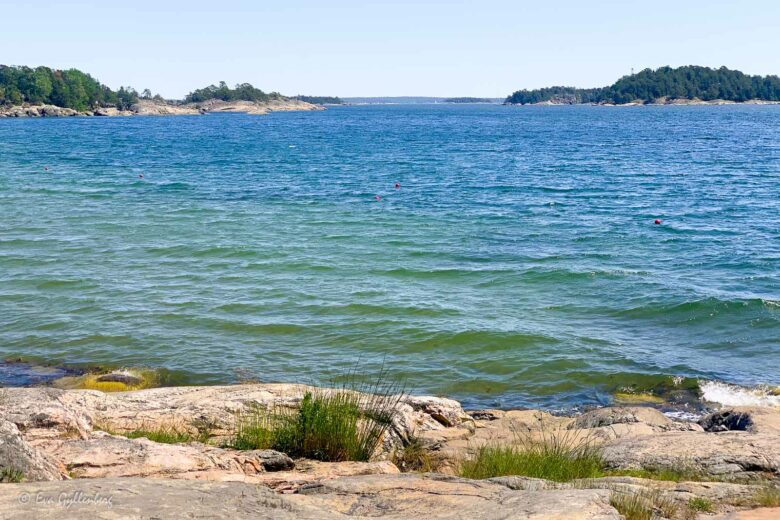 Have you been here? What did you think of the destination?
Been there - didn't like it!
0
Not keen at all to go here!
0
Eva Gyllenberg
Travel blogger, gastronaut, photographer and family adventurer with over 55 countries in his luggage. Eva loves trips that include beautiful nature, hiking boots and well-cooked food. On the travel blog Rucksack she takes you to all corners of the world with the help of her inspiring pictures and texts.