A road trip in Italy, filled with some of the country's most beautiful landscapes and cities. How does that sound? Olive groves, charming villages, gelato, canals, vineyards, Renaissance palaces, rolling hills and pizza – this road trip had it all! Here is my suggestion for a two-week long road trip in northern Italy, with all my favorites north of Rome.
We drove for 11 days, but if I were to redo the trip I would add three days to the route – an extra day in Florence, one in Venice and one at Lake Como – hence the route below is 14 days. Even though we traveled in low season, it was difficult to do everything we wanted in these areas due to traffic jams and large amounts of tourists. Better to have a slightly more breezy schedule and manage to enjoy yourself a little too – because you're in Italy after all!
Do you want to read more about what it's like to drive in Italy? Look into my page Driving a car in Italy - how to do it?
The itinerary starts and ends in Milan.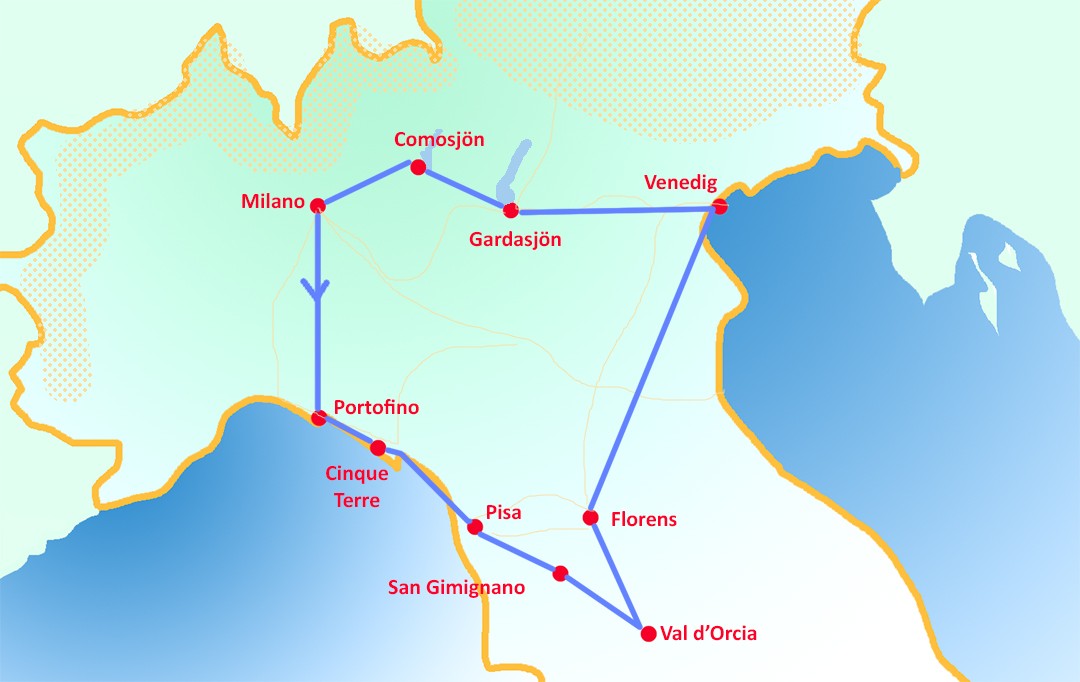 More time?
If you've never been to Milan before, you need to think about extending your trip with a few extra days here. However, if you land in Milan early in the morning (or go home late in the evening), you can still see the city and the Duomo without having to change your schedule.
Tuscany is always wonderful. An extra day can easily be spent in historic Siena, wine tasting in Montepulciano or just sitting in a sun lounger enjoying the beautiful scenery of Val d'Orcia.
If you want to drive around Lake Garda (which takes an extra half day with stops and queues), you can add an extra day here.
Less time?
We did the trip in 11 days during the low season in the month of April. Then we only had 1 day in Florence, 1,5 days in Venice and 1 day in Lake Como. During the low season, you can more than manage the route at that time, but keep in mind that everything will take a little longer if you are traveling in Italy during July/August or during public holidays.
Day 1: Arrival in Milan
Collect your rental car at the airport and head to the hotel. If you have not planned to explore Milan, it is recommended that you book a hotel on the outskirts of southern Milan. In this way, you will get out of the city faster when you go to Portofino the next day.
accommodation: The outskirts of Milan
Day 2: Portofino (20 miles)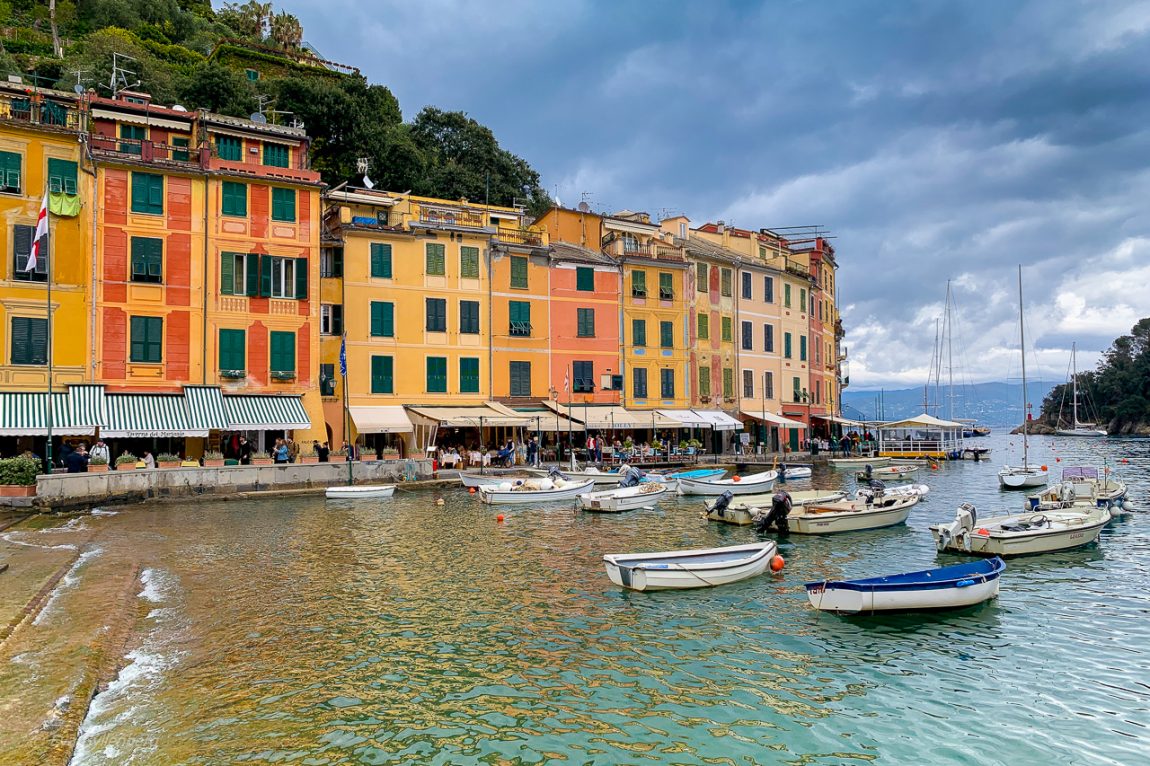 Itinerary: Milan – Portofino (Santa Margherita) – Sestri Levante
Day planning: Go early from Milan to Santa Margherita and park the car for a full day in one of Italy's most luxurious resorts - Portofino. You can't drive here, so take a bus or boat from Santa Margherita and enjoy the nice little town before going to Sestri Levante for a really good dinner.
accommodation: Sestri Levante. A city that became one of our favorites on the trip!
Read more:
Portofino – The favorite village of celebrities
Sestri Levante – The stop that became memorable
Santa Margherita – the city everyone passes but few visit
Hotel Vis à Vis in Sestri Levante - Hotel review
Day 3-4: Cinque Terre (6 miles)
Itinerary: Sestri Levante – La Spezia (train/boat to Cinque Terre)
Day planning: Today we are going to visit one of my favorite places in Italy – Cinque Terre. Cinque terre is not a place for cars, so the easiest way is to drive La Spezia and park the car. From La Spezia there are numerous boats and trains to the five villages. We took the train, which is highly recommended. Explore the area and its hiking trails and fish restaurants for two days. And you – Cinque Terre is just as pastel and beautiful as it looks in the pictures.
accommodation: La Spezia
Read more:
Ride the train in Cinque Terre
Monterosso Al Mare – Cinque Terre northernmost city
Vernazza – Our second stop in the Cinque Terre
Manarola - Where Cinque Terre takes my breath away
Riomaggiore – our last stop in the Cinque Terre
Day 5: Pisa (19 miles)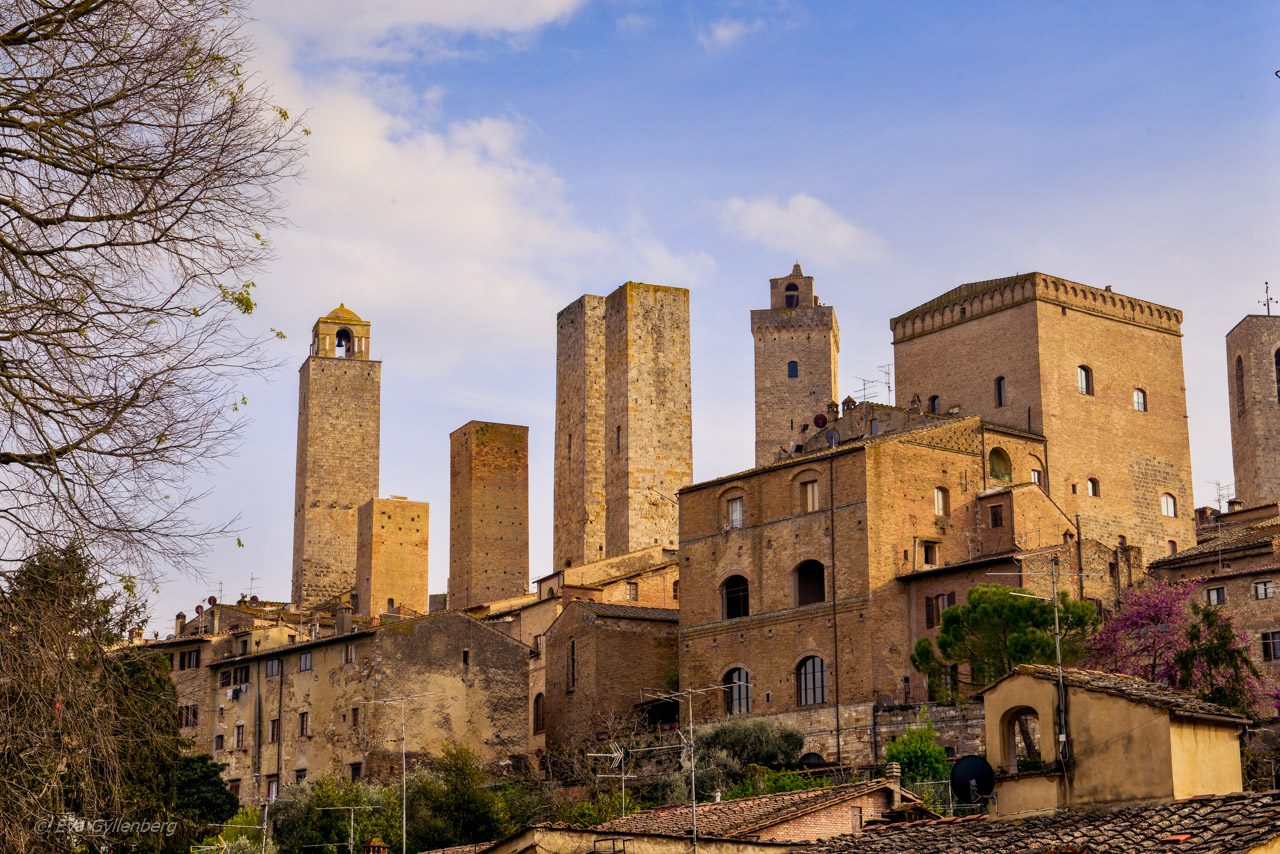 Itinerary: La Spezia – Pisa – Volterre – San Gimignano – Radda in Chianti
Day planning: Today you explore Pisa and the Leaning Tower. The earlier in the morning you visit the Leaning Tower, the better. In the afternoon you go south in Tuscany and visit the beautiful small towns Voltaire and San Gimignano, before checking into a beautiful hotel in Chianti.
accommodation: Radda in Chianti
Read more:
Pisa - Or a post about overtourism and travel disappointment
San Gimignano – towers, feuds and truffles
Lunch at Agrihotel il Palagetto
Hotel review: CDH Radda in Chianti
Volterra – The Alabaster City on kullen
Day 6: Tuscany
Itinerary: Radda in Chianti – Pienza – Montepulciano – Val d'Orcia – Radda in Chianti
Day planning: Today you drive around Tuscany's most beautiful green landscape at Val d'Orcia, but you will also have time to visit one of the towns of Pienza and Montepulciano. There are plenty of really good restaurants here, but also take the opportunity to buy the area's local truffles, wine and pecorino from one of the many delicatessens.
accommodation: Radda in Chianti
Read more:
Pienza – Pecorino and palace in the Pope's perfect city
Val d'Orcia – Among Tuscany's most beautiful landscapes
Montepulciano – Slopes, lanes and Vino Nobile
Day 7-8: Florence (5 miles)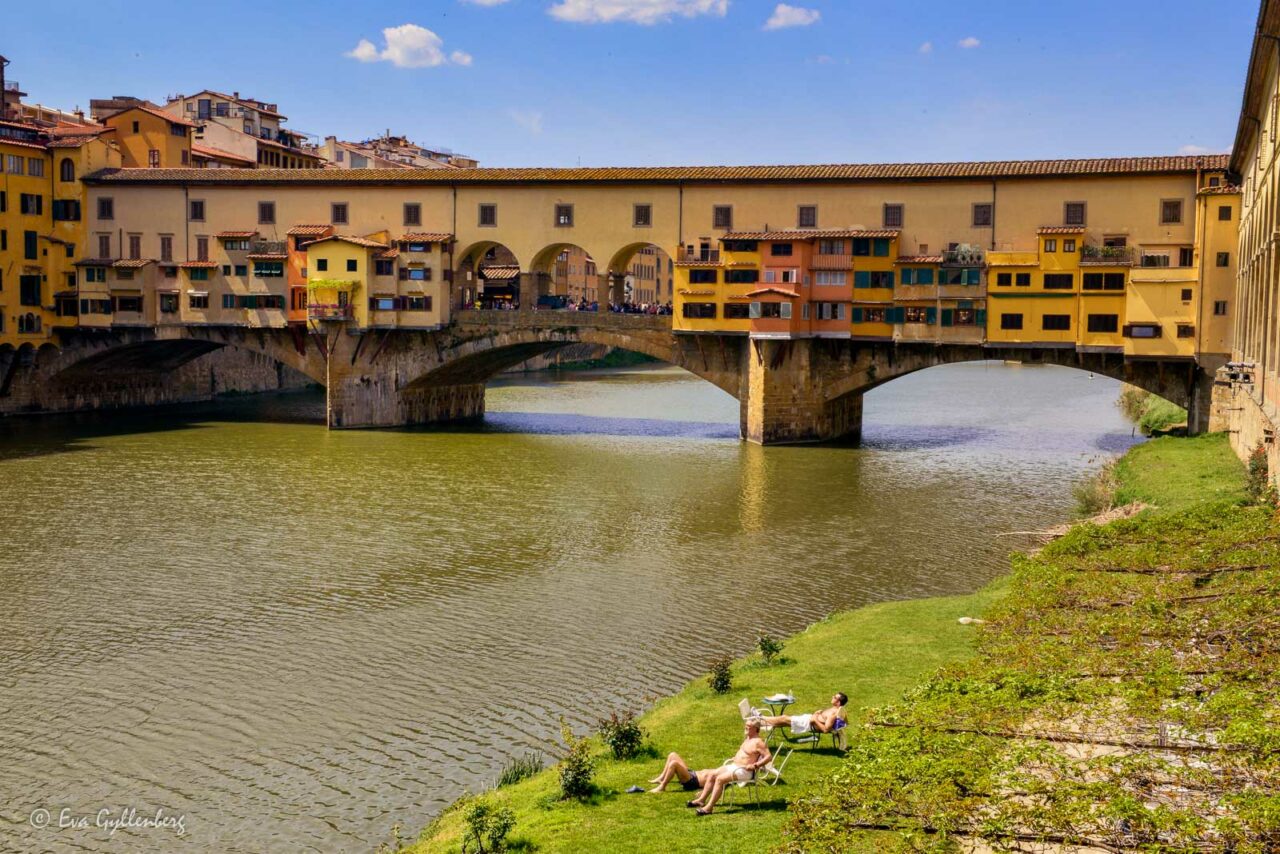 Itinerary: Radda in Chianti – Florence – Bologna
Day planning: Have a delicious breakfast at the hotel's outdoor dining area before heading to Florence. In Florence, you visit the city's most famous sight - Santa Maria del Fiore - but also one of the many palaces and museums. Expect that there will be a lot of visitors in Florence all year round, so book as much as you can in advance. Stay one night in Florence to maximize your visit and watch the city wake up, before heading to Bologna the next day.
accommodation: Florence + Bologna (10 miles from Florence)
Read more:
Photo album from Florence
Sights in Florence - My ten favorites

Day 9-10: Venice (15 miles)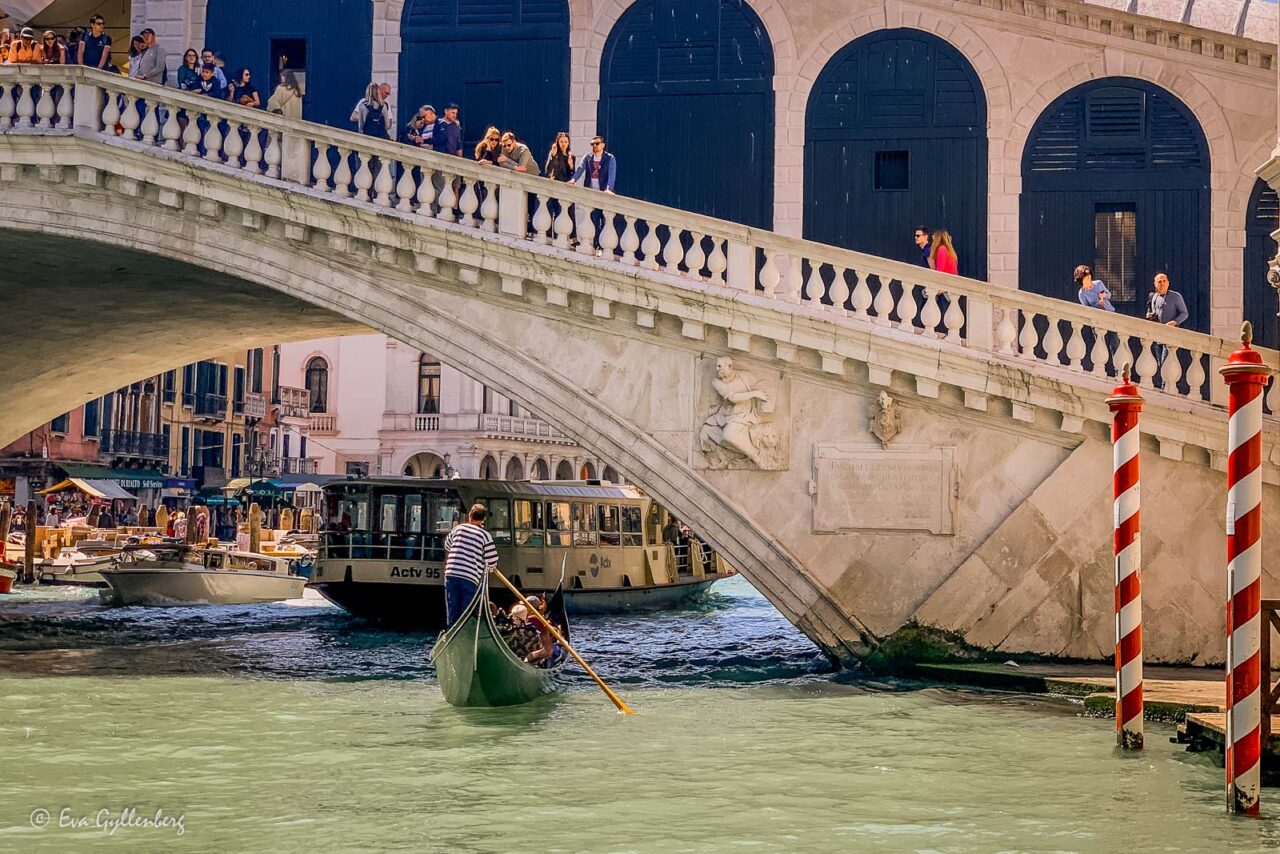 Itinerary: Bologna – Venice
Day planning: Alright Venice as early in the morning as you can manage, because you'll want all the time you can get in Venice. Park the car in the large Tronchetto car park and take the water bus to your hotel. Stay centrally and preferably in one of the old palaces (even if it's expensive) – because nowhere does accommodation matter as much as in Venice.
In Venice, it's a pleasure to stroll through all the little alleyways, but don't miss taking a water taxi to the colorful islands Burano and Murano before you leave here!
accommodation: Venice
Read more:
Burano - The island where the rainbow meets Venice
Venice - When the sea gets closer
Mini guide to Venice - 8 Tips before the trip
Photo album from Venice - A dream of canals and burrata
Murano (upcoming posts)
Accommodation: Palazetto Madonna
Day 11: Lake Garda (15 miles)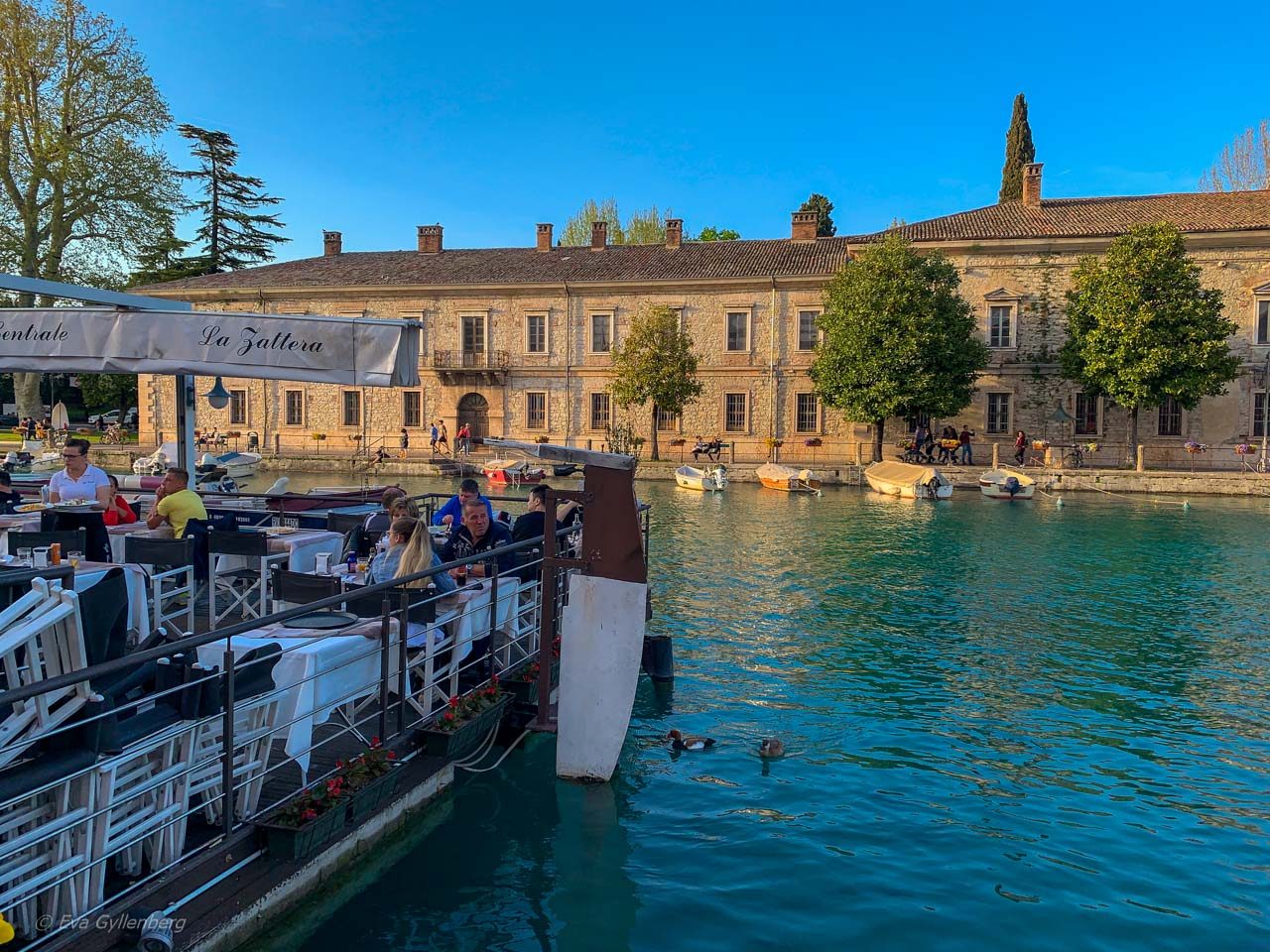 Itinerary: Venice - Lake Garda (any location)
Day planning: Here you can choose what you prioritize most. Either you stay in Venice as long as you can, or you head for the mountains and towards Lake Garda and explores one of the lake's small villages and restaurants. We chose to stay in Venice for the afternoon and drove straight to Peschiera del Garda for dinner. If you go earlier, you can stay in the city of romance Verona or in the wine district Valpolicella on the road.
accommodation: Lake Garda (Lazise or Peschiera el Garda)
Read more:
Peschiera del Garda (coming post)
Day 12-13: Lake Como (20 miles)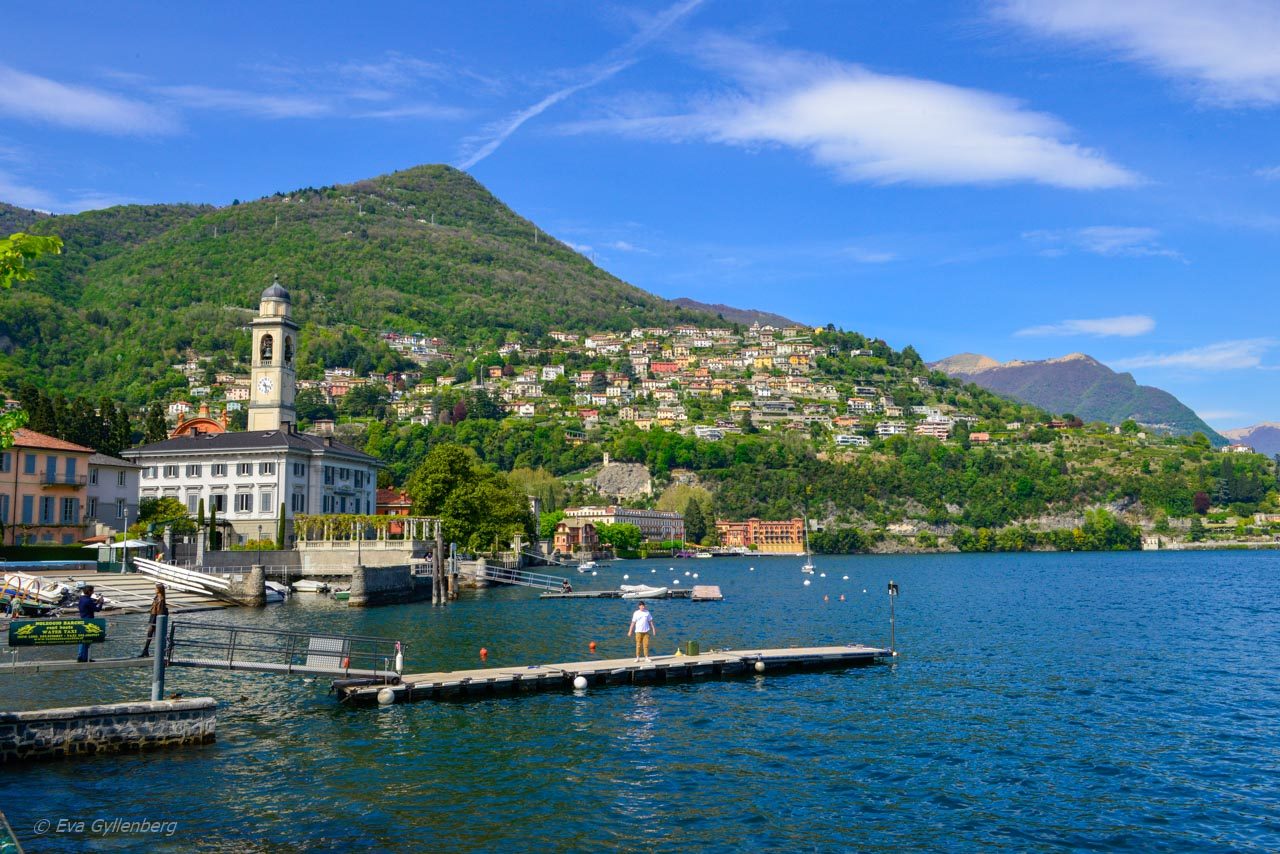 Itinerary: Lake Garda – Lake Como
Day planning: Take the long route around Lake Garda if you want to experience the most beautiful views of the lake (add 3-4 hours extra travel time), otherwise go directly towards Lake Como. On the way, you can stop in pretty Sirmione on the southern shore of Lake Garda and see the archaeological remains and its castle.
Lake Como is elegant and beautiful and offers a large selection of lovely restaurants and outdoor seating. The crowning glory is the village of Bellagio at the far end of a peninsula. A perfect last stop before heading home to Sweden again. But you, by the way, shouldn't you extend the trip for a few more days here in Como before you go home?
accommodation: Cernobbio (budget) or Bellagio (luxury)
Read more:
Cernobbio (coming post)
Hotel review: Hotel Centrale (coming post)
Day 14: Journey home (6 miles)
Itinerary: Lake Como - Milan
Day planning: Depending on which airport you fly from and what time of day, you can hopefully manage to take a walk by the sparkling Lake Como before you need to drive to the airport. An epic road trip is coming to an end - filled with memories of some of the world's most well-known cities and historical sites.
Do you want to read more about Italy? Look into my Italy page!
Have you been here? What did you think of the destination?
Been there - didn't like it!
0
Not keen at all to go here!
0
Eva Gyllenberg
Travel blogger, gastronaut, photographer and family adventurer with over 55 countries in his luggage. Eva loves trips that include beautiful nature, hiking boots and well-cooked food. On the travel blog Rucksack she takes you to all corners of the world with the help of her inspiring pictures and texts.