I never thought we would go fishing on our vacation. Fishing is not one of my usual interests. It's just a little too slow. Requires a lot of patience and rarely pays off. Sometimes, however, you surprise yourself. Like when we're suddenly standing on a pier in northern Queensland fishing for barramundi. But how did we end up here?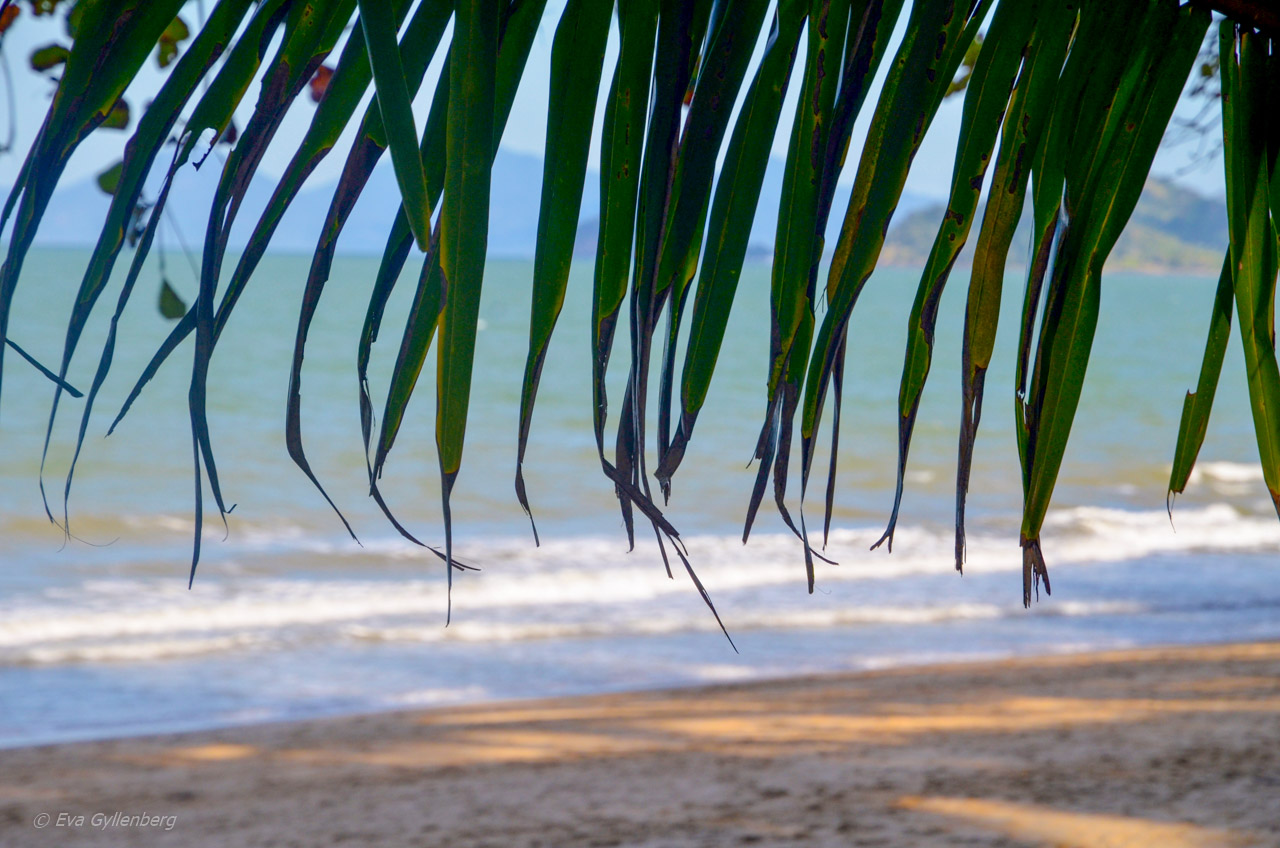 Palm cove is the most luxurious and developed beach in the Northern Beaches north of Cairns. Here are the most restaurants, the most spa hotels and the most tourists. The name of the beach probably partly explains why Palm Cove has become so popular. Here is one of the area's finest beaches, lined with rows of perfectly leaning palm trees. But don't get me wrong, even though this is the beach with the most hotels, it's not overcrowded with tourists. This is a very lively place, without giant resorts. None of the hotels are on the beach either, but all the hotels are on the other side of the road. By the beach, instead, there is a lovely promenade with public grills that get warm in the evening sun.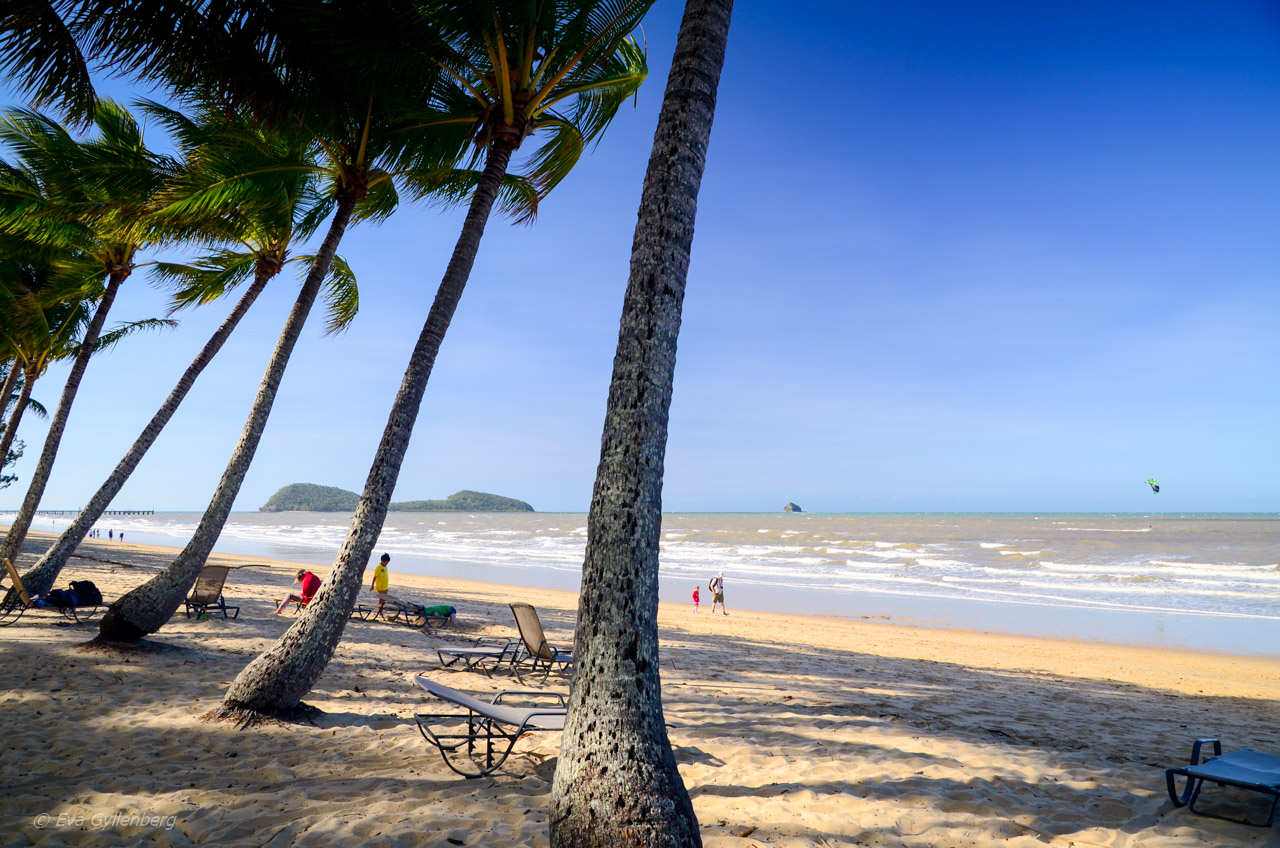 We are here during the Australian winter, in the month of August. Winter in the tropics means daytime temperatures between around 25 degrees and 23 degrees in the sea. A little too cold for a swim for my taste and I'm definitely not a person who lies on the beach day in and day out. But today we had decided to take it easy. Do not go to rainforests, coral reefs or waterfalls. Neither shopping nor boating. Instead, we took a long walk along the beach.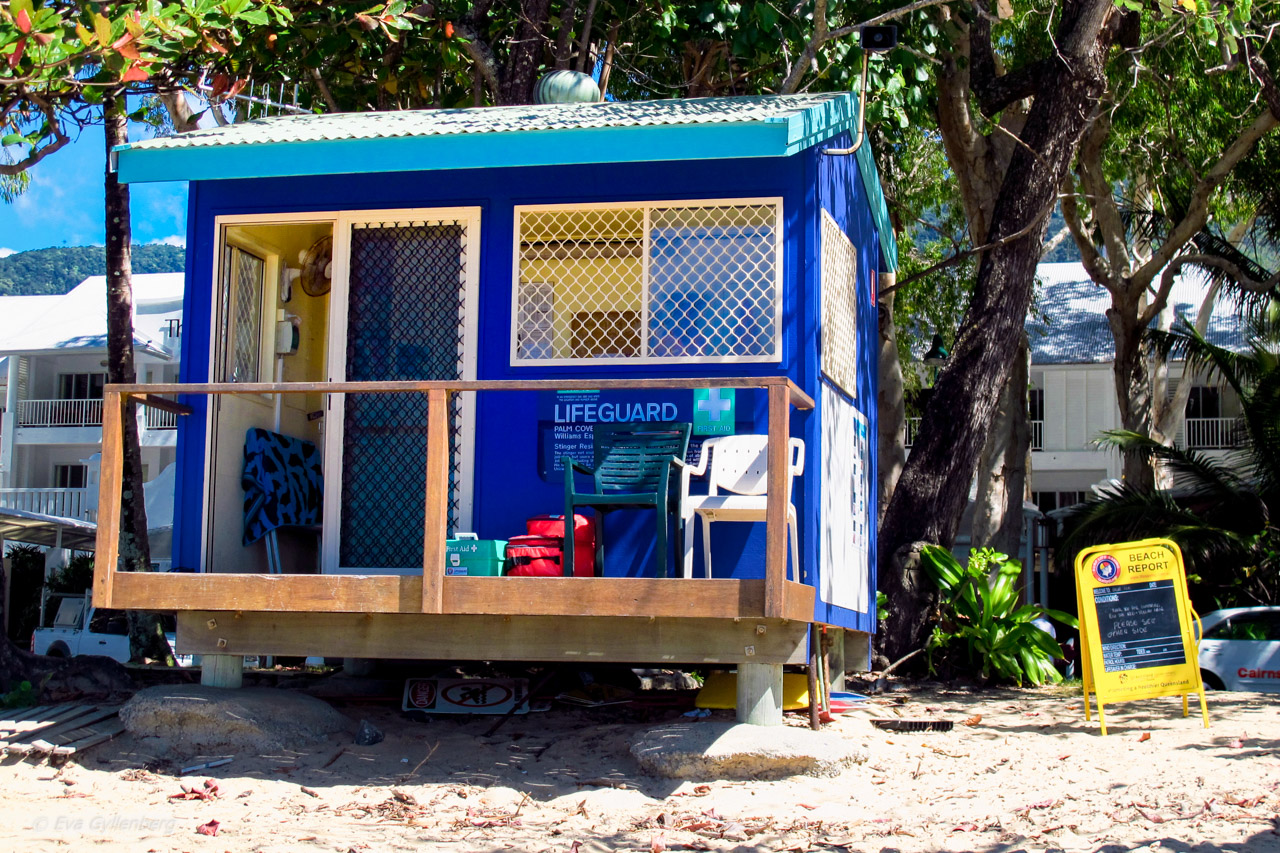 At Palm Cove there are lifeguards all year round, every day. During the summer months, there is also a secluded area protected by nets, to keep the stinging jellyfish away from all bathers. But in winter, find no net here. Both the jellyfish and the crocodiles think the sea is too cold. It is basically only tourists who swim today. Most Australians we met don't swim in the sea in the winter, they stick to heated pools. When you live in the tropics, you can afford to be picky.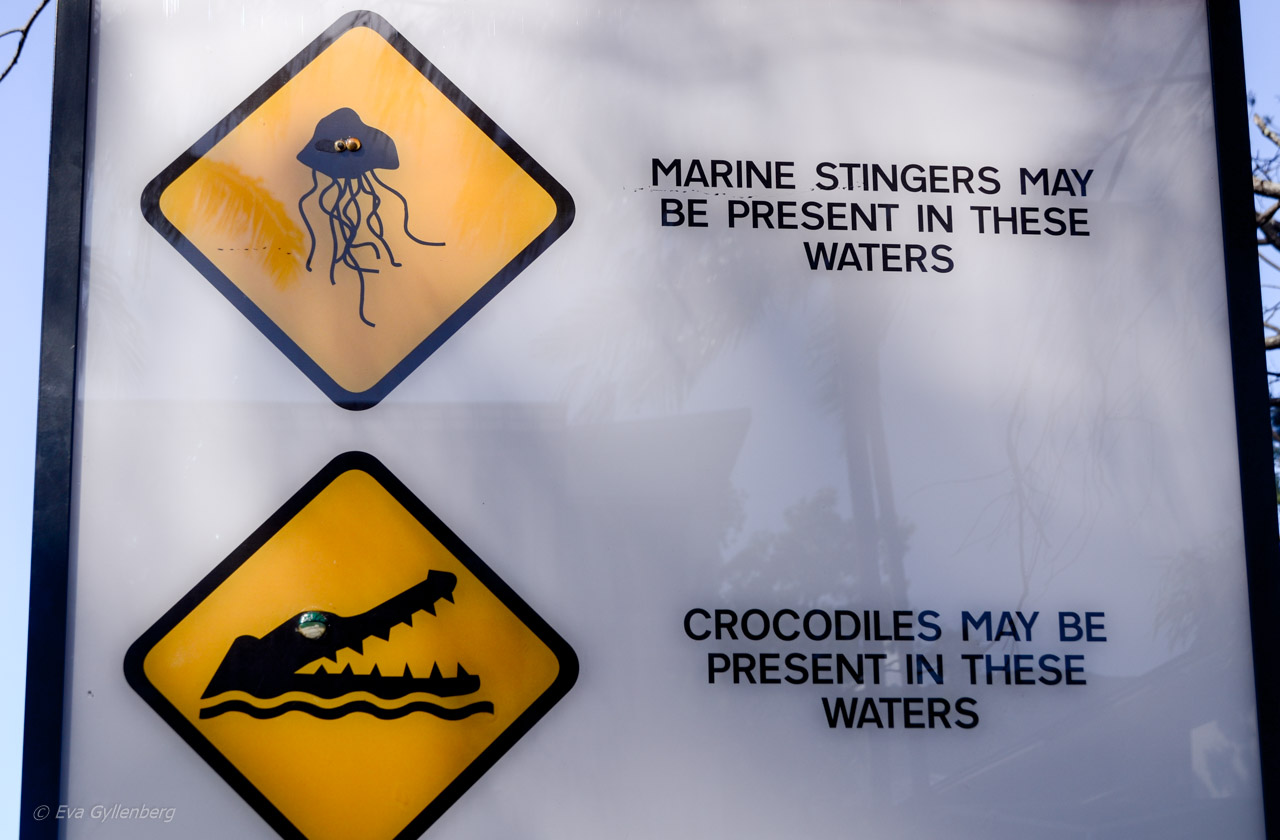 At the long pier is a small wooden house. A sign hangs out. Could it be an ice cream stand? We walk towards it. Quite far before we reach the kiosk, we have understood that no ice cream was sold here. The small kiosk rents out fishing gear.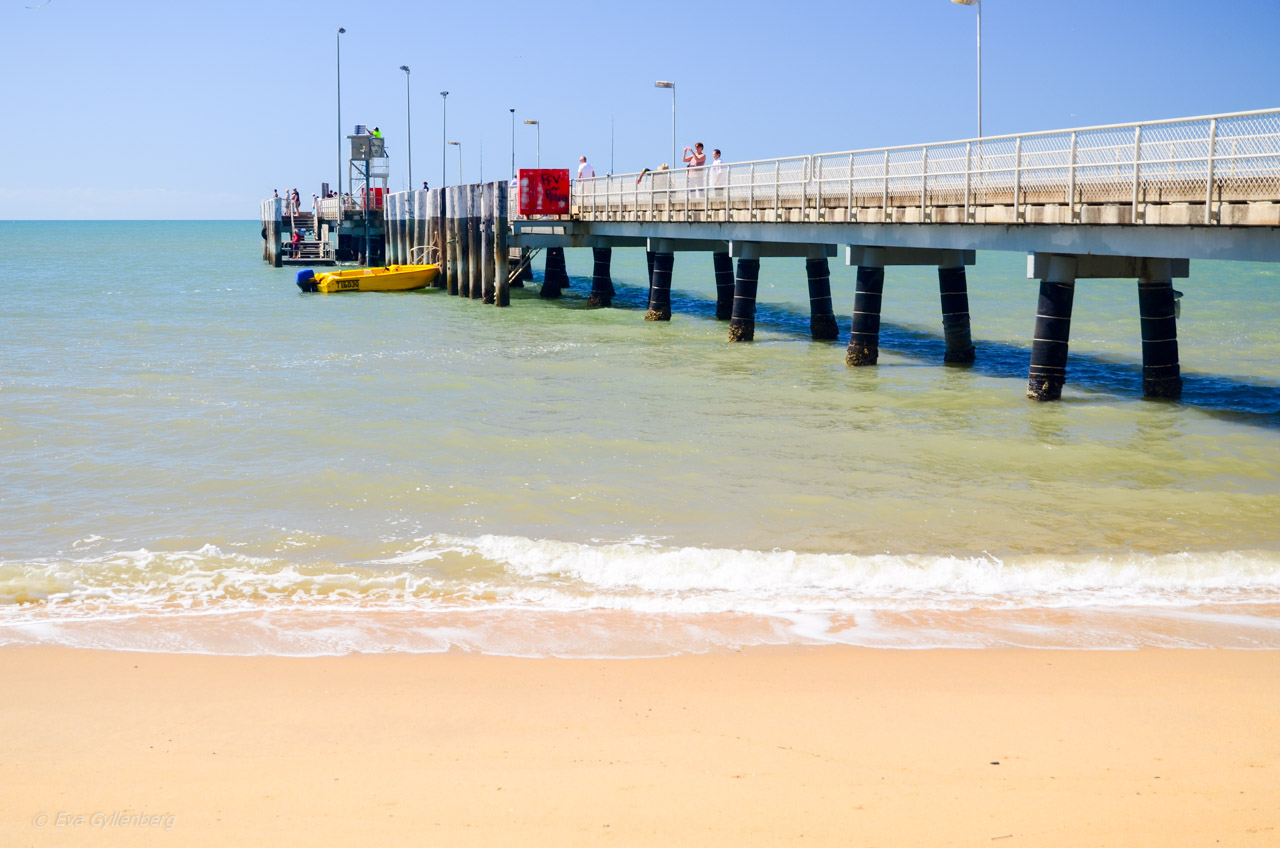 I don't quite remember how a few minutes later we are standing with a bucket of frozen shrimp in one hand and a casting rod in the other. It must have been because the old man in the fishing shack was so nice. It may also have to do with the fact that we would be allowed to fish with XL-sized shrimp. Bigger than those shrimp served at the shrimp cocktail on New Year's Eve. So, crazy big shrimp. Such shrimp as just really big fish can eat We were going fishing barramundi.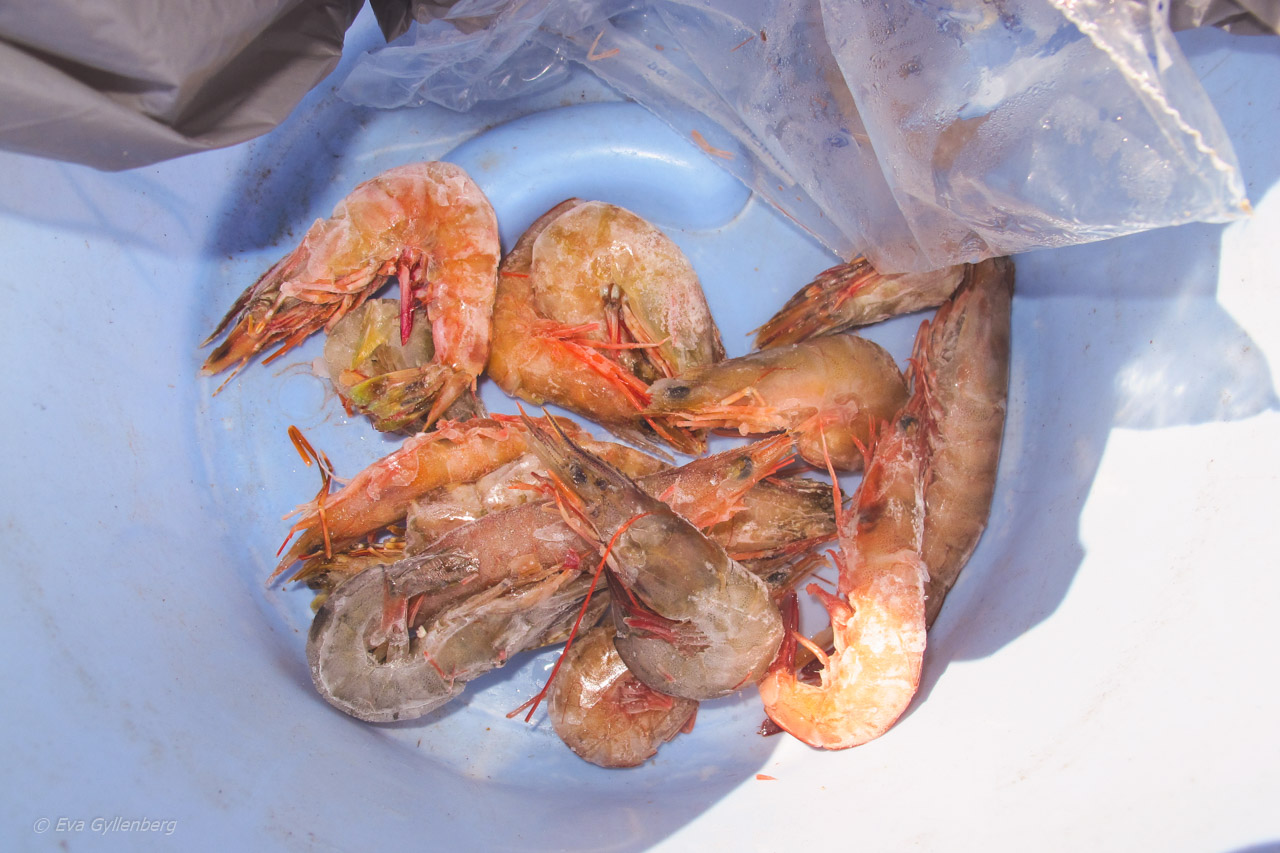 I had never heard of barramundi before I first came to Australia. This despite the fact that barramundi are basically found throughout the Pacific Ocean and all the way up to Japan. Maybe it has a different name in other countries? Regardless, it is a really large perch-like predatory fish, which can grow up to 2 meters long and weigh 60 kg. So big that our XL prawns could probably be swallowed as a small bite. Here at the pier in Palm Cove barramundis like to be, so we would have a good chance of getting a nibble.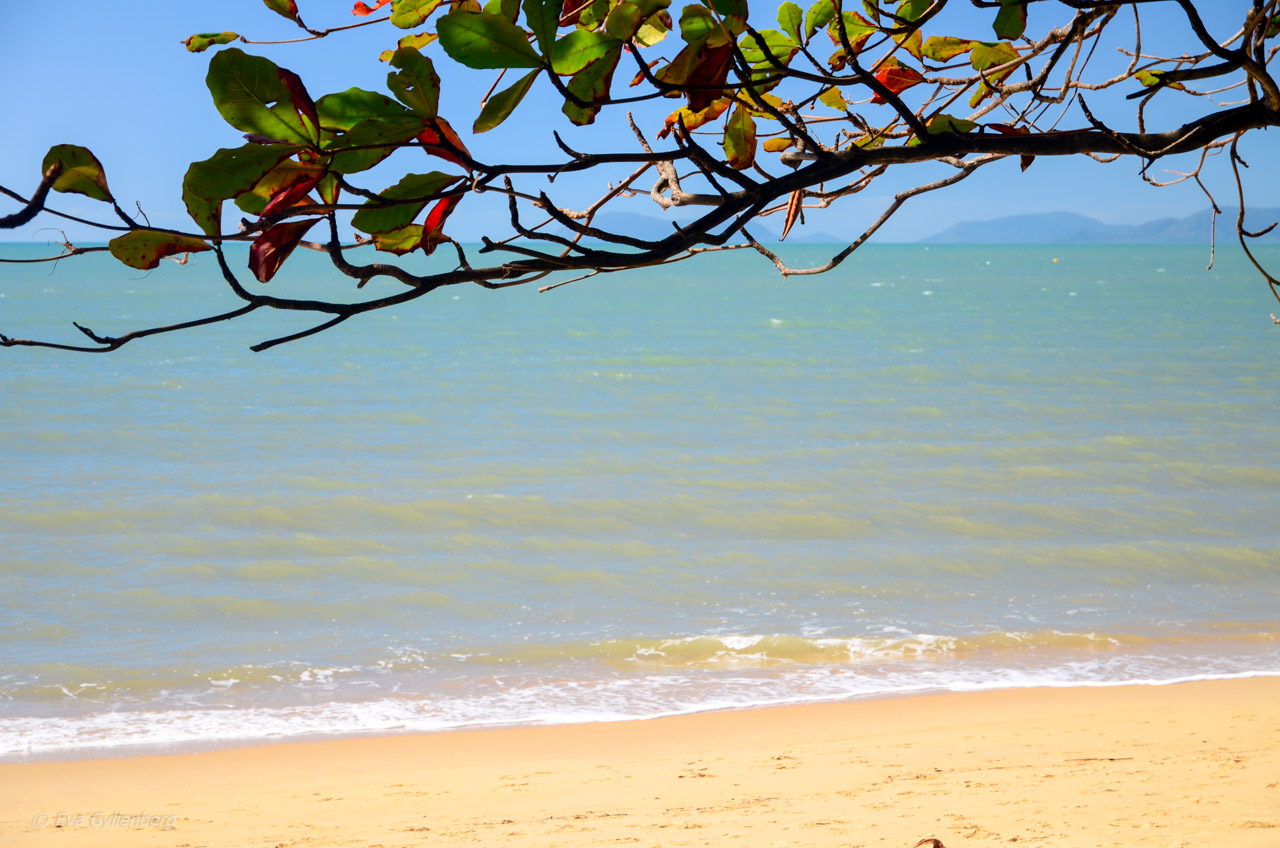 We go out far on the pier. Here the water is deeper and there are more boats. There are plenty of places to swim around and plenty of smaller fish. Here they should like to hang out. We bait one of the biggest shrimp and throw out the casting rod. Then it's just a matter of slowly reeling the line back in, roughly at the same rate as that XL shrimp would have swum. Make it splutter a little. So that the barramundi would be a bit hungry for a snack.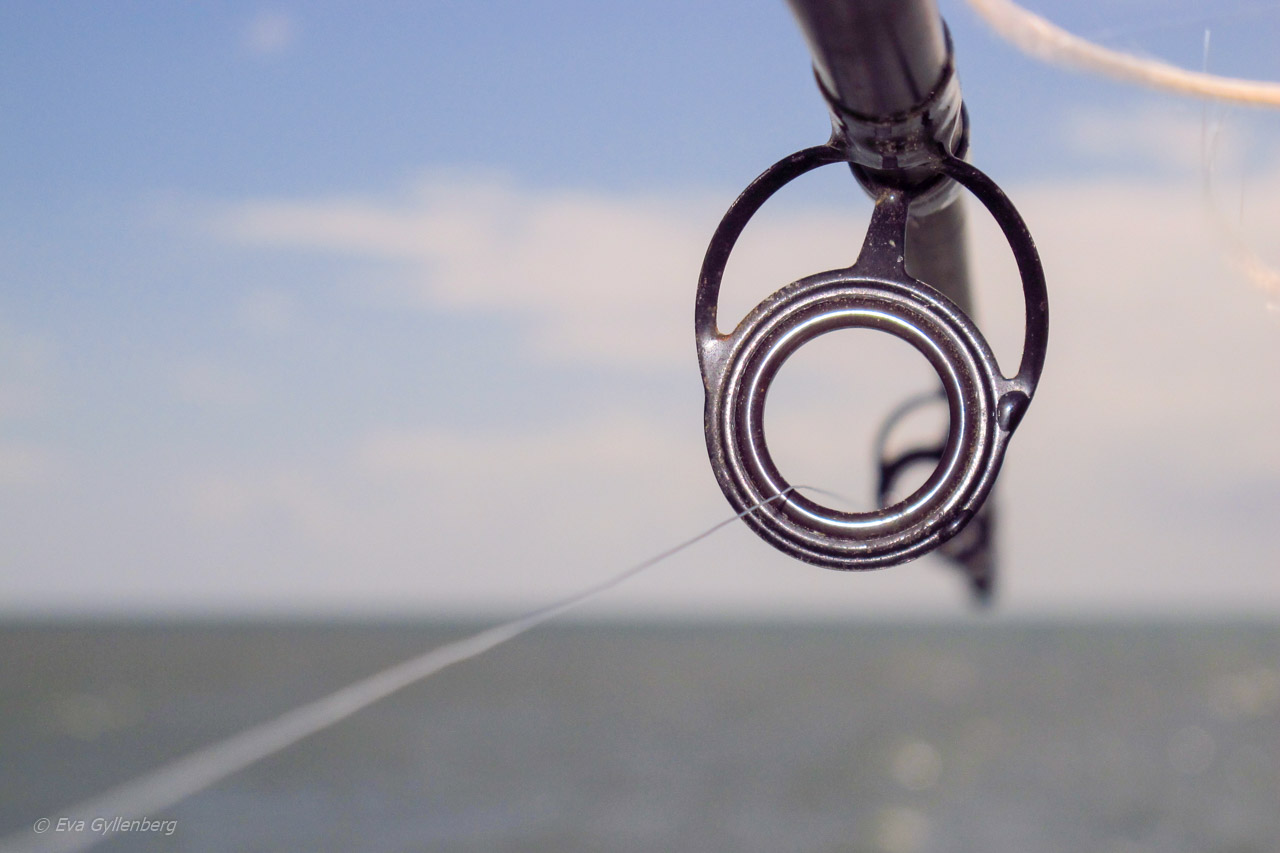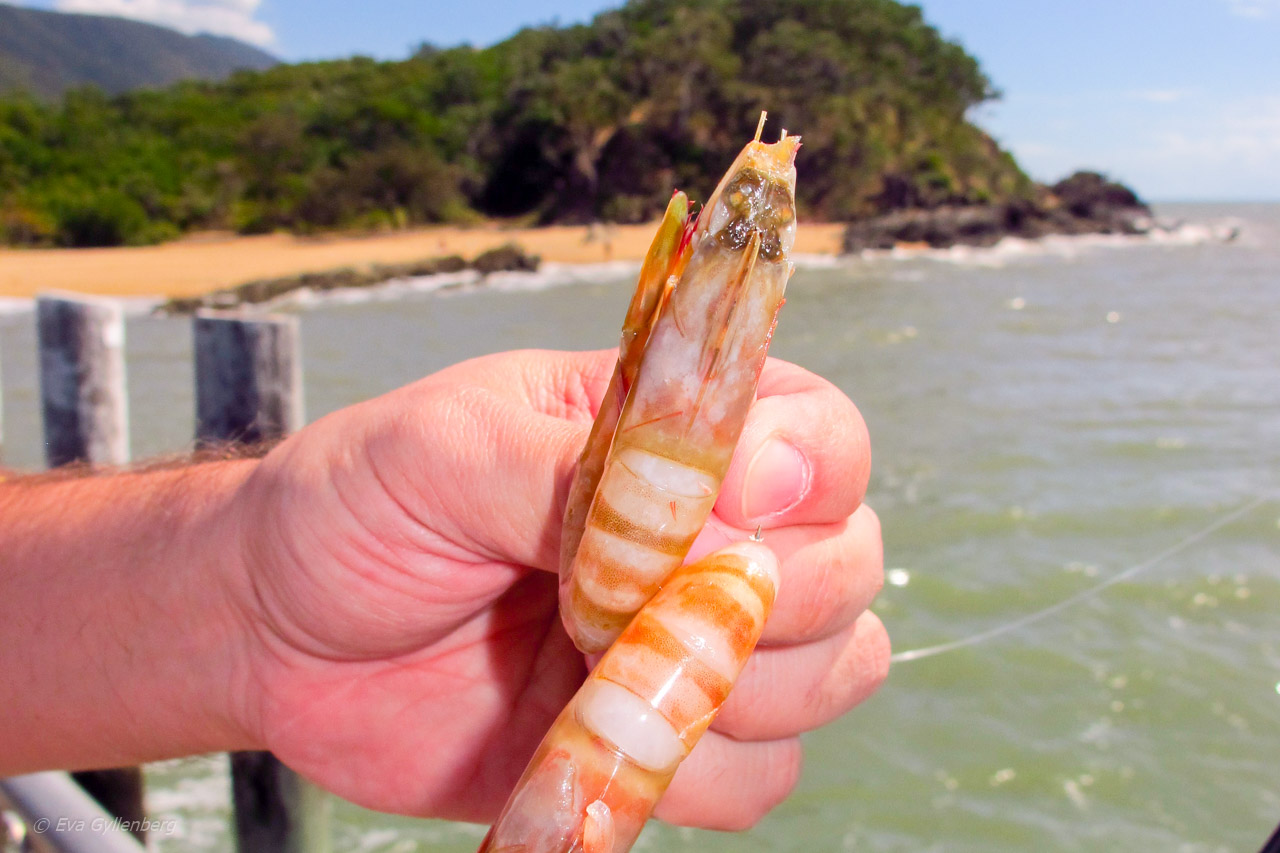 The hook breaks the surface of the water. No shrimp left. Had we put it on the hook so badly? New attempt.
We throw away the shrimp and the hook in the same direction again. The water is quite so fast, it's hard to tell if it's a fish pulling the line or if it's the current.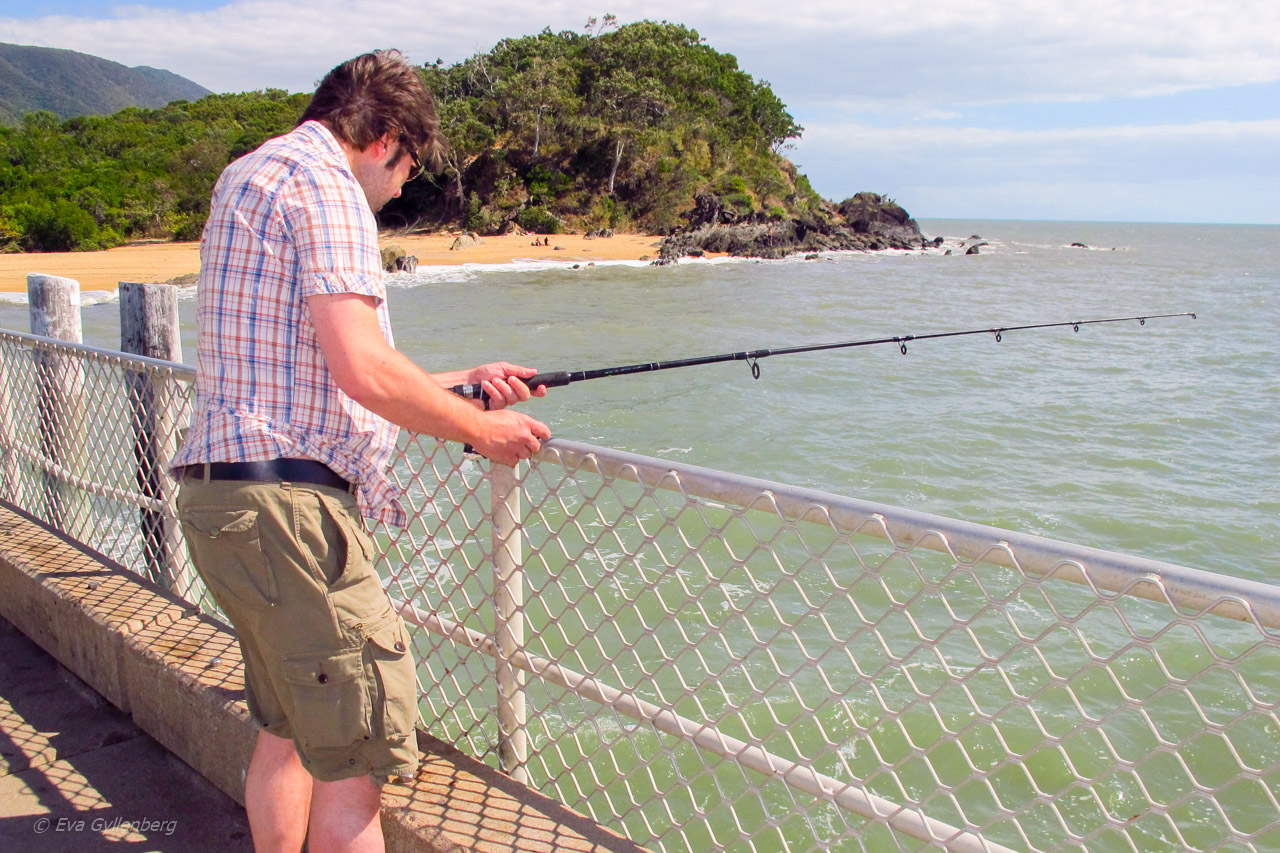 Same thing again. An empty hook comes back to us. We look down into the sea. The water out here is so fast, it's hard to see that deep. Is there something bigger down there? Because the small fish would not be able to eat a whole shrimp this big. It almost feels like the barramundis are just hanging out down here waiting for us to throw out another shrimp. Hey, gimme one more mate. I'm stuck down here!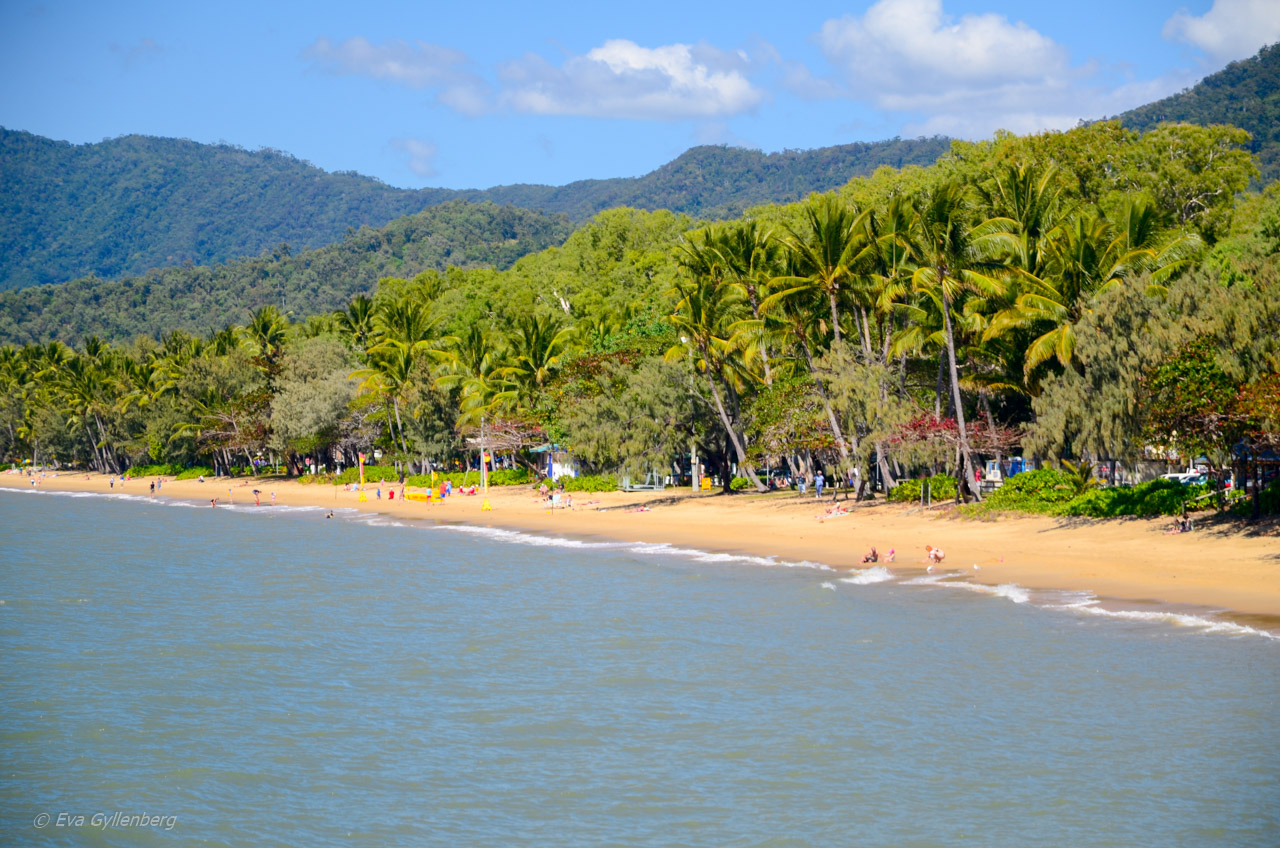 We fight on. To empty return hooks. The bucket is quickly empty. A kilo of monster prawns for a starter. Thank you.
But actually I'm kind of glad we didn't catch any fish. A large barramundi would probably have torn off our casting rod or torn us off the pier. Or we'd just caught a fish on the hook that we wouldn't have known what to do with. How to clean a barramundi? No clue!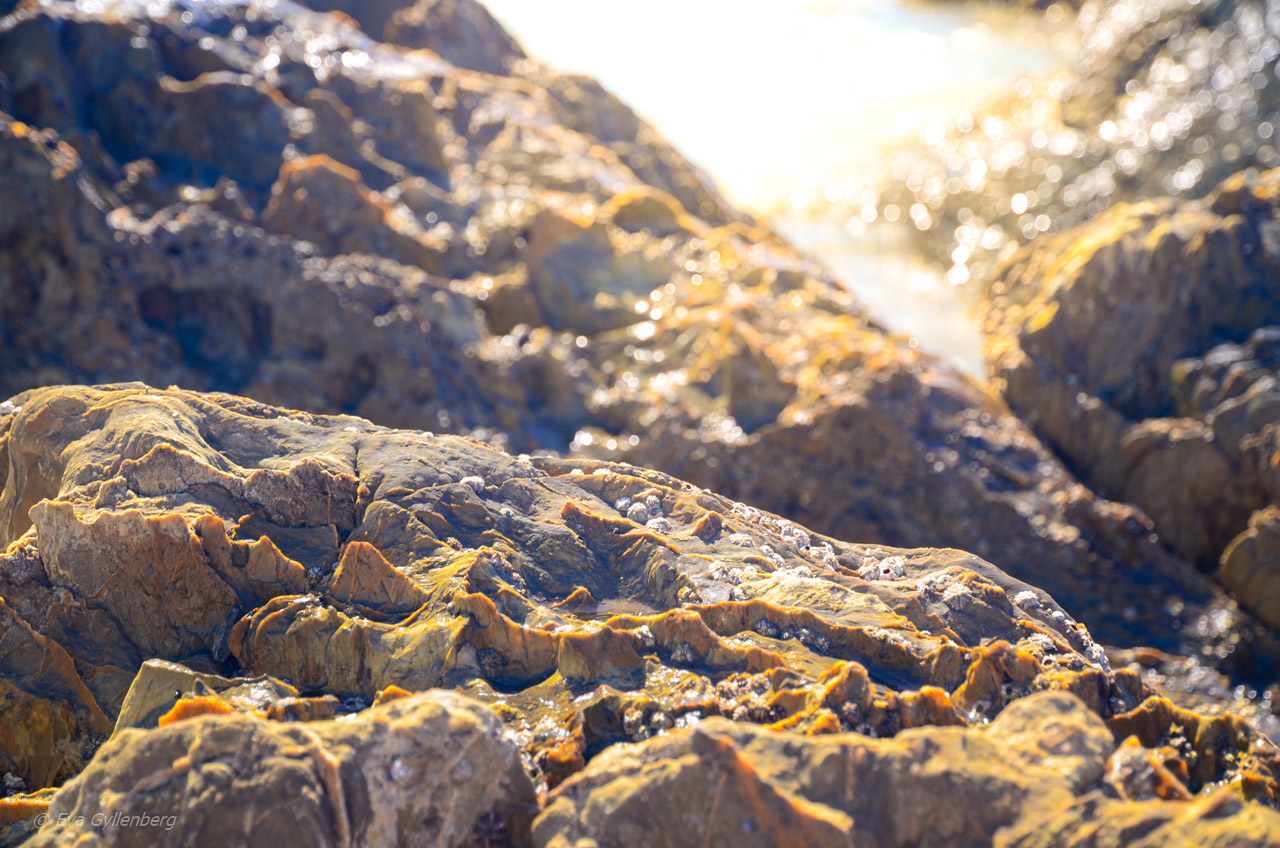 We return the fishing rod. The landlord looks genuinely surprised that we didn't get a pacifier.
The tide has receded a little and the beach is full of shells. The daughter picks shells, but she is extremely aware of which shells she is not allowed to pick. The "screwed" can't be touched. Here on the Barrier Reef are some of the world's most poisonous and beautiful animals. The cone snails. You know, those conch shells that are often sold in souvenir shops. Which shoots a harpoon of poison if you happen to poke it. A poison that in many cases can kill you in minutes. The world's most dangerous animals are also the most beautiful. So the daughter picks the flat shells, but we see some shells that look like cone shells. Probably dead, but I'm not going to check.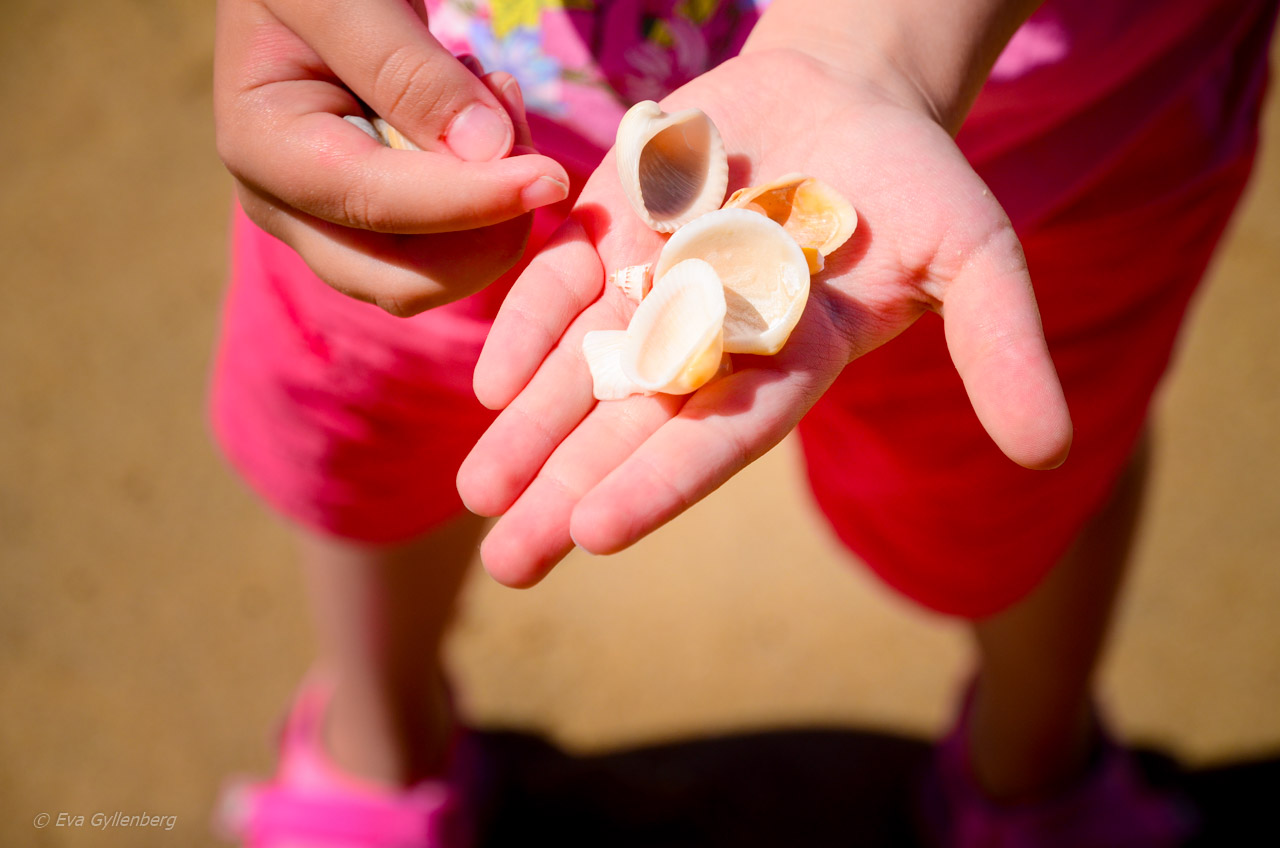 That ice cream we should have bought before we went fishing? The daughter reminds us, so we head up towards Palm Cove's small, pastel-colored center. This time we find ice cream and not a throwing stick. Maybe just as well.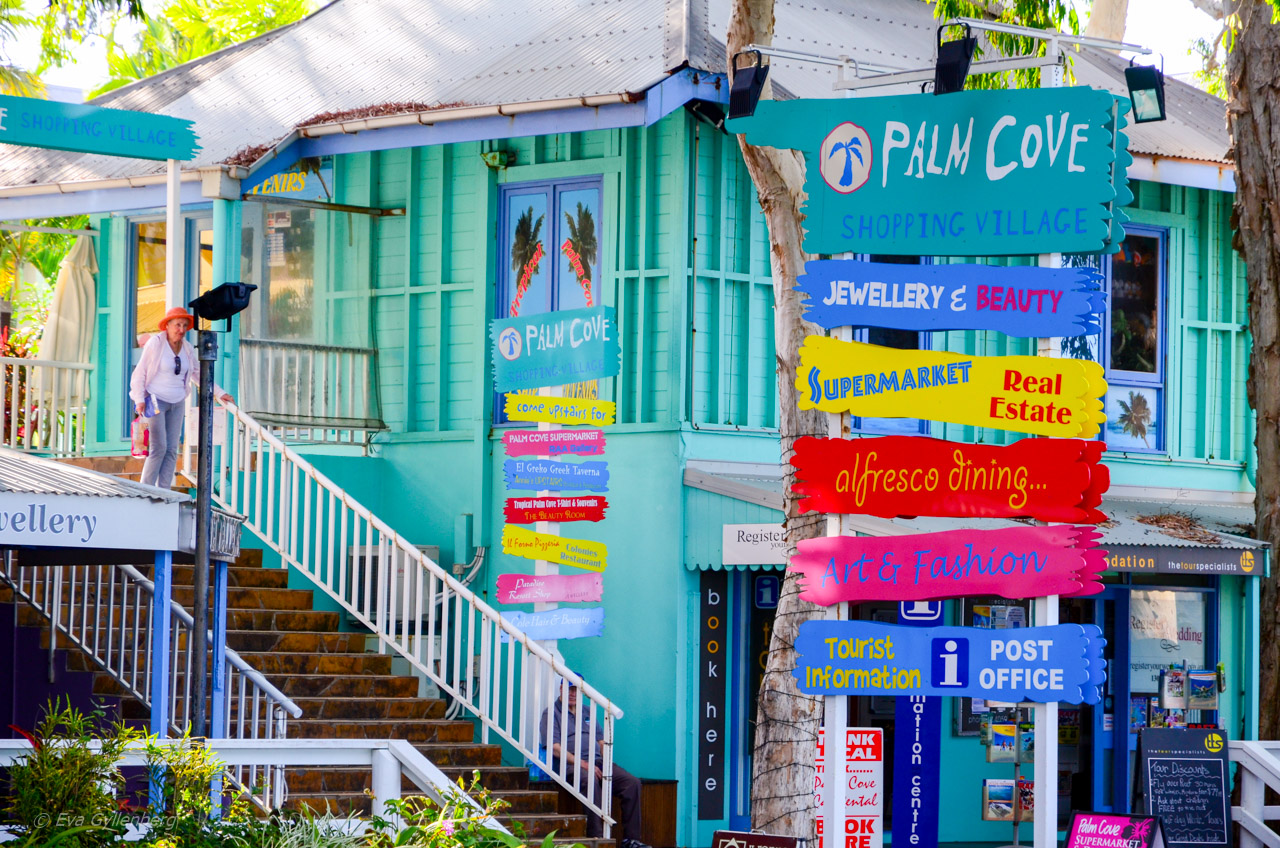 Where is Palm Cove?
Palm Cove is located a few miles north of Cairns in Queensland, Australia. It is a cozy place with luxurious spa hotels, nice restaurants and private villas. The beach is incredibly nice and on the first Sunday of every month there is a market along the promenade.
Do you want to read more about Australia?
Look into my Australia page or my Queensland side!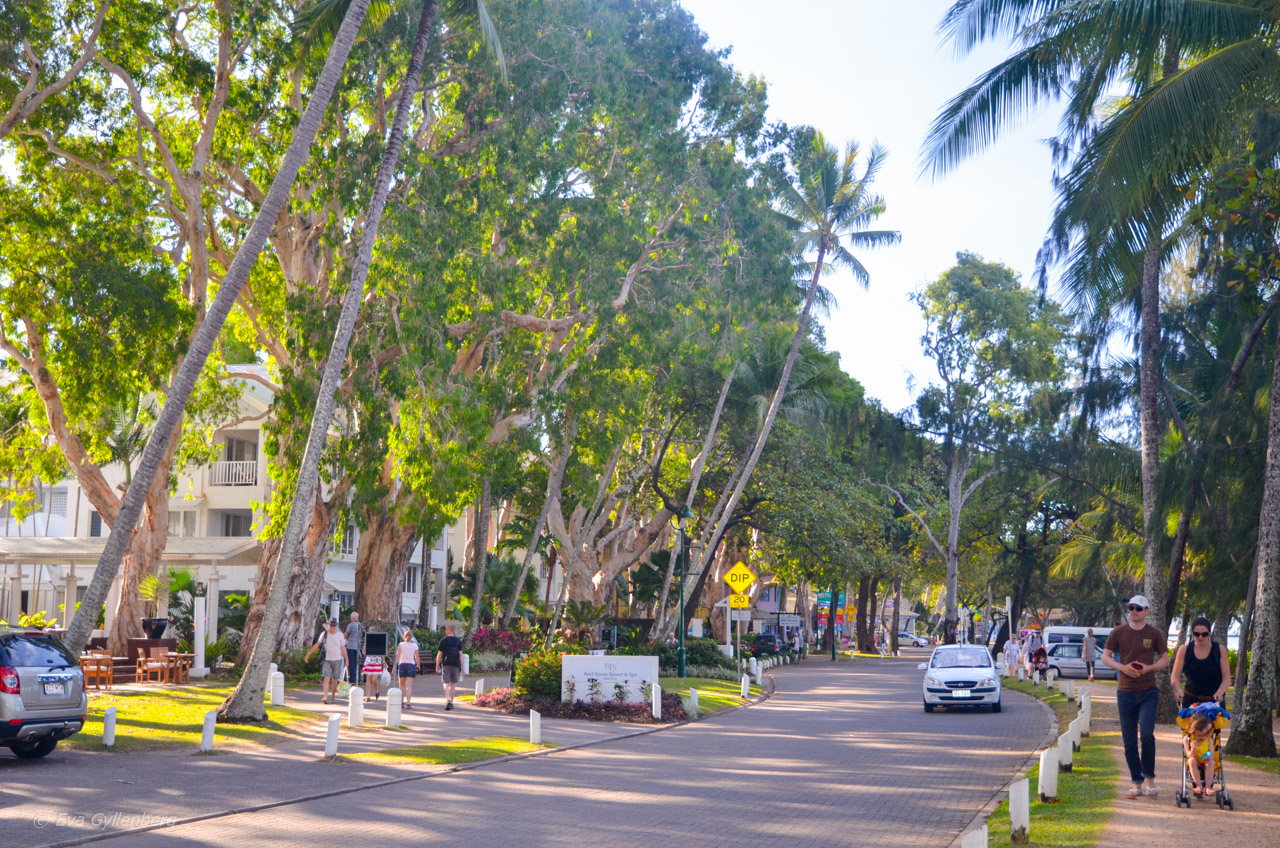 Want to read more of my travel tips? do not forget to like Rucksack on Facebook!
Have you been here? What did you think of the destination?
Been there - didn't like it!
0
Not keen at all to go here!
0
Eva Gyllenberg
Travel blogger, gastronaut, photographer and family adventurer with over 55 countries in his luggage. Eva loves trips that include beautiful nature, hiking boots and well-cooked food. On the travel blog Rucksack she takes you to all corners of the world with the help of her inspiring pictures and texts.