The visit to Åhus was made in connection with a press trip with Visit Kristianstad, but all thoughts and opinions are, as usual, my own.
The charming seaside resort of Åhus is right by the sea in north-eastern Scania. Very popular with sunbathers during the summer months, but equally interesting for a cozy weekend trip with good food all year round. Here, among fine-grained white sand beaches, rugged coastal dunes and picturesque half-timbered houses, we experienced some really lovely restaurants and patisseries over the course of two days. More specifically, five pieces of gold that I would love to return to!
---
The monastery bakery
In the history-scented ruins of Sankta Anna's hospital and chapel is today one of Åhu's tastiest outdoor restaurants. Amid the ruins' cracked brick walls and ivy, Klosterbageriet serves everything from creamy vanilla buns to fluffy classic pastries and hearty lunches. Everything with lovely ingredients and with a little touch of the 50s. You get the retro feeling mainly if you look into the patisserie's coffee room. Here you settle down with a cup of coffee on a teak chair and admire the magnificent collection of coffee cups. Enough for me collects coffee mugs himself, but this collection is slightly more impressive!
We each ate a piece of cake, which sat like a cake with a cup of coffee outside in the spring sun. Perfectly whipped cream, just the right amount of sweet and in wonderfully large chunks. A pure pleasure.
The monastery bakery
Köpmannagatan
296 31 Ahus
Map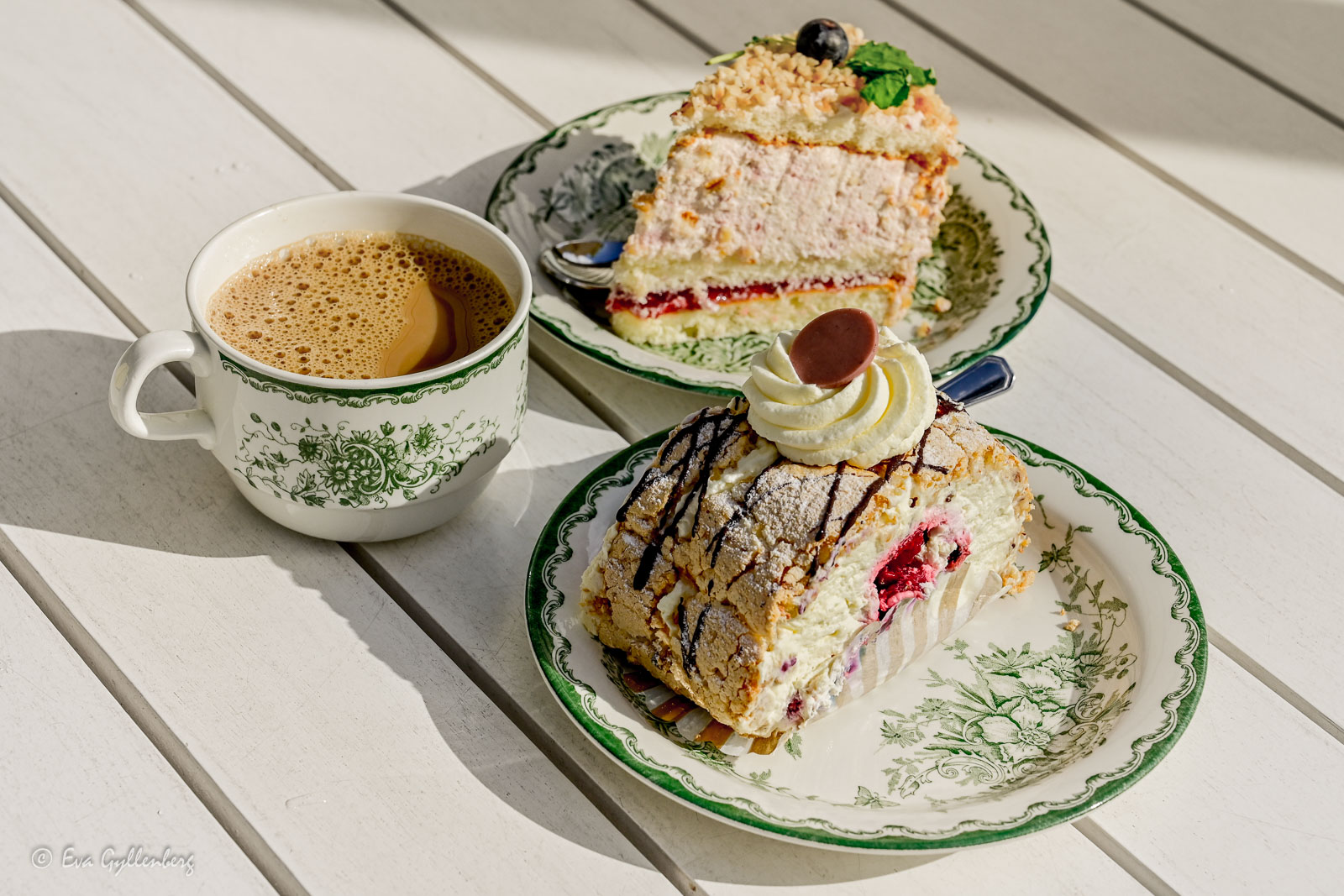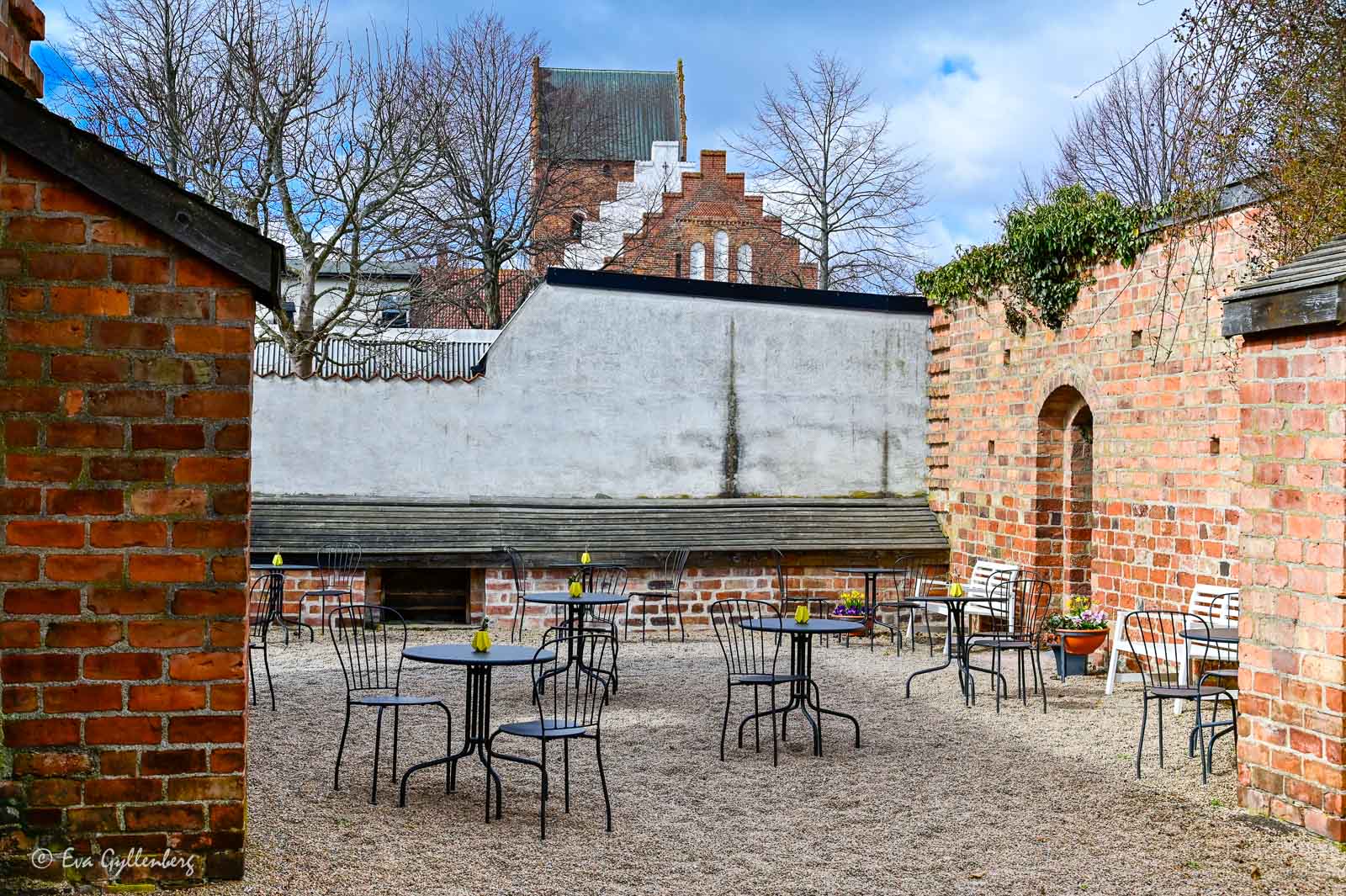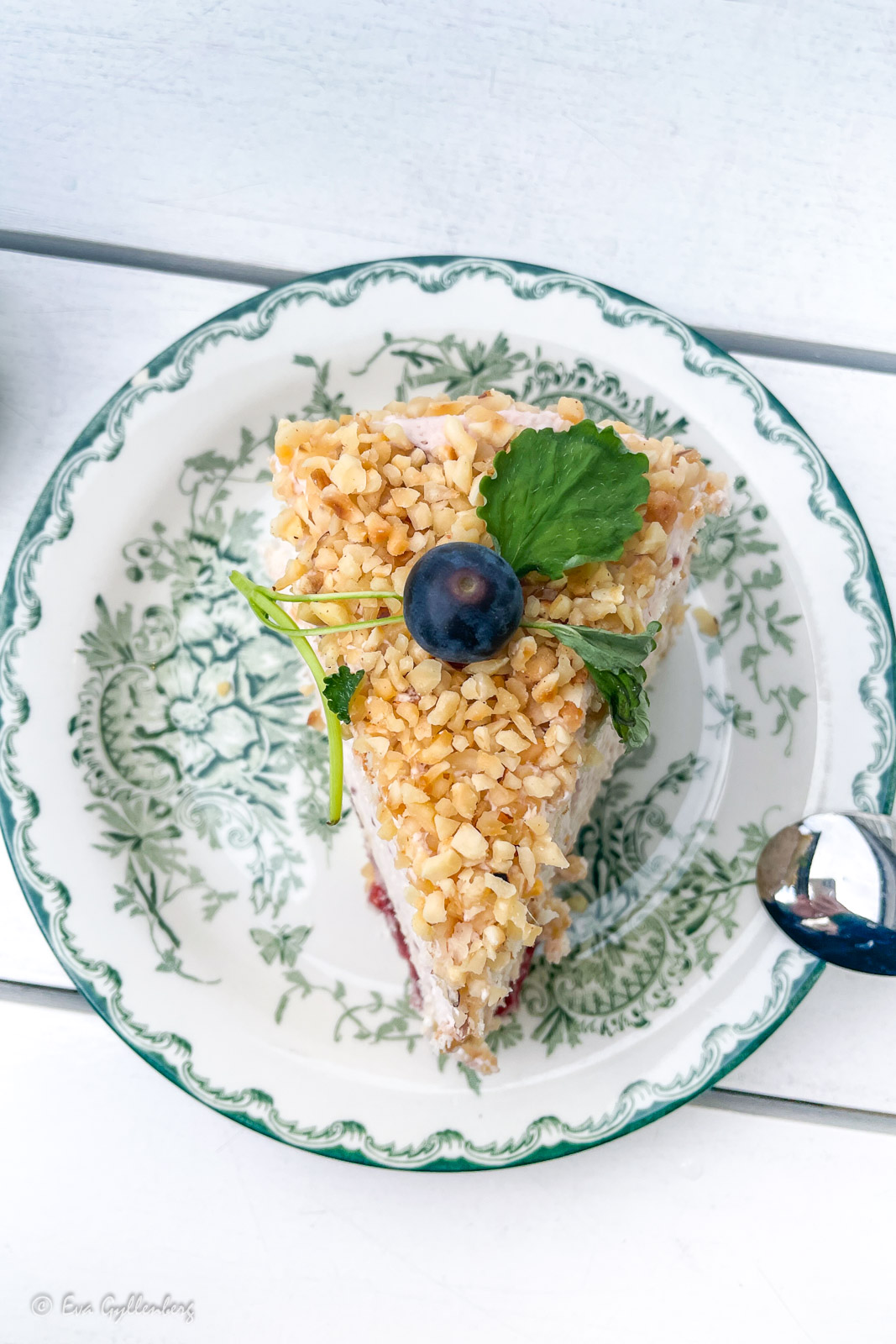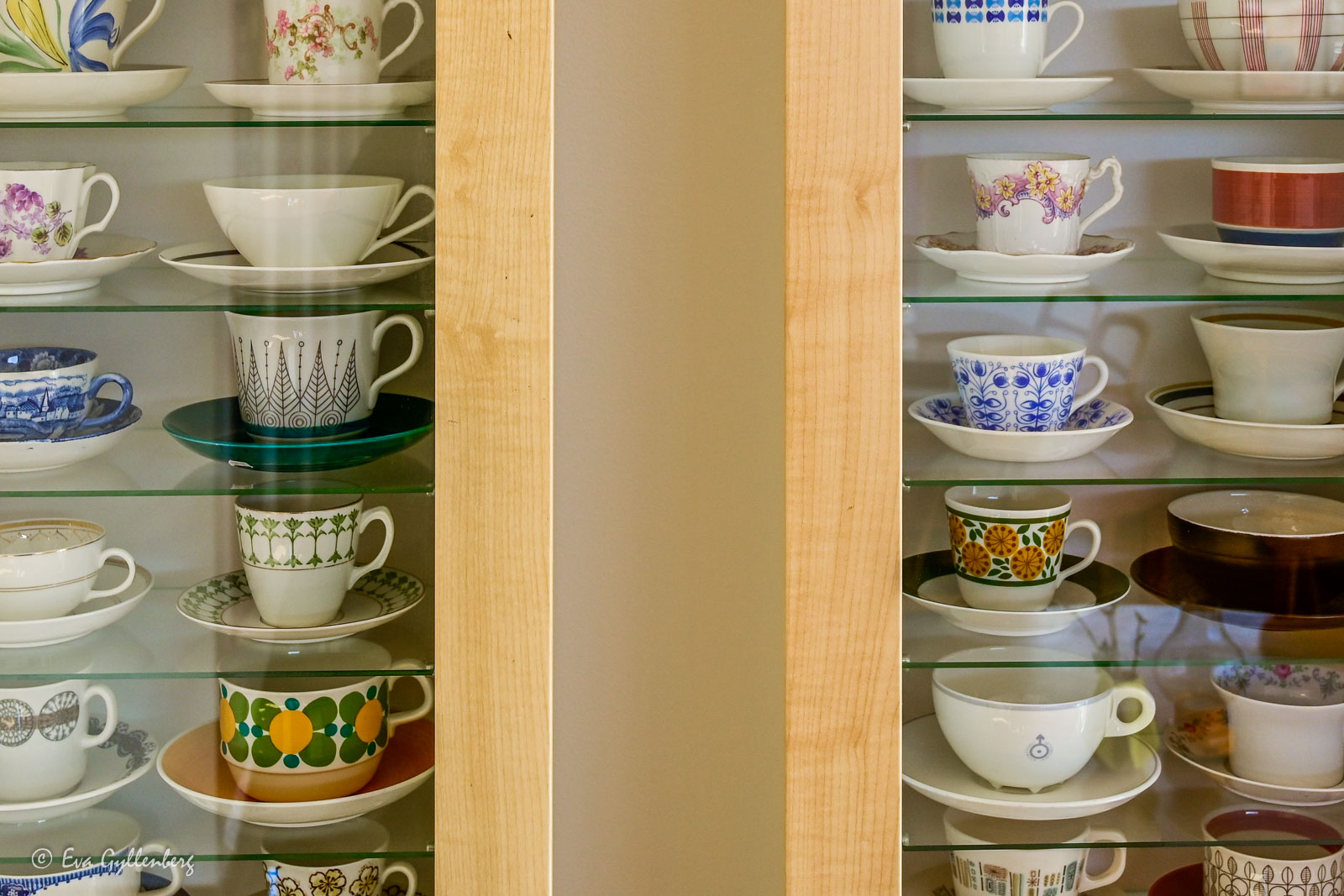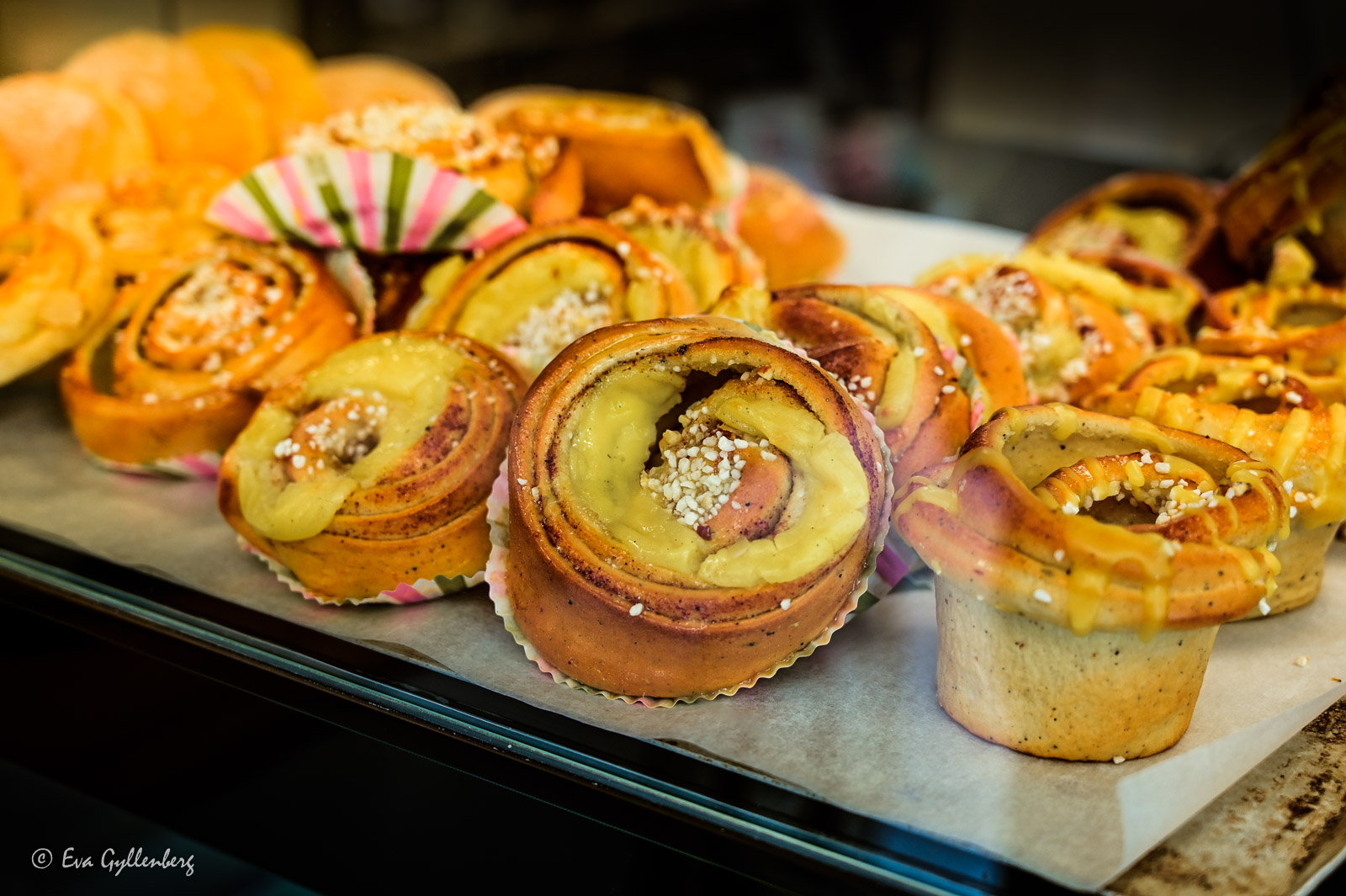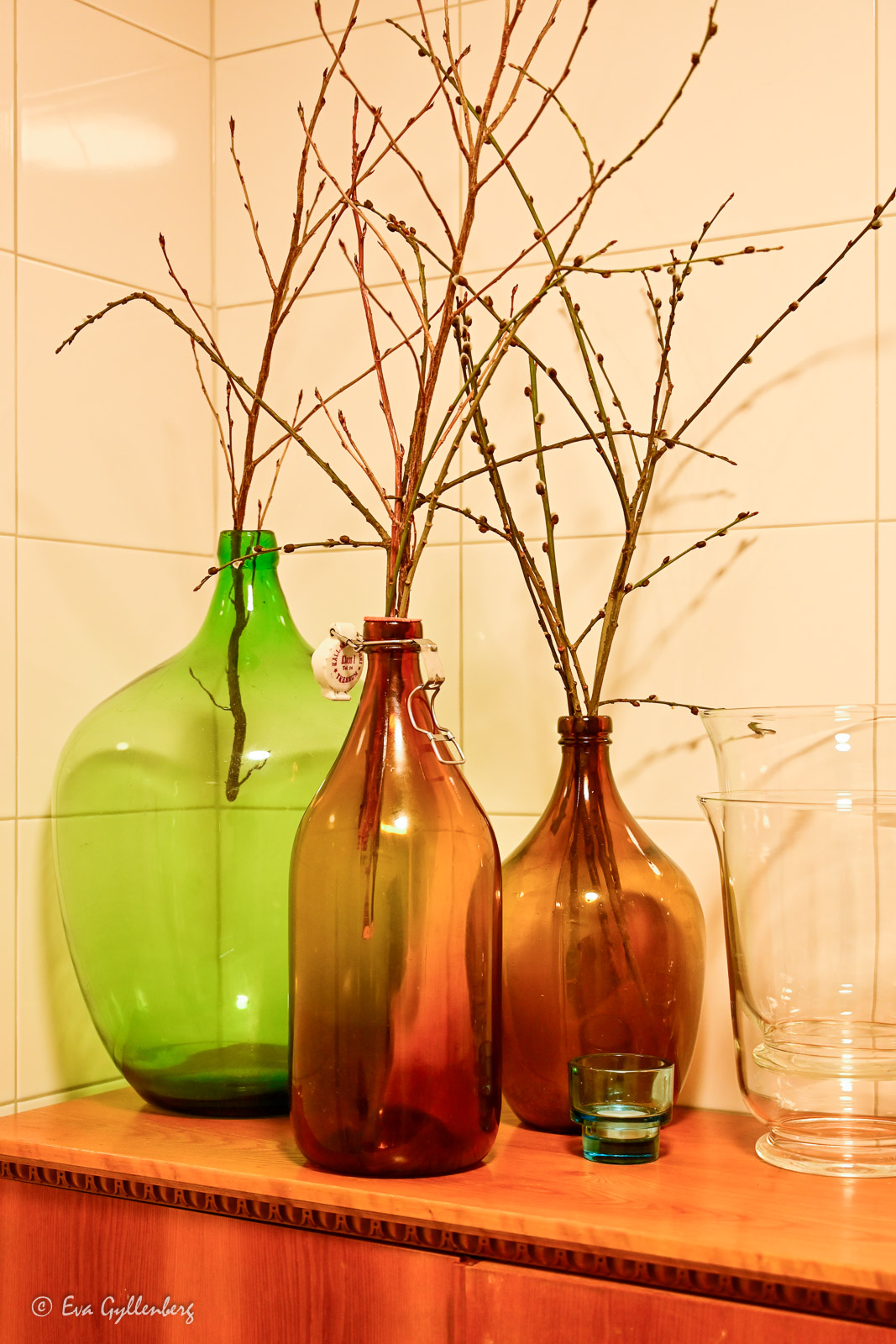 ---
Åhus Finest
In a homely premises with both an interior design shop and a restaurant, you will find Åhus Finest on Köpmannagatan in the middle of central Åhus. The menu includes pasta, salads and "pizza-ish", of which I immediately fell for a "pizza-ish" - a pizza bianco with goat cheese, walnuts and beetroot on a thin and crispy base, served with handy scissors and crispy arugula. As a lover of pizza bianco (also called tarte flambée in France or flammekueche in Germany), I thoroughly enjoyed the lunch. It had just the thin and crispy bottom that a flamme kueche should have and the combination of the salty cheese, the sweet beetroot and the crunchy walnuts was perfect. A lovely place with satisfying comfort food!
Åhus Finest
Köpmannagatan 35
296 31 Ahus
Map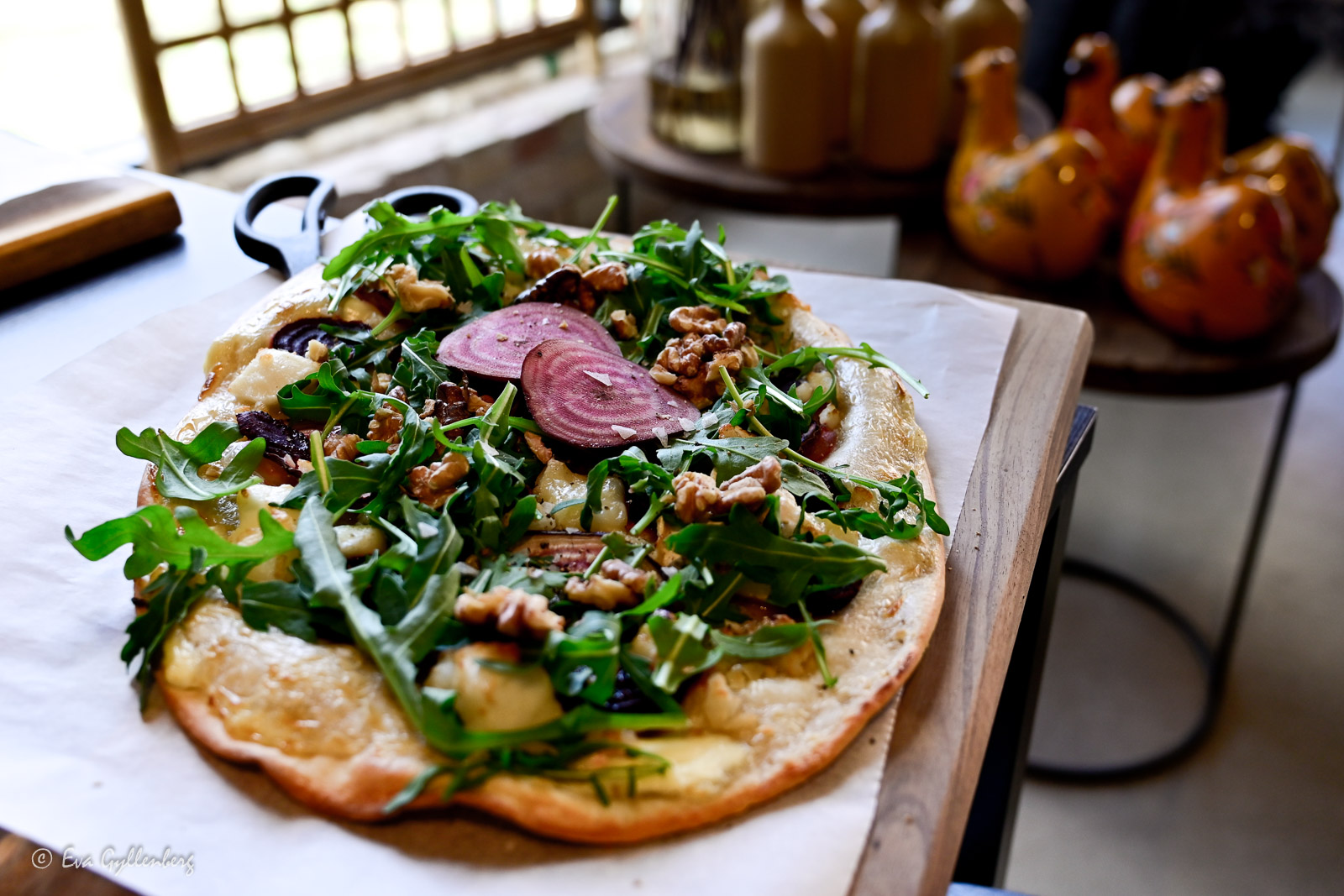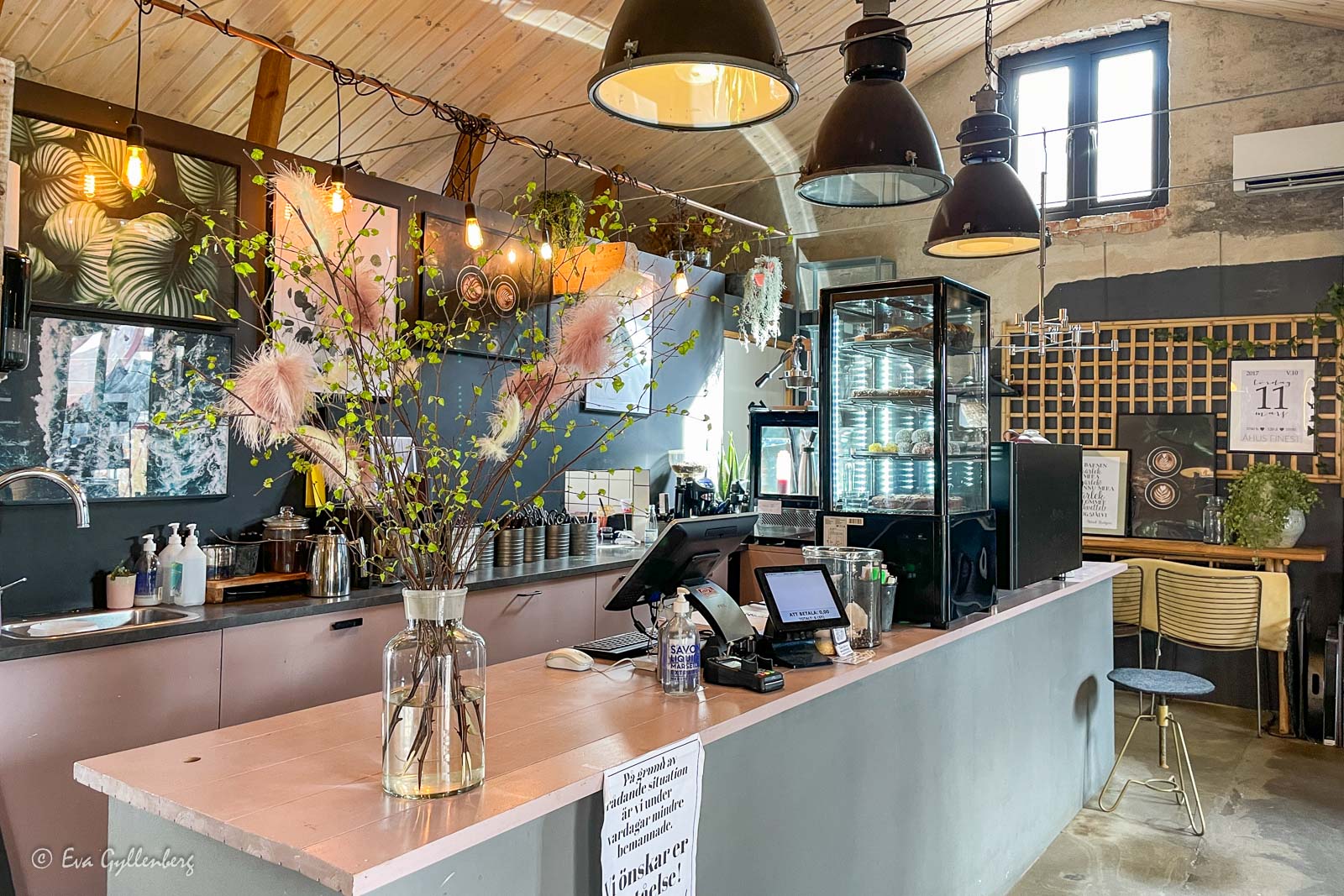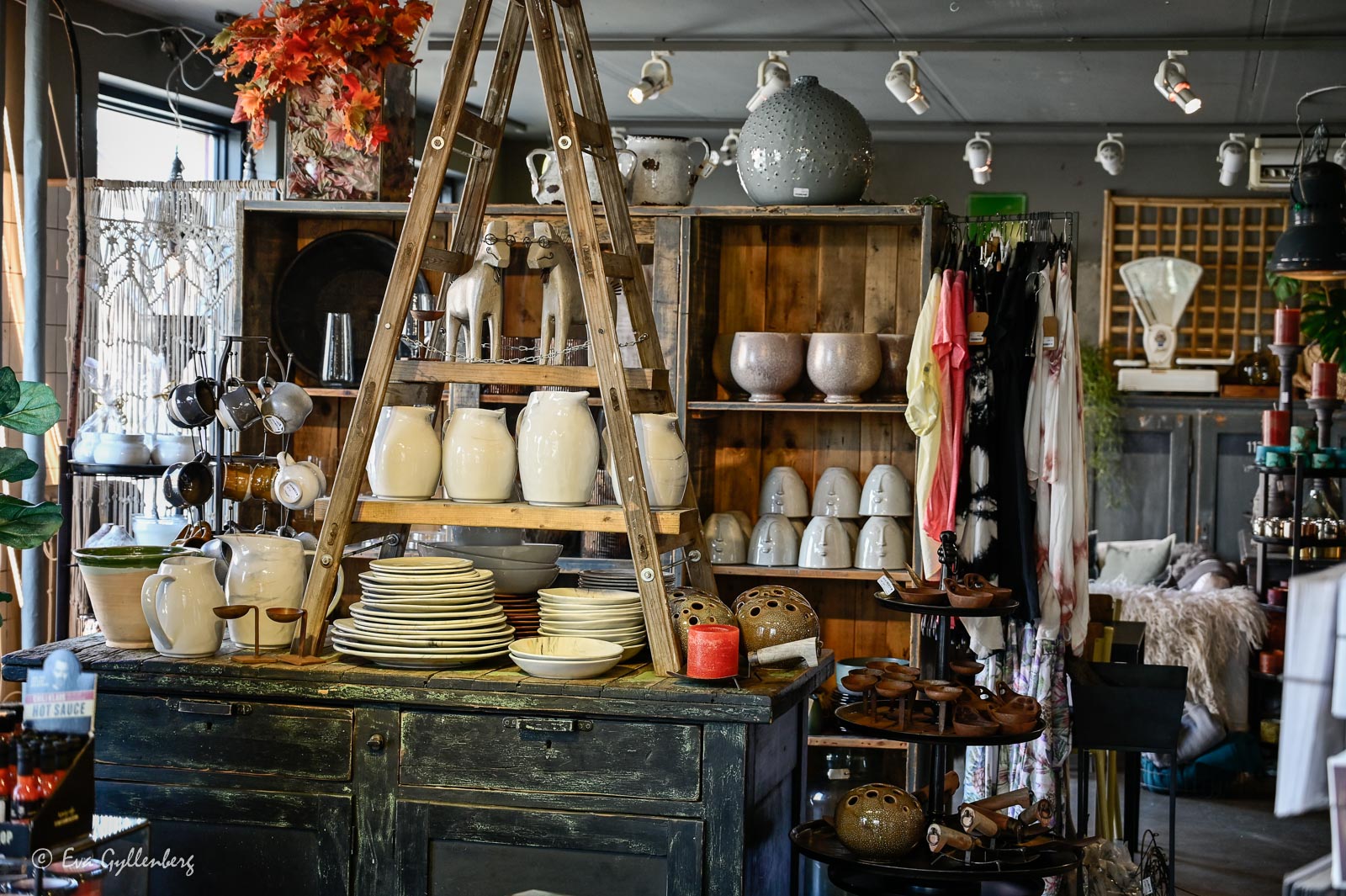 ---
The smokehouse between Åhus and Yngsjö
You can't help but love places run by passionate people with exuberant joy and lots of ideas! The smokehouse by the river between Åhus and Yngsjö has been run since 2020 by Linnea and Robin, who took over the restaurant in the middle of the burning corona crisis. Since then, they have changed most things and developed the place with quality in focus. Here, most everything is made from Swedish raw materials - preferably locally produced - and always from scratch.
The smokehouse's best seller is their fish'n'chips, which is what I ordered. The man ordered a skrei with primroses and horseradish. The portions that came in were substantial and the taste was even greater. I can easily say that it was one of the very best fish'n'chips I have eaten. The haddock perfectly melted in the mouth and the fry was as airy and crispy as you want it to be.
Before you leave here, take the opportunity to look into Rökeriet's fine fish and delicatessen shop. I look forward to visiting the Smokehouse again, so I can see all their ideas and visions in full bloom! Next time I might even paddle here and add the kayak to the Smokehouse's jetty?
The smokehouse
Yngsjövägen 226
296 91 Ahus
Map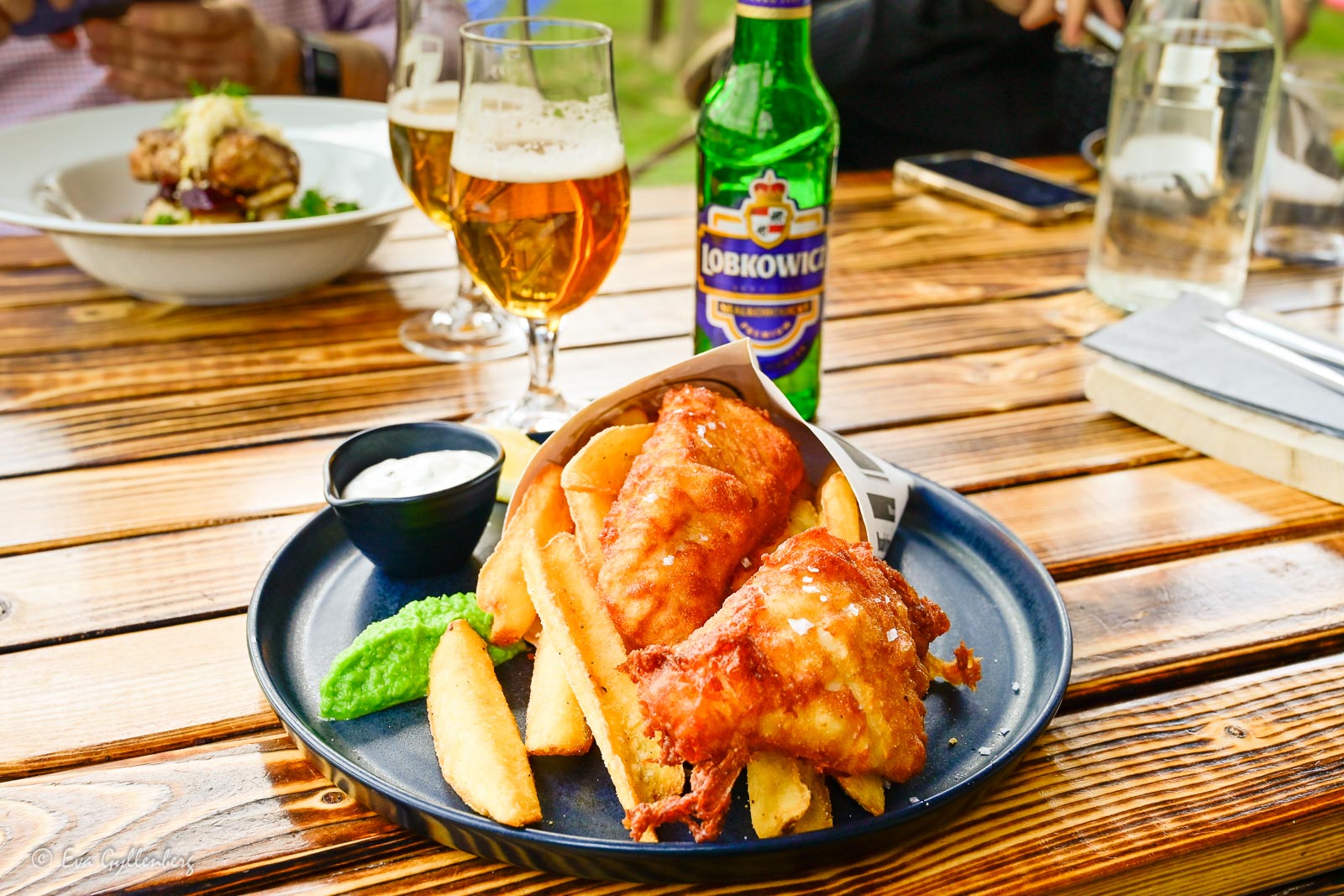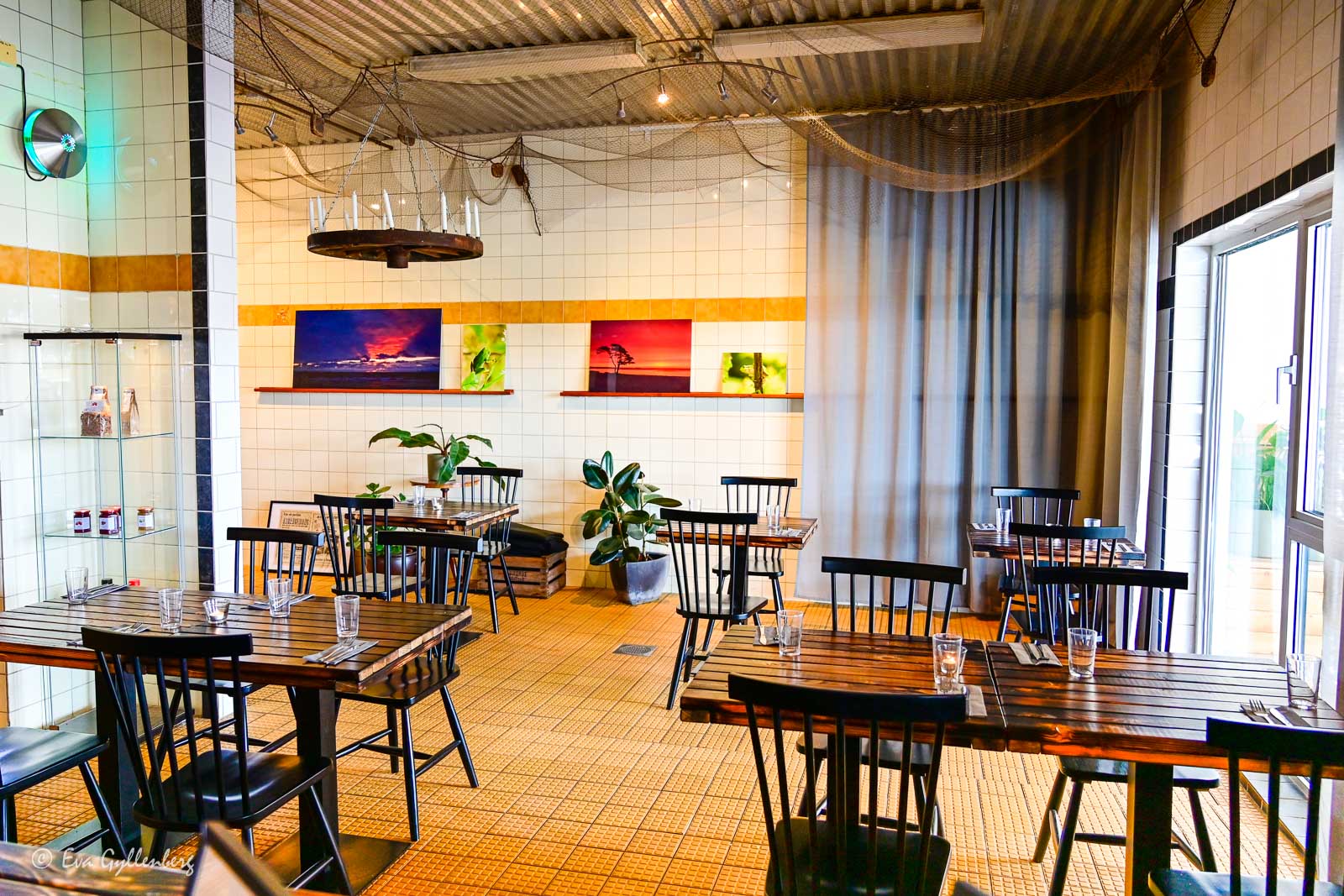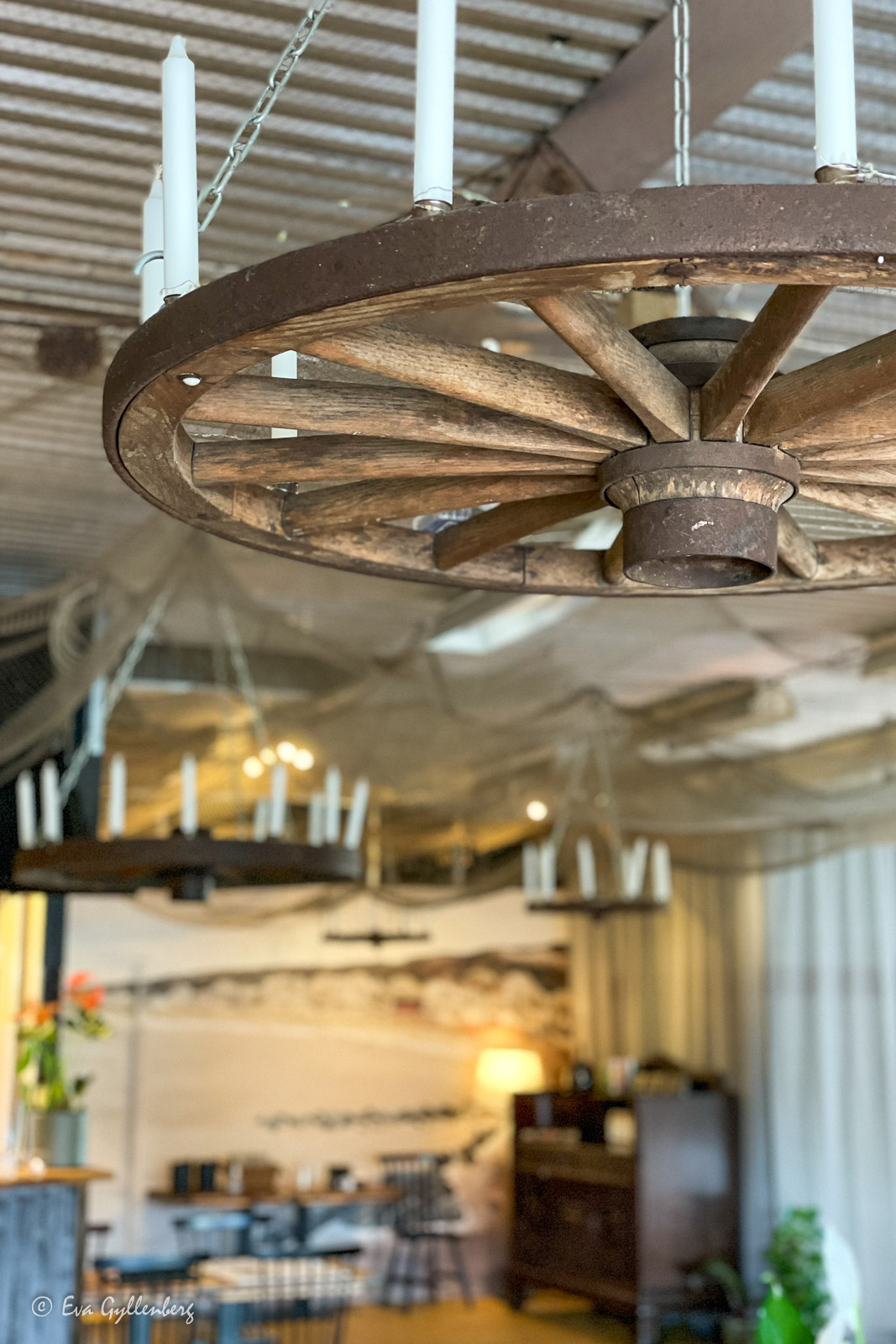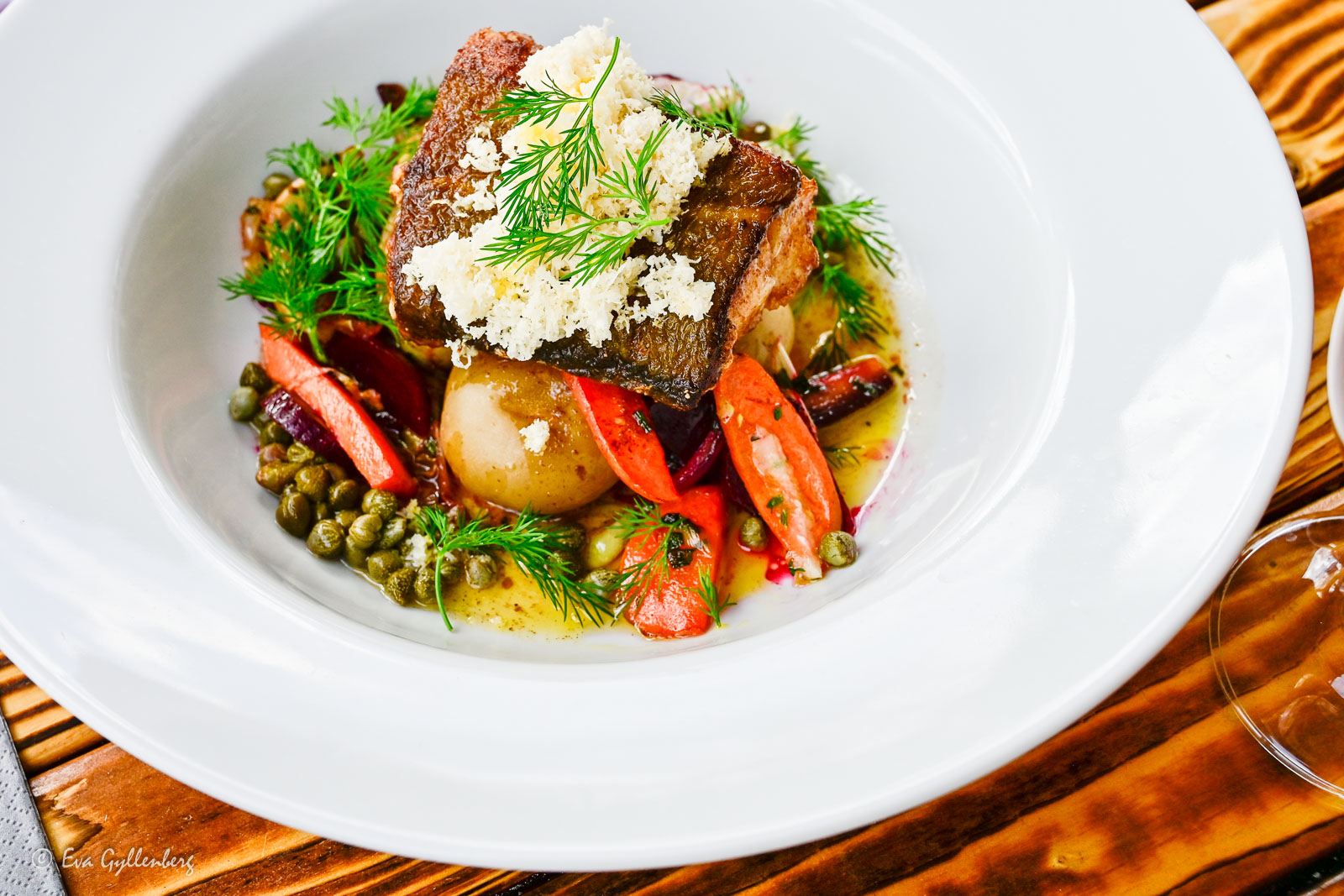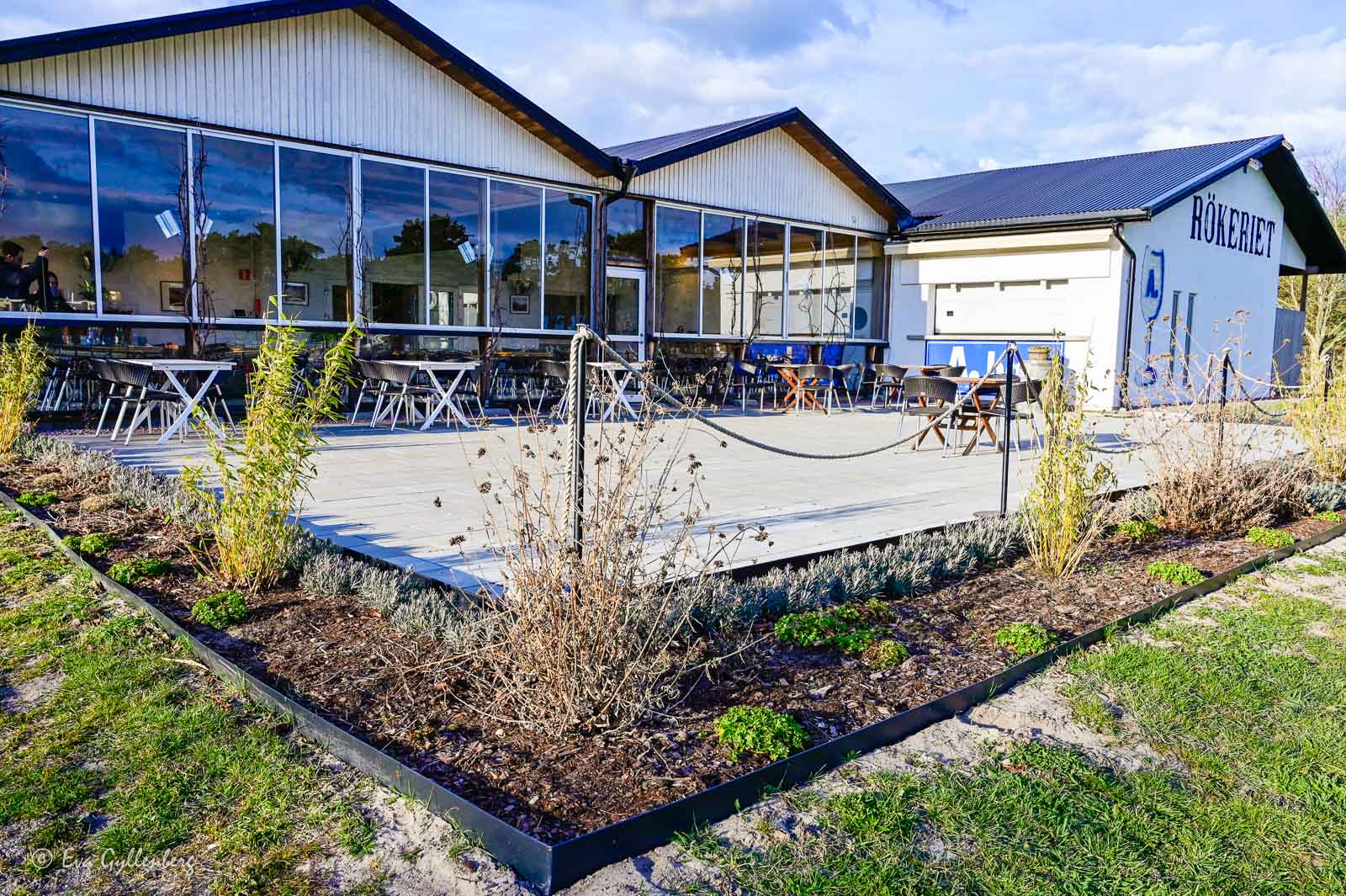 ---
Absolutely Home
Absolut Home is not just a museum that tells the fascinating story of the Swedish spirits industry and Absolut Vodka. Here on the ground floor of the tower-clad building is a classic restaurant with innovative ideas. Absolut Home serves both lunch and dinner, where the dinner consists of appetizers or exciting set menus - all with the philosophy of using what is nearby. And Österlen and Skåne can really supply good raw materials!
We ate today's lunch in the spring sun on the fresh outdoor terrace under warming infrared heat. Every day there are six dishes to choose from – the house of the day, the vegetarian of the week, the salad of the week and three herring dishes.
I ordered the house of the day, a boeuf bourguignon with pickled onions. The man ordered a lukewarm meal with capers, beetroot, red onion, egg, potatoes and browned butter. My boeuf was perfectly cooked and the tender meat fell apart just looking at it. Just the way you want a meat stew. The man's warm food was certainly also very good - in any case, "mm mm..." was heard very often from the other side of the table. A really good rating for the food herring simply! In addition, it was very nicely laid out. A real delight for both the eye and the palate.
For those who visit the restaurant in the evening, don't miss passing by the stylish bar.
Absolutely Home
Vallgatan 5
296 31 Ahus
Map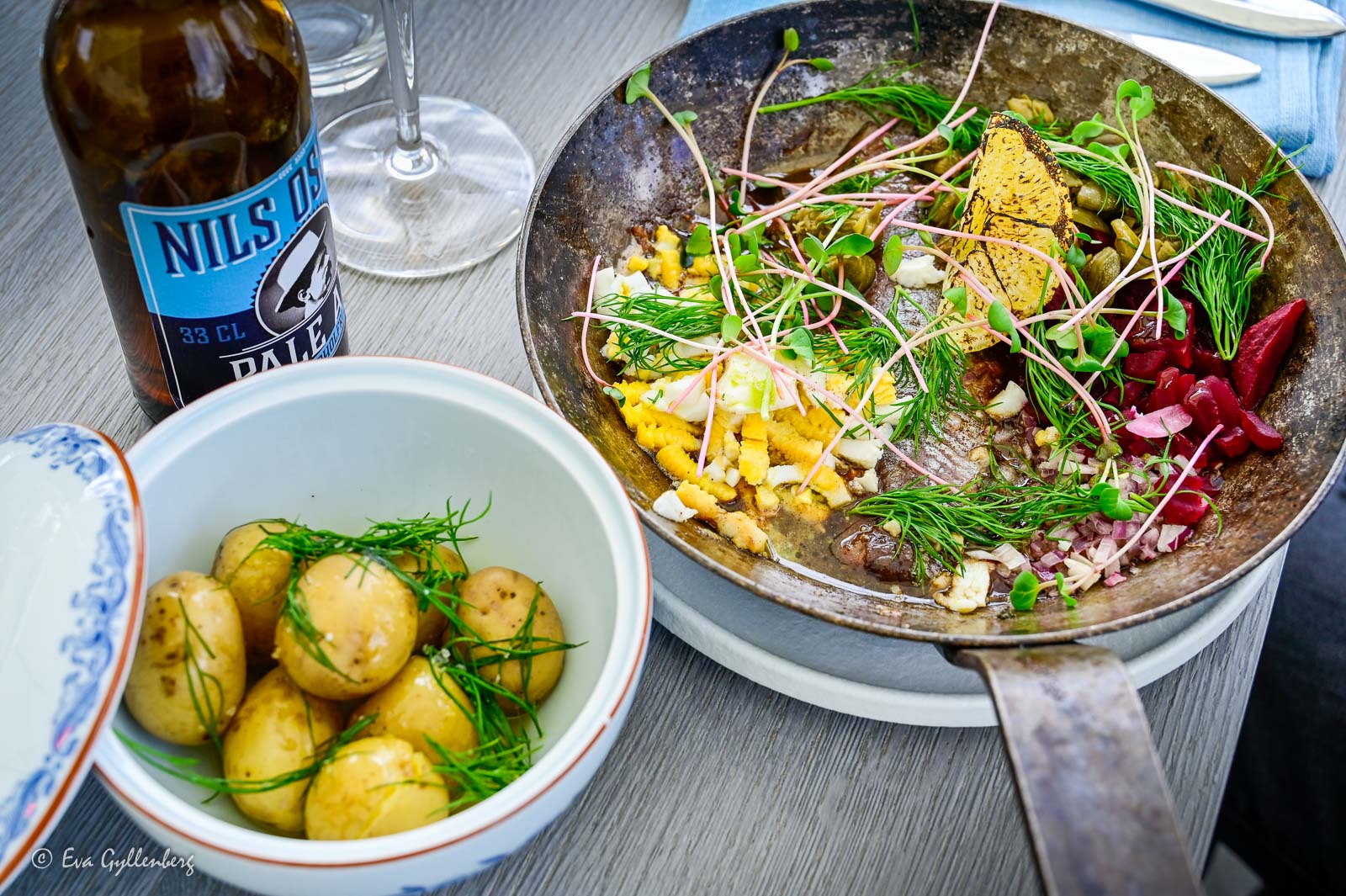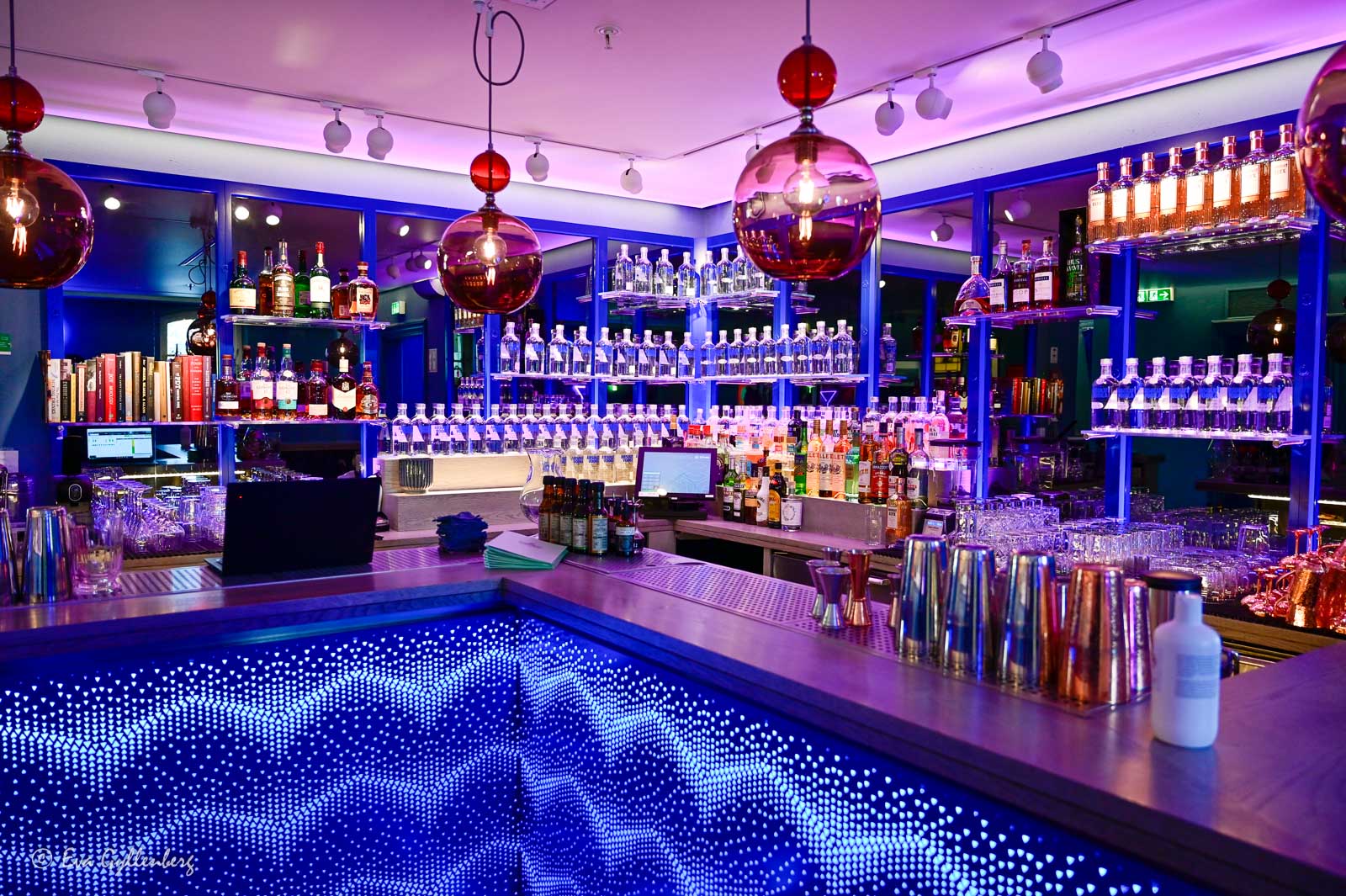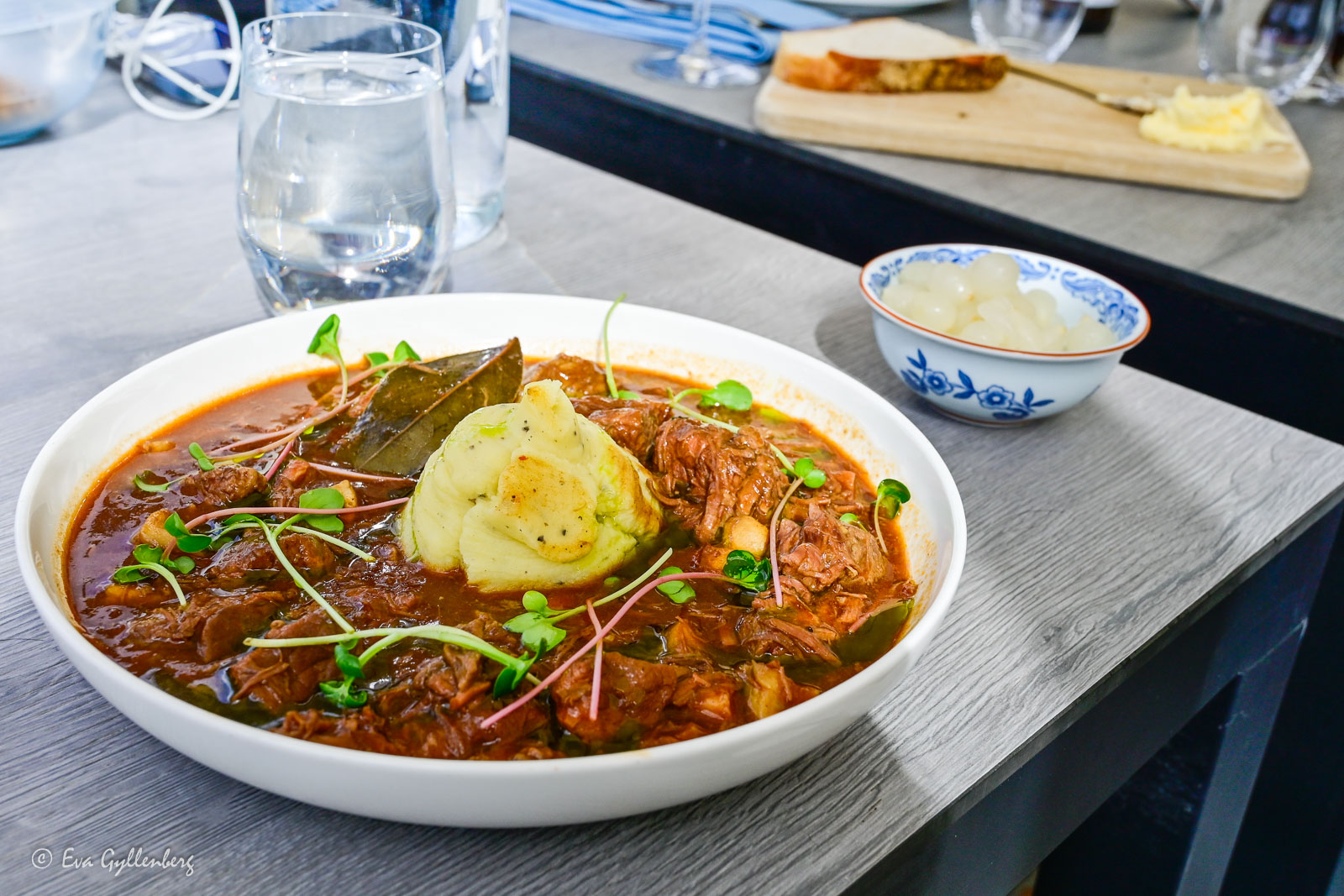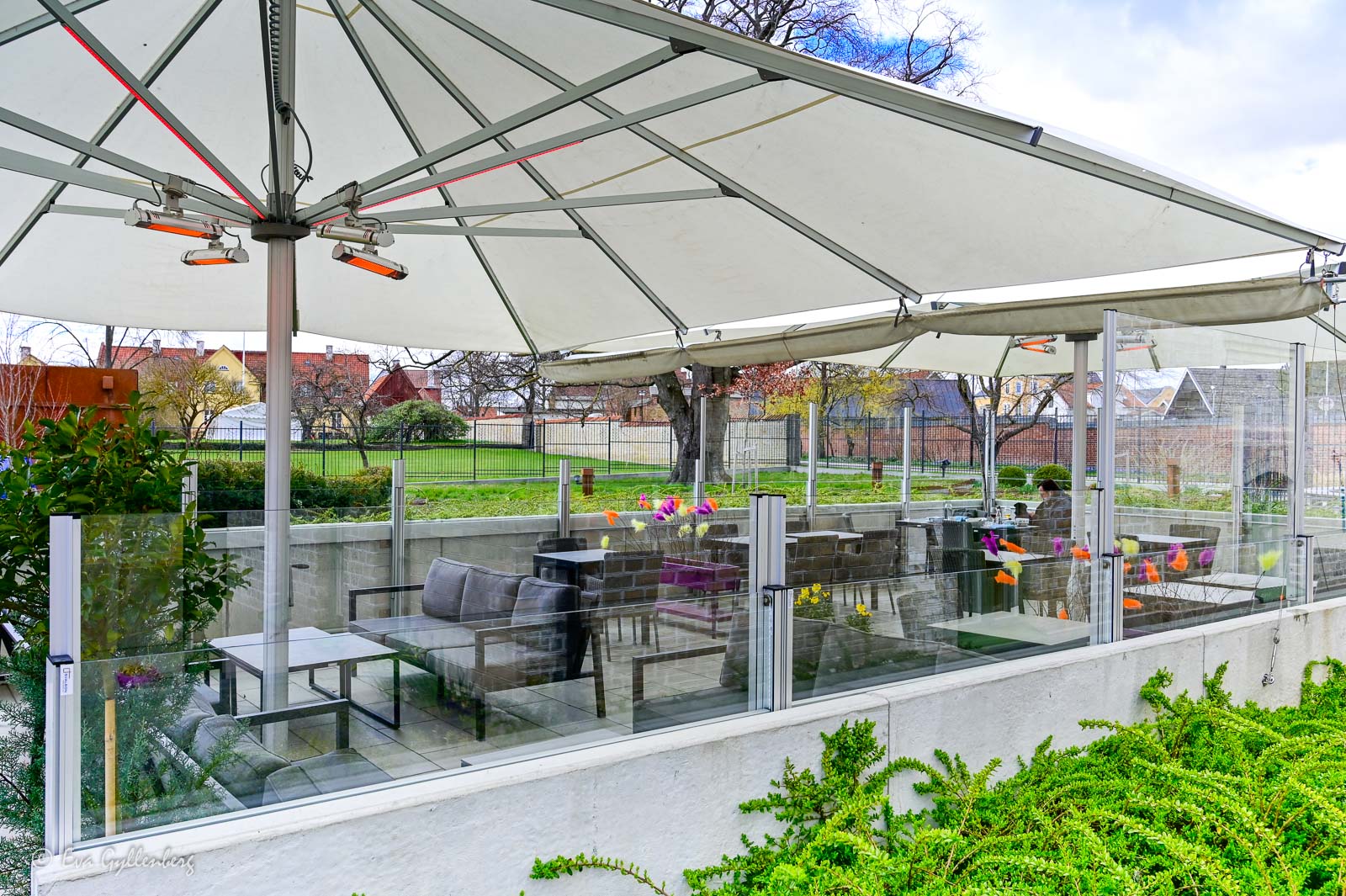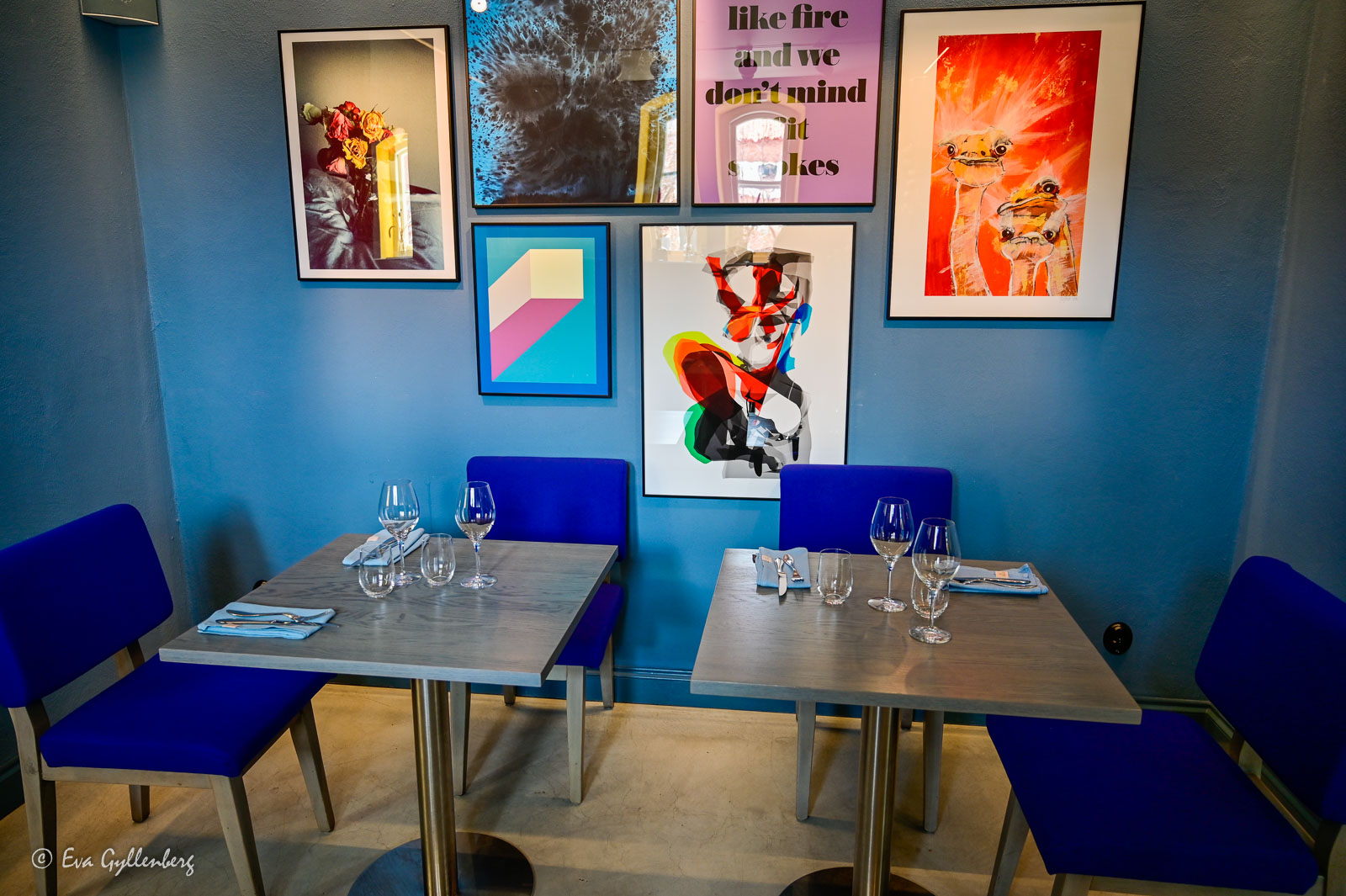 ---
Åhus Guest House
Åhus Gästgivaregård (or "Gästis" colloquially) is located on the first floor by Helgeå and its beautiful yellow house dates back to the early 18th century. Today, Gästis is not only a stylish boutique hotel with 70 beds, but there is also a restaurant with high ambitions. Here we can talk about really locally grown ingredients. The raw materials come not only from local suppliers, but also from Gästi's own garden land. Everything served by staff with a twinkle in their eye and with a lot of warmth.
We settled down at one of the window tables with crisp white tablecloths and a lovely view of Äspet. The dinner began with a small amuse-bouche consisting of a "Skagen Åhus" with fried sourdough on top. An amuse-bouche that definitely added flavor and set expectations for the evening's menu high. If expectations were met? With a bang.
The next dish on the menu was a nettle soup with spring onions and a light-necked scallop. Not only beautifully laid out, but also with a very well-balanced taste against the sharpness of the spring onion. The chives also turned out to be picked in the owner's garden, which makes me a little extra happy about the soup.
The main course consisted of perfectly pink rack of lamb with mashed potatoes with browned butter. Those of you who know me know that browned butter can be the best thing I know - in everything from ice cream to sauces. The combination with the red wine sauce and the tender lamb was a real highlight. Don't miss this one if it's on the menu!
For dessert, a crispy crème brûlée with pear compote and snow made from browned butter was served. So – crème brûlée and browned butter in one and the same dish. Two absolute favorites in one and the same dish. A match made in heaven.
Åhus Guest House
Gamla Skeppsbron 30
296 31 Ahus
Map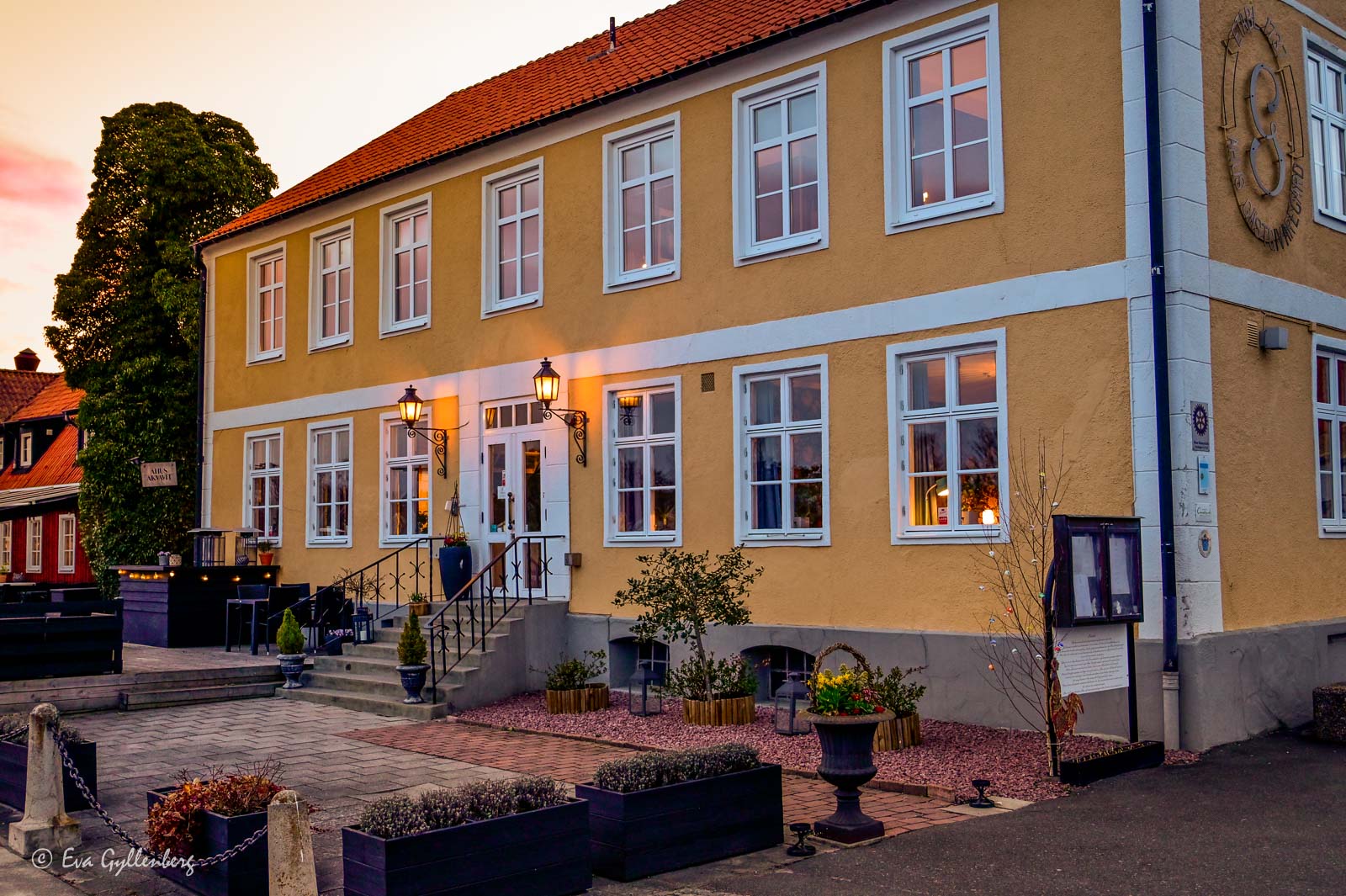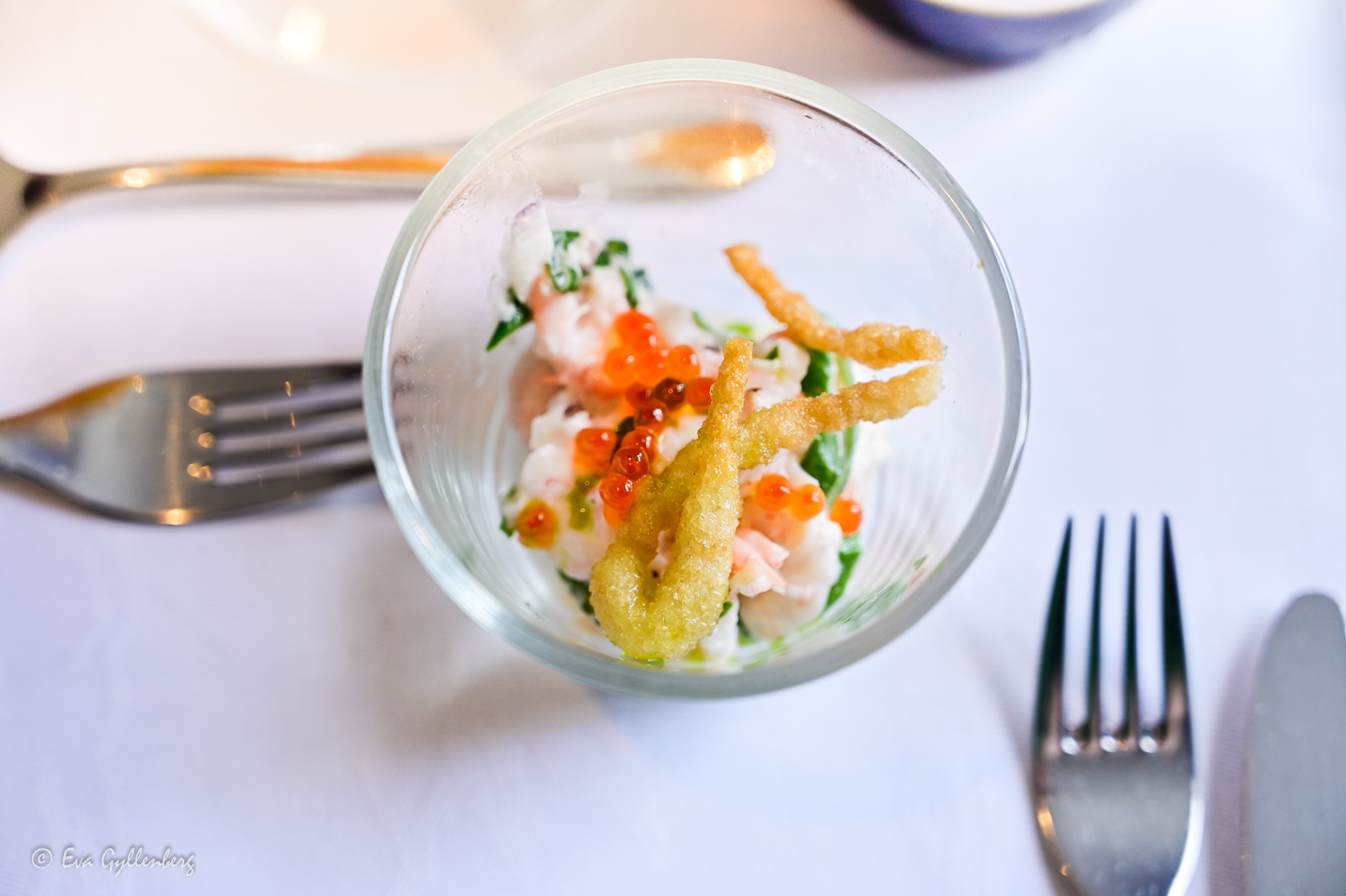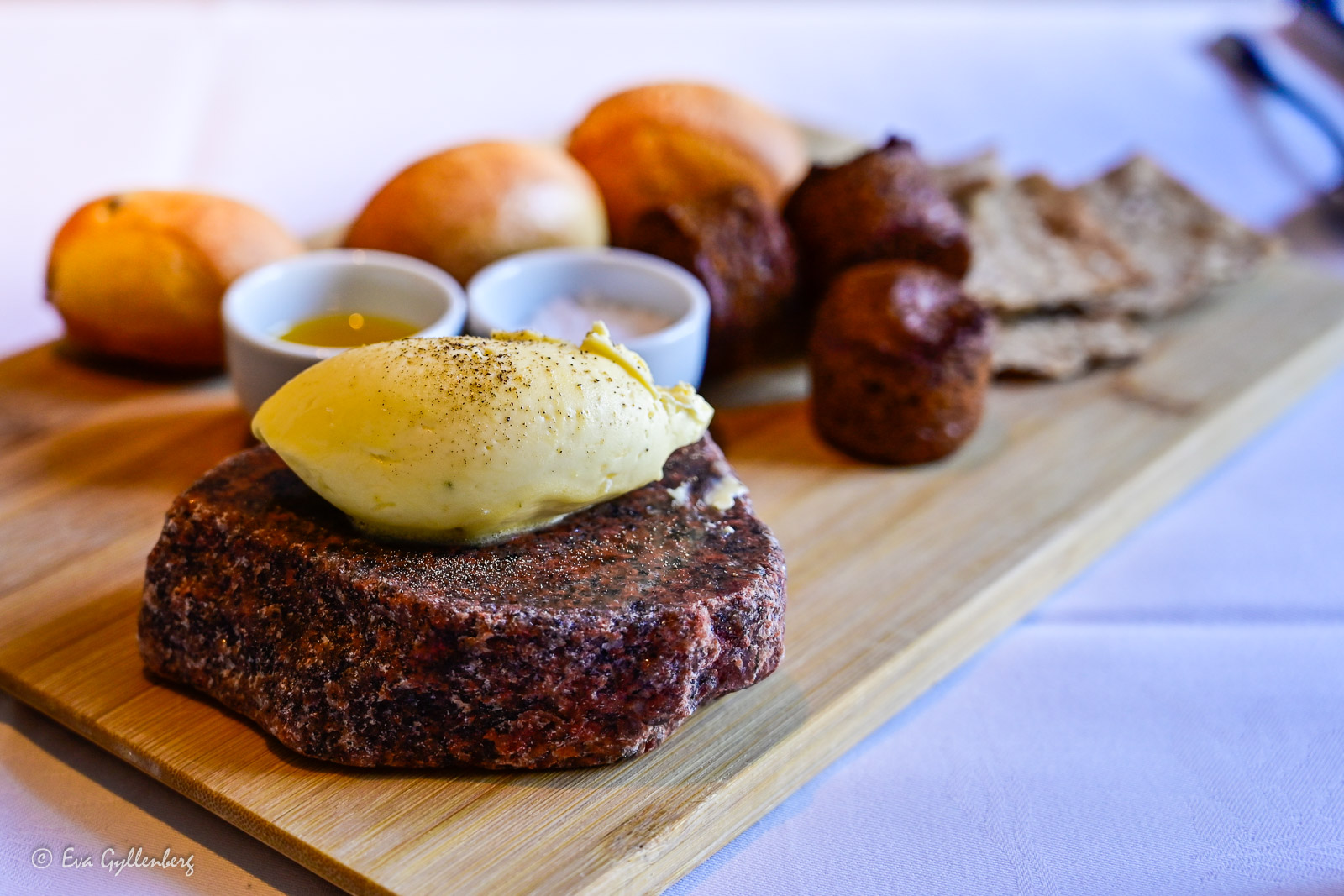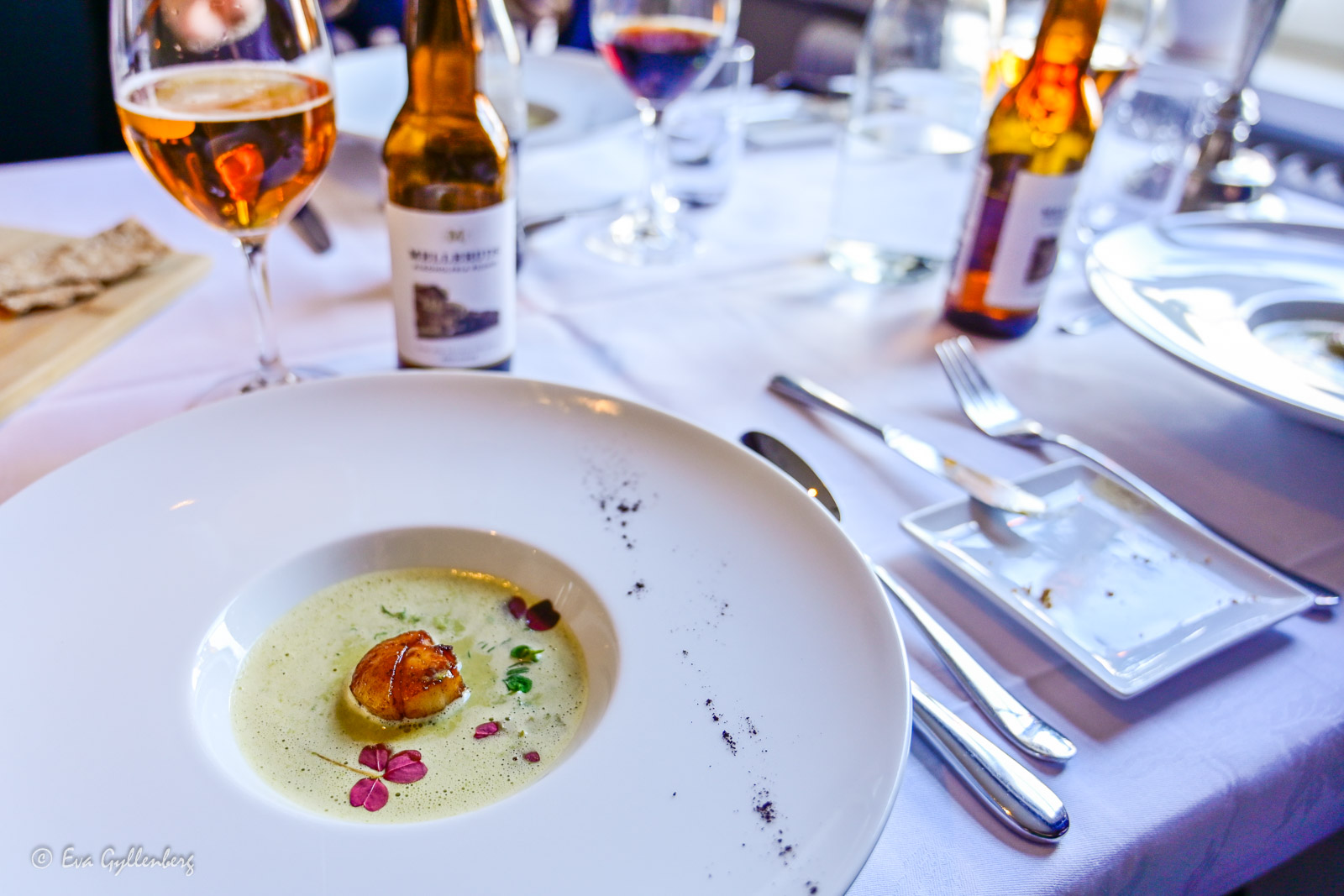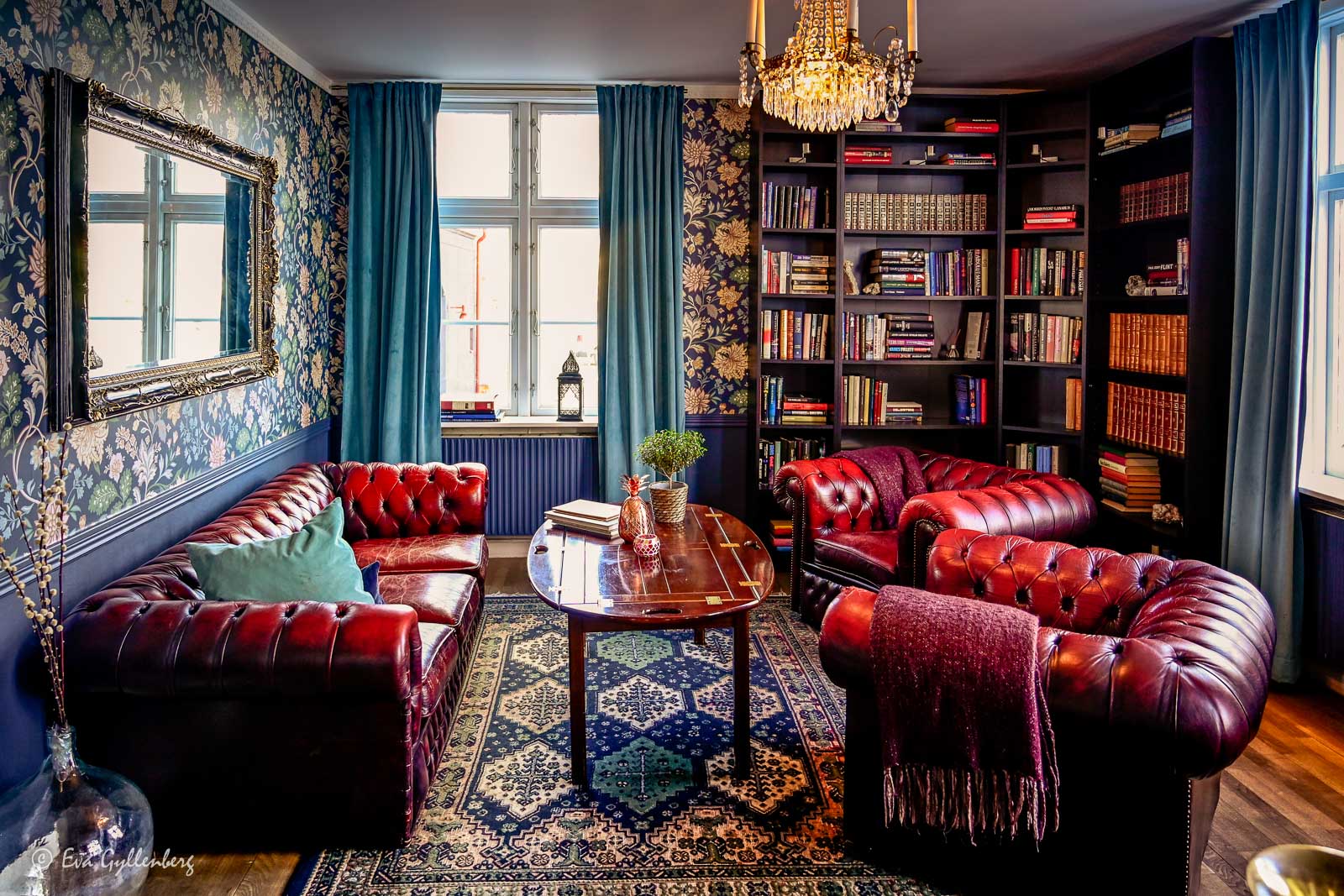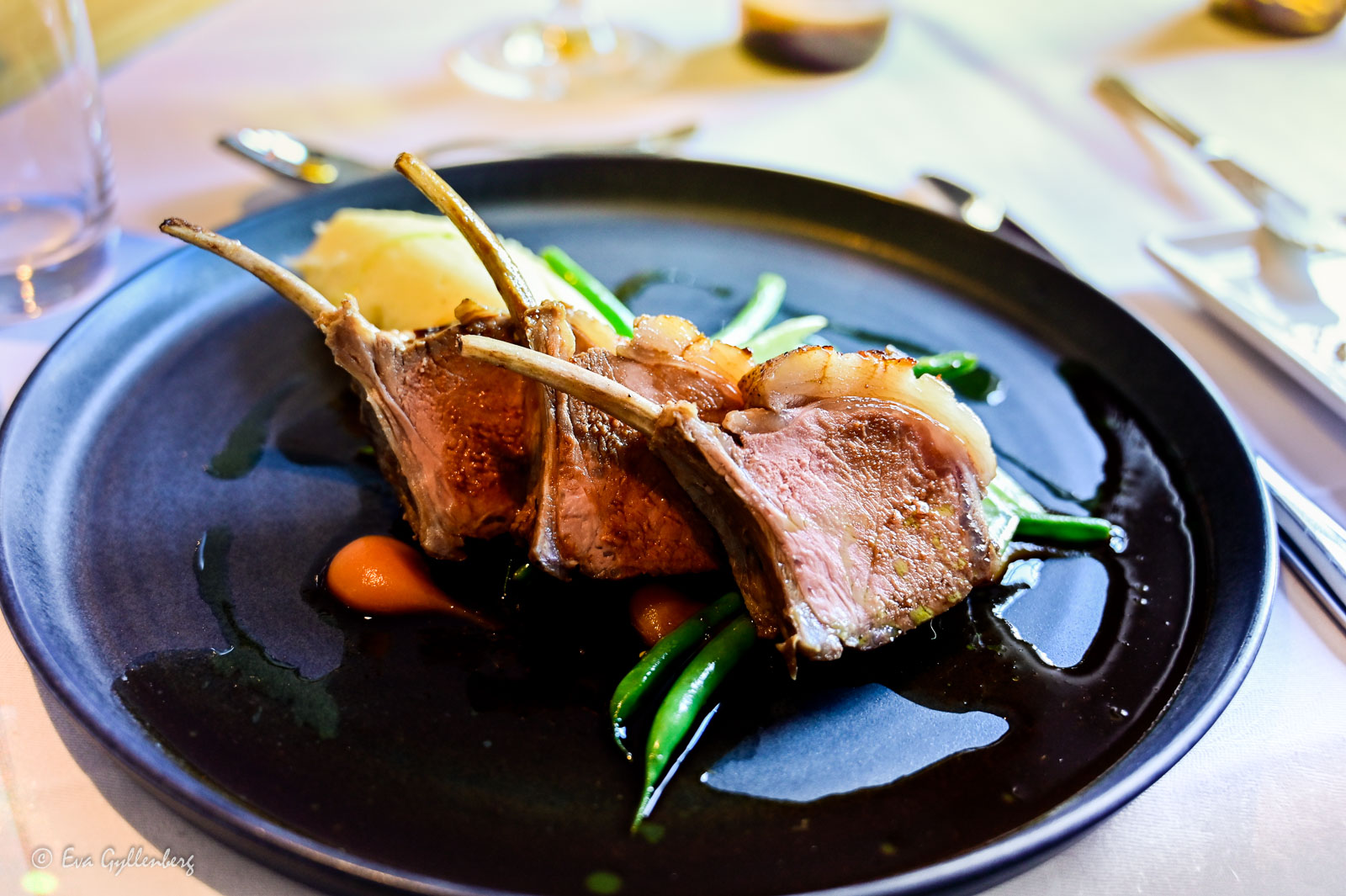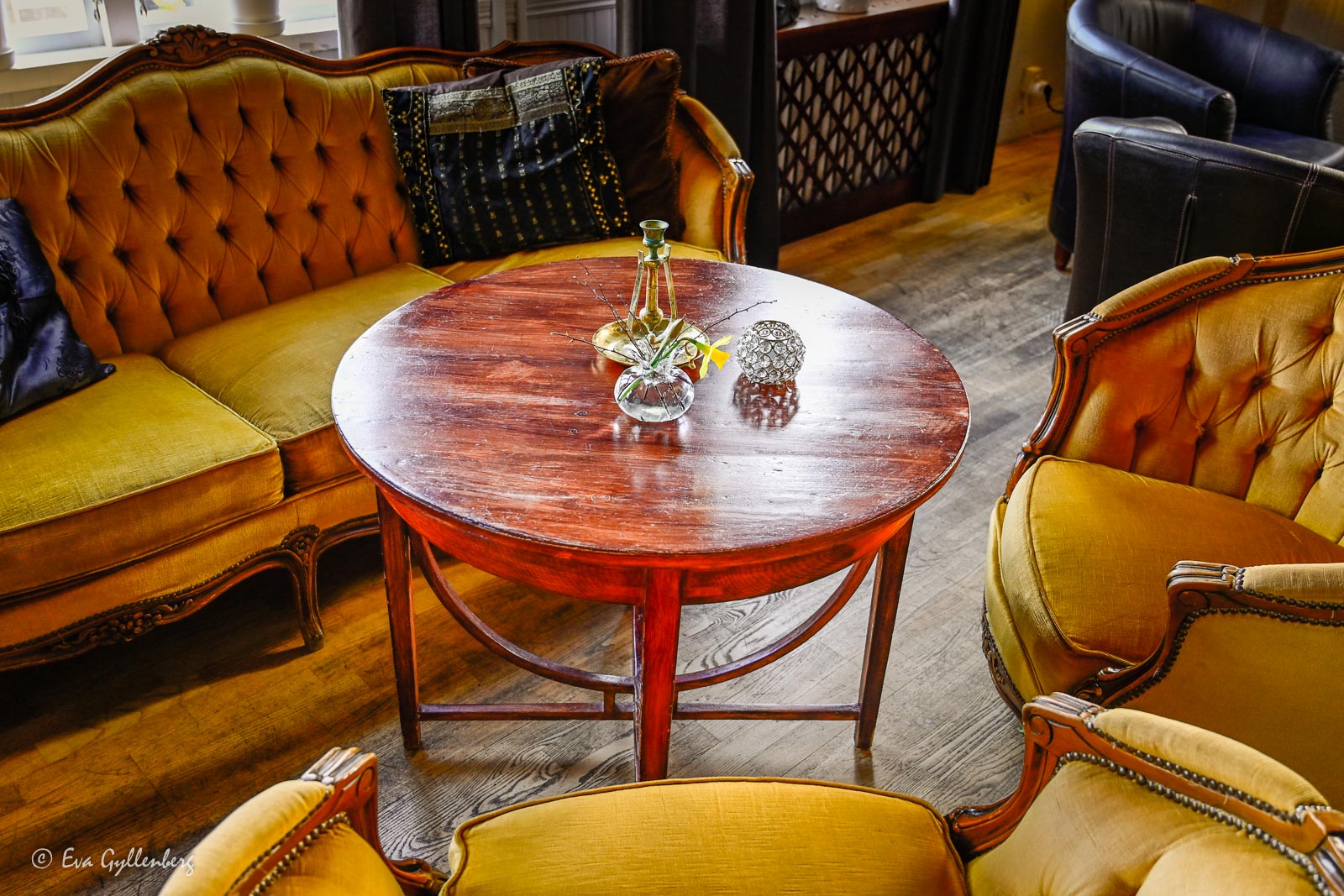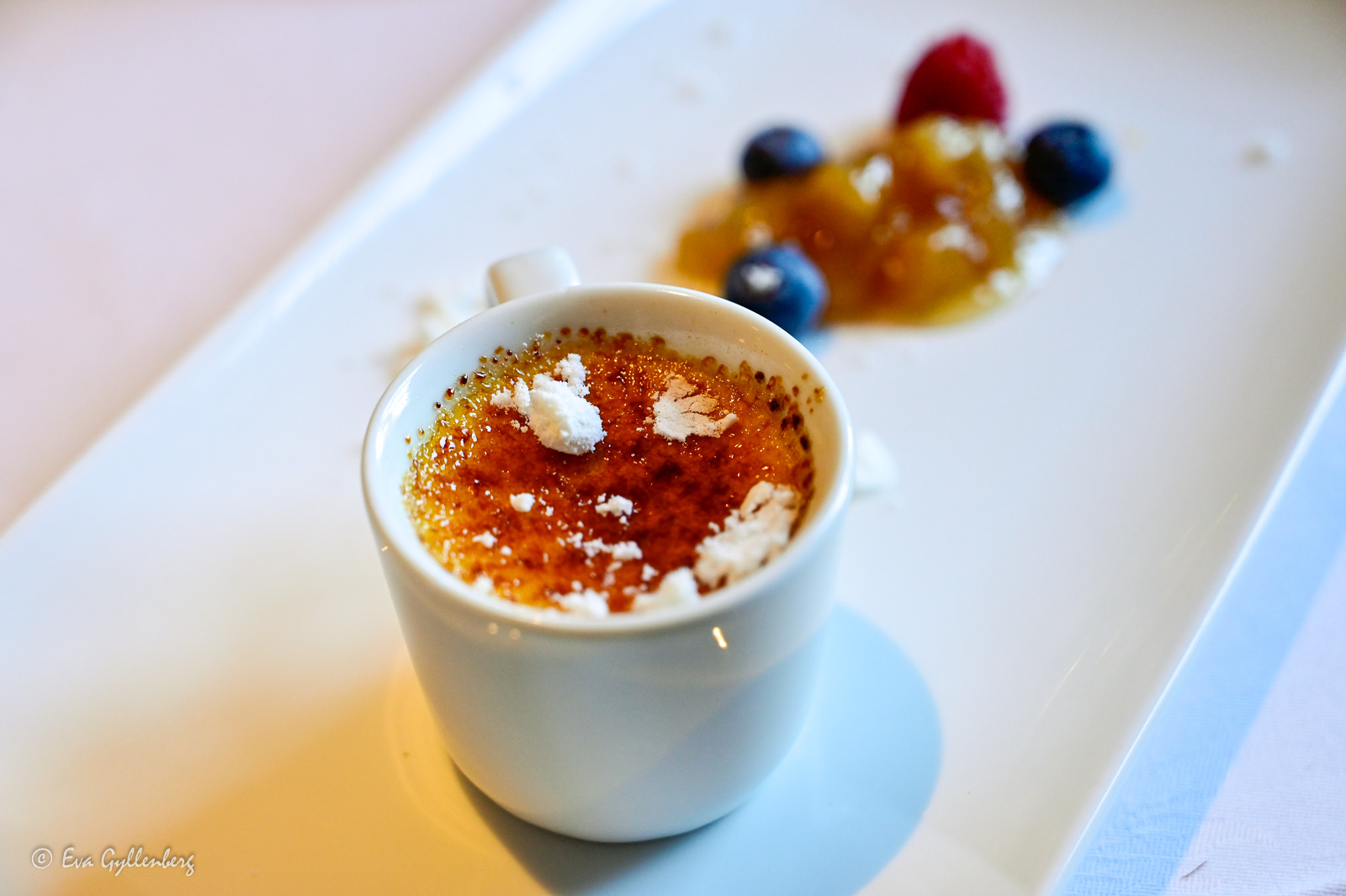 Do you want to see more from Kristianstad and Åhus?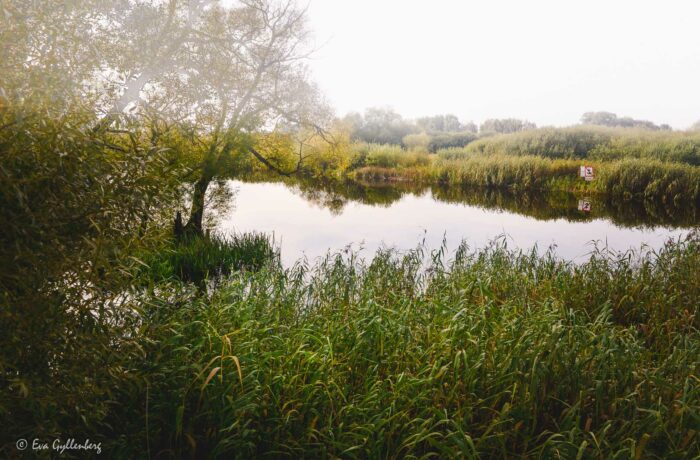 In the middle of Kristianstad, you can hike the Linnérund in the Vattenriket – a protected biosphere area...
September 29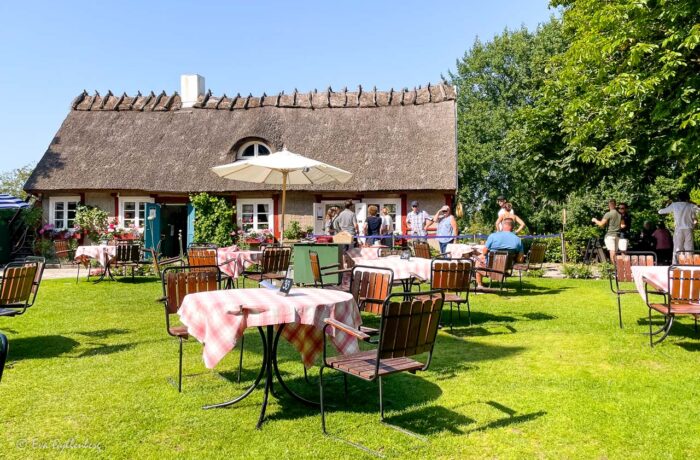 Among Skåne's rape fields and beech forests, you will find lots of cozy cafes, ice cream kiosks and lunch spots.…
June 25th, 2022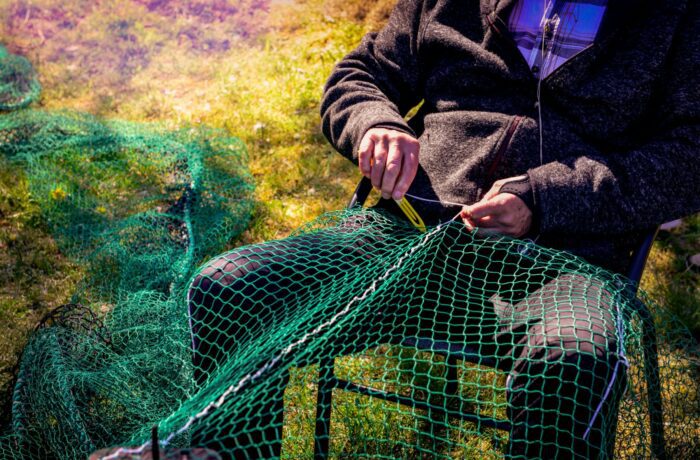 My visit to Tvillingaboden south of Åhus not only offered a perfect beach,…
16th of May 2019
Want to read more of my travel tips? do not forget to like Rucksack on Facebook or pin the post on Pinterest!