Cinque Terre is undoubtedly one of Italy's most popular destinations. The national park with the five colorful fishing villages is for many the very image of Italy. But popular destinations also lead to many tourists. In fact, it has gone so far that there are discussions to introduce restrictions on the number of tourists, although no new rules have yet been introduced. But how do you experience the five villages most smoothly?
Our first thought was to drive, as we had our rental car and didn't really know what to do with it. However, we realized very quickly that not only would it take an incredible amount of time to drive between the villages on the serpentine roads, it would also be a challenge to find parking. Solution? Train!
What did we do with the car?
Then we would live in La Spezia overnight, we simply parked the car in a parking garage at our hotel and walked to the train station. La Spezia is one of the area's largest cities, there are plenty of parking garages and paid parking here.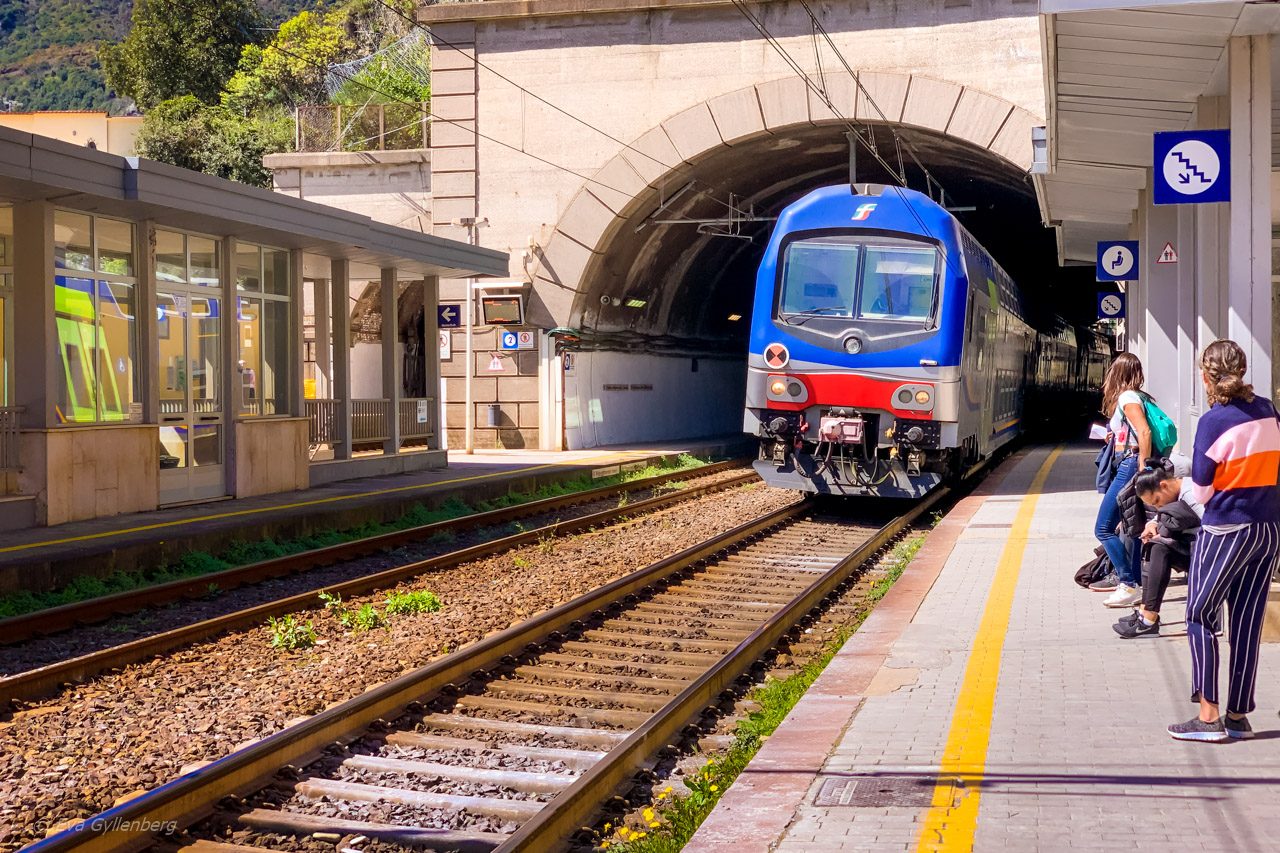 Cinque Terre Card – What is it?
Cinque Terre is a national park, where you need to buy a hiking card to walk between the villages. There are two cards to buy – one card by train (2nd grade) included (Cinque Terre Train MS Card) and a card without trains (Cinque Terre Trekking Card). We chose to buy one day pass by train. The only difference between the two cards is whether or not trains are included, everything else being the same. For example, free toilet visits and buses in the villages are included in both cards. Read more about what is included in the different cards on it official national park site.
In high season (mid-March to early November) costs one day pass with train 16 EUR per person (12-69 years) / child between 4-12 years costs 10 EUR. With this card you get to go from La Spezia to Cinque Terre to Levanto with as many stops as you want in one day. A day pass without trains costs EUR 7,50 for an adult, so the extra charge for the train journeys feels reasonable.
NB: If you don't plan to either walk between the villages or take a lot of trains, you most likely won't need a Cinque Terre card. Then it may be more affordable to just buy single tickets (4 EUR) on the train.
Where do I buy the card?
You can buy the Cinque Terre card at any of the nine the welcome center at the train stations in La Spezia, Corniglia, Riomaggiore, Vernazza, Levanto, Monterosso or Manarola. So you don't buy the Cinque Terre card at the regular ticket window at the station, but at one Cinque Terre Welcome Center. Don't forget to make sure the card is validated before you hop on the train!
Want to make it easy for you? You can buy the cards online in advance on Cinque Terre National Park and print them instead.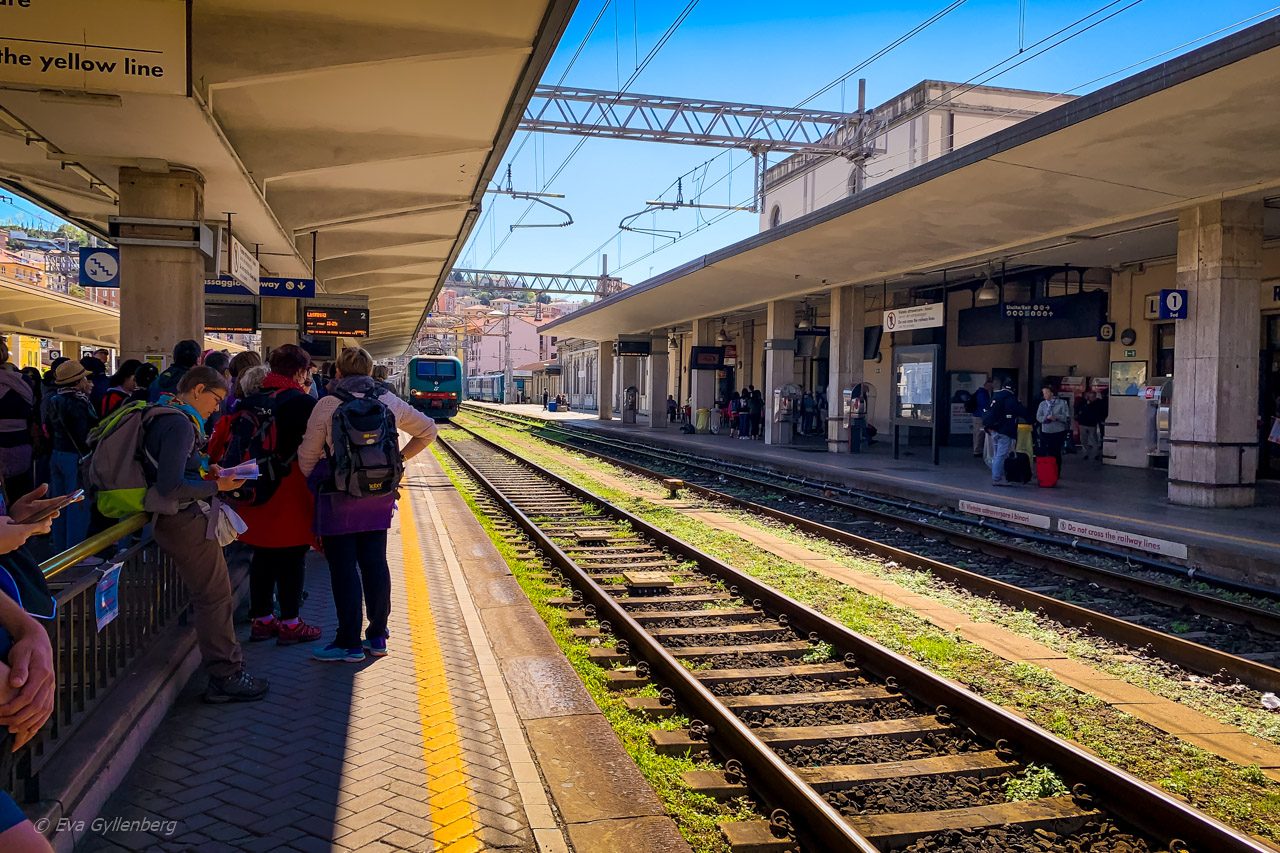 How often do the trains run?
Trains between the villages run between two and five times an hour, from four in the morning until midnight. We never waited more than 10 minutes for a train and there was always room on the trains we jumped on. Make sure to bring a train timetable from the welcome center - not all trains stop in all villages, so it's good to know which train you're going to get on.
Traveling by train through the Cinque Terre is traveling through tunnels, which makes it dizzyingly fast to go between the villages. You don't have time to board the train until you reach the next village. Driving with stops in all the villages would take at least two hours, not including the search for a parking space. By train it takes 25 minutes.
Travel times between the villages:
La Spezia - Riomaggiore (8 min)
Riomaggiore – Manarola (3 min)
Manarola – Corniglia (4 min)
Corniglia-Vernazza (5 min)
Vernazza – Monterosso (4 min)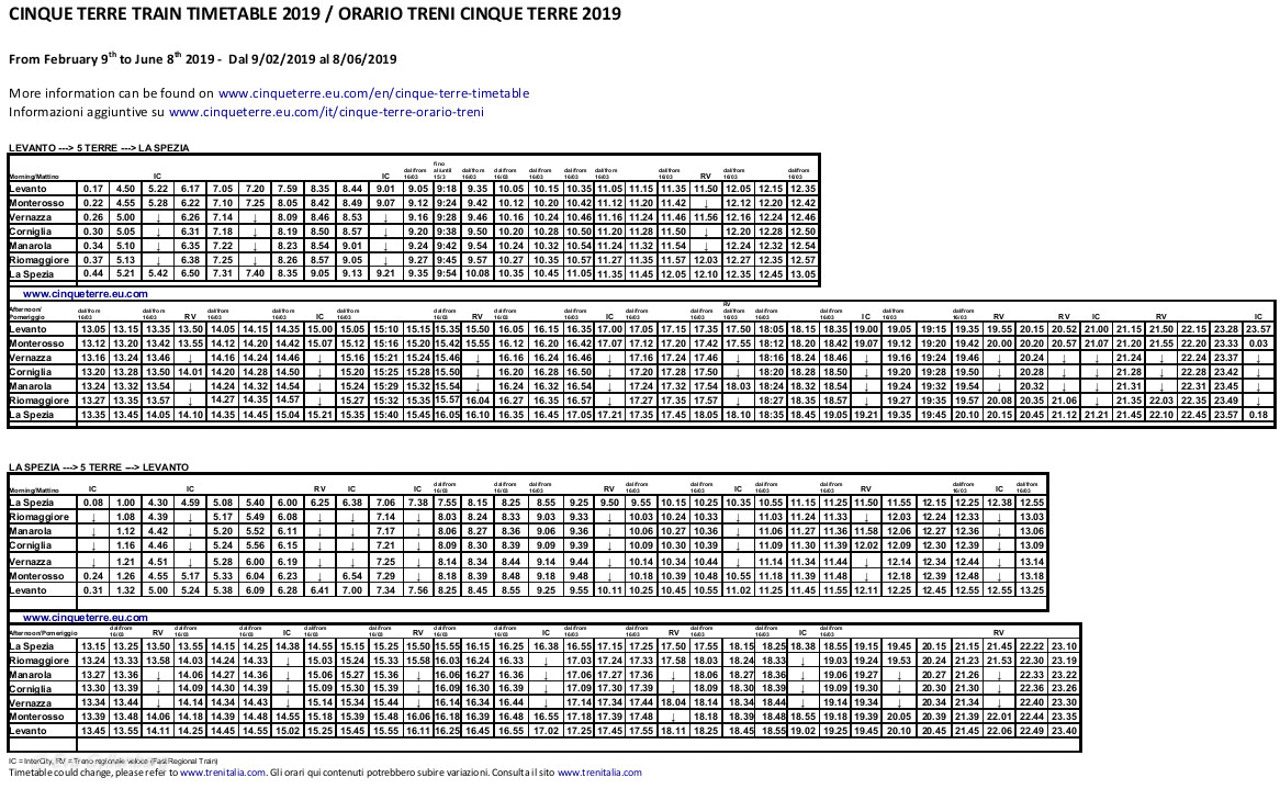 Good to think about!
Everywhere in the train stations there are warnings about pickpockets. Keep an extra eye when disembarking and boarding, it is usually in the crowd that they strike.
Do you want to read more?
Want to read more of my travel tips? do not forget to like Rucksack on Facebook!
Have you been here? What did you think of the destination?
Been there - didn't like it!
0
Not keen at all to go here!
0
Eva Gyllenberg
Travel blogger, gastronaut, photographer and family adventurer with over 55 countries in his luggage. Eva loves trips that include beautiful nature, hiking boots and well-cooked food. On the travel blog Rucksack she takes you to all corners of the world with the help of her inspiring pictures and texts.